HEY TO YOU TOO!!! AND YES! To everyone who has wondered about this, I happen to be quite alive, as you can see, since I am writing this right now and this is not a queued post! I have been alive through the whole duration of these… two?? three months?? and I have been also really fucking sorry for not posting anything at all! :( I've pretty busy, and when I did have free time I spent it doing a bunch of other things. I guess I could have just dropped by and confirmed my aliveness but I didn't and OH WELL, what is done is done, and I also didn't want to show up again empty-handed?? Really did not want to do that. 
SO HERE IS A POST!! That should have been longer but I decided to just cut it because I actually wanted to publish this before Christmas 2017, ya know?? Also after your lose the html code for a post not once but twice, you get a little tired and want to punch things. So part of this has been sitting in my drafts for…. about two decades?? ……since august, guys….. since august…… don't judge me…. and part of this I wrote yesterday! and let me tell you a thing. Do not fucking drop your liveblog for two months and a half because by then you don't remember shit. I think you will notice what is new and what is old content when the newest memes begin to roll in… yeah… ANYWAY HERE YOU GO, ENJOY!!!!
Hello again, fluctuating Aries lady!! Let me warn you that you absolutely have to be the coolest because you are an Aries and I'm an Aries and Aries are the best and you can't disappoint us!! I'm simply being objectively realistic over here. (please, the only other troll I could relate to is karkat because i'm cancer ascendant, do you feel my pain DO YOU FEEL IT)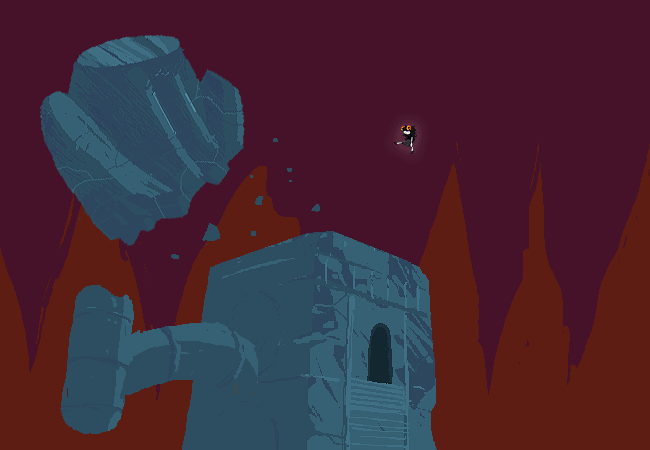 …..Yeah… I'm plenty sure there are people out there who would thoroughly enjoy switching the story's focus to this lady getting her frog hate on (and boy, is she getting it on) every twenty or so pages but I kind of would like to know who the heck she is. Or at least let me know why her dislike of amphibious fauna runs so deep. Otherwise I'm gonna come up with headcanons. And you don't want me to come up with headcanons, trust me.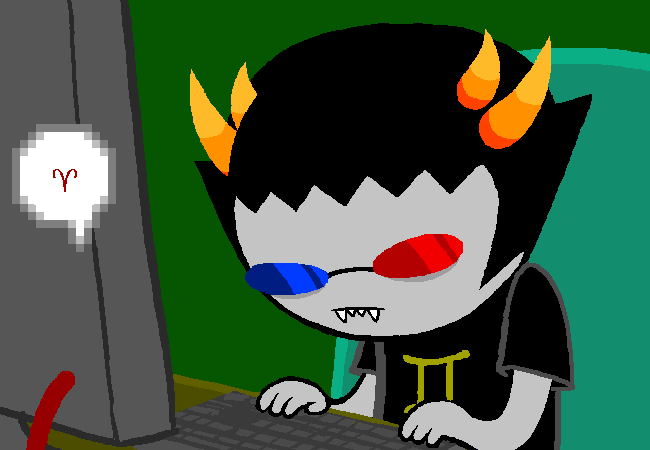 apocalypseArisen [AA] began trolling twinArmageddons [TA] 

AA: did y0u set up the teams 
SHE S PEA KS!! BLESS
TA: 2tiill workiing on iit but yeah more or le22. 
TA: we 2hould all be playiing 2oon. 
…Has Sollux realized that he has recruited absolutely no one for his team?? Red team is rocking it already with its sweet four members; Mc Shouty Short Stuff aka Karkat Vantas (Our Responsible* ((citation necessary*))  Leader), Troll Daredevil for Great Justice aka Terezi Pyrope (Former Leader, abdicated due to loud tantrums from current leader, saved her eardrums), Sopor Slime Lover Juggalo Fashionista Gamzee Makara (Current Status: Totally Rocking those pois pants as he spaces out on the beach with fairy dust on his face) and last, but certainly not least, Mountain Lion Hunter, Miss Has Prolly Never Eaten a Salad in Her Life and Cat Puns Master What's her Name. See, how does Sollux plan on competing against all those mighty trolls, we don't even know if AA actually wants to be on his team. She and her telekinesis flight thingy and whatever else powers. (the girl is STRONG)
TA: and ii gue22 leaviing thii2 diimen2iion. 
TA: that ii2 what happen2, riight?? 
AA: yes 
TA: 2o ii gue22 you 2hould be pretty happy when we fiinally get out of here? 
AA: i d0nt kn0w ab0ut that 
TA: oh. 
TA: wiill you at lea2t be able two leave the voiice2 behiind? 
AA: i d0nt kn0w ab0ut that either 
TA: ii2nt that kiind of depre22iing? 
TA: the thought that they miight 2tay wiith you tiil you diie? 
WWWWWHAT A HAPPY CONVERSATION.  She also hears voices apparently!! Well, what I do know is that Sollux's voices should stop. If everyone dies then there are no more "imminently deceased". Apart… from…. the voices of…… his own friends…………….oh i did not consider that at all hahaha what a happy thought
AA: n0t really 
AA: im 0k with it 
AA: im 0k with a l0t 0f things 
AA: even 0ur inevitable failure 
AA: th0ugh it will briefly masquerade as vict0ry 
W O W
Are you actually competing for the one who says the most sad and fucked up thing because I must say you are both impressively good at it.
TA: wow FUCK. 
#2ame
Also troll session confirmed for failed. Not that anyone was thinking otherwise. 
TA: that wa2 2o much more depre22iing than the thiing ii ju2t 2aiid. 
TA: terezii wa2 riight, you are 2uch a drag two talk two the2e day2. 
AA: she was right ab0ut a l0t 0f things 
TA: wow what a my2teriiou2 thiing two 2ay, ii am 2o iintriigued. 
Well, unlike Sollux, I am actually intrigued and not being sarcastic. Is it time for some backstory??? :D
TA: do me a favor and 2pare me your 2pooky conundrum2 twoniight, youre kiind of pii22iing me off. 
AA: but y0u like t0 talk t0 me 
AA: this a fact n0t a questi0n 
AA: they t0ld me 
TA: oh your 2ource2 have 2poken! 
TA: relay a me22age for me, tell them two go haunt my huge creakiing bone bulge. 
pffftAHAHAH SOLLUX PLEASE! That should teach you not to chit-chat with the voices in your head because then those blabbermouths go straight to AA to recount. Turns out that the girl by now has two sweeps worth of dirt on you! You are busted, buddy.
AA: why d0 y0u like t0 talk t0 me 
TA: oh ii dont know, maybe becau2e we are 2uppo2ed two 2ave the world twogether??? 
TA: ii al2o talk two you becau2e iin ca2e you havent notiiced ii de2pii2e my2elf and perpetually 2eek two dupliicate through emotiional paiin the cacophony of phy2iical paiin my hiideou2 mutant braiin cau2e2 me every day. 
TA: oh my god ii ju2t had a breakthrough!!! 
TA: thank you 2o much for thii2, iit wa2 great. 
TA: that wa2 a joke, here type "ha". 
AA: ha 
TA: now type iit agaiin. 
AA: ha 
TA: there you go, you are now offiiciially the liife of the party.
TA: eheheh ii ju2t took an embarra22iing viideo of you cuttiing loo2e there, boy ii 2ure hope thii2 juiicy nugget doe2nt wiind up on the iinternet! 
I THINK SHE BROKE HIM. By not doing anything. In fact that's the reason. The more she displays a total lack of emotions and caring the closer Sollux is to his rage implosion!! Quick!! Type a condescending smiley, AA!!
AA: 0_0 
#same BUT THAT WON'T DO, AA, THAT WON'T DO
AA: s0llux i actually w0uld like it if you were happy 
TA: ok. thank you for 2ayiing 2o. 
Uuuuhh, out of the blue much? I'm happy that she cares about the boy's wellbeing, but I get the impression that he doesn't really believe her? She will have to work harder, I still say that a smiley is the way to go.
AA: y0u seem sad and angry all the time 
AA: what d0es anger feel like 
AA: i f0rg0t 
ooooooooh booooyyy oooh boy that's not something you can just forget. That isn't healthy nor normal??? I strongly suggest you go visit Karkat so that he can teach you the ways of channeling your inner rage, all the while you get to smash some spare keyboards together. Trust me, he is the best in that field.
TA: have you ever been angry? 
TA: ii dont remember you gettiing angry about anythiing. 
AA: maybe i never was 
AA: i feel like i was th0ugh 
AA: 0nce 
………….seriously what happened to this girl?
TA: why dont you a2k karkat, he2 way angriier than me. 
Sollux understands me on a deep level.

TA: for that matter why dont you get on HII2 ca2e about iit iin2tead of MIINE. 
AA: i think his anger serves a greater purp0se 
AA: its part 0f his destiny and thus 0urs 
YOU MEAN HIS RANTS WILL ACTUALLY BE USEF—

AA: it will help him t0 sab0tage his 0wn designs 
NEVERMIND. also…. part of his destiny, huh……. i will keep that in mind ;)

AA: which are very much in 0pp0siti0n t0 the br0ader purp0se 
AA: and will s0w the seeds 0f 0ur failure 
AA: a failure which will ir0nically pr0ve t0 be missi0n critical 
It doesn't make it any better for him. What are you gonna tell him?? "Haha! Hey, there Karkat!! We know you screwed everything up by being an angry asshole and lead us all to our failure but apparently you screwing up was a necessary and inevitable step! See, no use beating yourself up about it! :)" ….And then Karkat will proceed to punch them both. I know I would be cheering on him for once if he did.
TA: iif you thiink we are goiing two faiil why wouldnt you get mad about that? 
TA: at the voiice2 2endiing you down thii2 bliind alley the whole tiime? 
AA: they never lied th0ugh 
AA: this is h0w it had t0 be 
AA: i have t0 be t0tally h0nest 
HOLY SHIT IT'S GOING DOWN
AA: th0ugh at n0 p0int did i ever lie 
YEAH SURE
AA: but thr0ugh 0missi0n 
I'M FUCKING LAUGHING SO HARD. AA, YOU DAUGHTER OF A PROMISCUOUS FEMALE LUSUS, YOU
Ah, the subtle art of lying through omission, my favorite. Lie?? What lie?? Good luck trying to prove that! Not that it would help you, you are already in such deep shit.
AA: this game will n0t save the w0rld 
TA: the fuck?? 
I'M LAUGHINGN SOLLUCX YOU POOR CHILD WHAT ARE YOU IN FOR
AA: and th0ugh it is still very imp0rtant even in 0ur defeat 
AA: unf0rtantely it is much cl0ser t0 serving as the instrument 0f 0ur pe0ples demise than that 0f their salvati0n 
AA: and we twelve will behave simultane0usly as the pawns and the 0rchestrat0rs of the great und0ing 
TA: ii dont want two play anymore then. 
AA: y0u will th0ugh 
TA: fuck that ju2t watch, thii2 2hiit ii2 du2ted. 
TA: check me out, all du2tiing iit liike a 2aucy fuckiin maiid. 
AA: it cann0t be st0pped 
AA: mete0rs are en r0ute 
AA: y0u kn0w this s0llux 
TA: who care2, iim yankiing the grubtube on thii2 overpunctured biitch. 
TA: iim telliing red team leader two forget the whole thiing. 
Yeaaah. Good luck with that!! With how stubborn Karkat is, he is going to think you are still trying to fucking sabotage him or something. He will start talking about how vile you are, how did the mother grub even brought you to life without poisoning herself, bluh bluh bluh *insert ten thousand ridiculously suggestive metaphors here* and when you have actually gotten him to listen, half of Alternia has already gone under.
TA: iim quiittiing a2 blue team leader. 
TA: iif you want two 2hamble through thii2 macabre fanta2y of your2 2olo be my gue2t. 
AA: y0u were never g0ing t0 be the team leader th0ugh 
AA: which is t0 say 
AA: the first t0 enter 
Well, shit. Does she want to play first?? But whoever ends up being the leader doesn't really matter?? because eventually they will all connect together in ONE session, so Karkat will connect to the one who ends up entering last, the twelfth one, completing the chain. I'm… pretty sure that's how it will go?? They will have a 12 players session after all.
TA: are you me22iing wiith me?? 
TA: you do realiize iim p2ychiic two. 
TA: ii could pull 2o much triippy 2hiit out of my 2piinal creviice, iit would make your head 2piin liike dervii2h iin a fuckiing blender. 
TA: 2o GET OFF YOUR HIIGH HOOFBEA2T. 
AA: im c0ming up 
OH SHIT SOLLUX WHAT IF SHE IS COMING HERE YOU SHOULDN'T HAVE SAID THOSE THINGS NOW SHE IS GOING TO BEAT YOU SENSELESS, QUICK EVERYONE IN THE MINIVAN, I'M OUTTA HERE, SEE YOUR DREAMSELF AROUND, SOLLUX
TA: huh??? 
TA: up where. 
TA: hello??????????????
SOLLUX CAPTOR, FAMOUS LAST WORDS.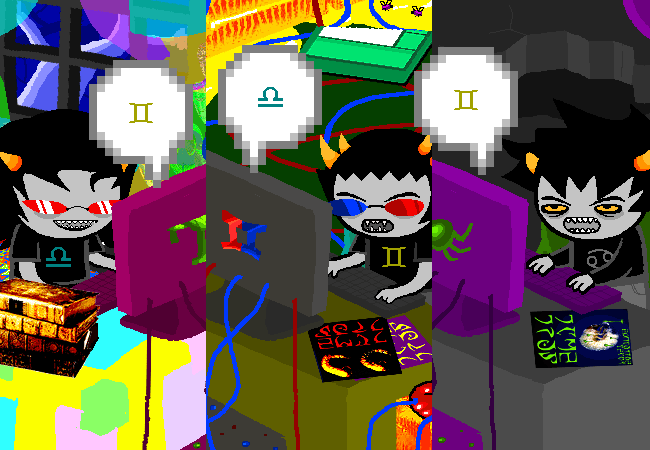 I love how Sollux and Karkat both have atrociously bad written game magazines on their desks and meanwhile Terezi is all business, she has THE WHOLE FREAKING ALTERNIAN LAW LIBRARY.
twinArmageddons [TA] began trolling gallowsCalibrator [GC] 

TA: hey change of plan, we arent playiing thii2 game anymore. 
TA: you dont have two bother recruiitiing, 2orry two wa2te your tiime. 
GC: 1M NOT TH3 L34D3R 4NYMOR3 
GC: K4RK4T 1S 
TA: he ii2? 
GC: H3 THR3W 4 T4NTRUM 4BOUT 1T SO 1 L3T H1M B3 TH3 R3D L34D3R 
TA: ok that wa2 faiirly prediictable but that2 fiine. 
they are just both resigned when it comes to his antics, that's incredible

TA: iill talk two hiim about iit. 
GC: WH4TS GO1NG ON? 
TA: nothiing, thii2 game 2uck2 and aa ii2 full of crap. 
TA: 2orry about all thii2. 
GC: >:? 
Oh, I had forgotten that the conversation she has with Karkat happens when he is already in The Medium, so right now she knows nothing about the "whole conspiracy going on" as she called it. 
twinArmageddons [TA] began trolling carcinoGeneticist [CG] 
GOOD LUCK I WILL PRAY FOR YOU BUDDY
TA: hey change of plan, we arent playiing thii2 game anymore. 
CG: HEY. 
CG: GUESS WHO THE RED LEADER IS? 
CG: I'M THE LEADER. IT'S ME. 
CG: YOUR PLAN TO CRIPPLE YOUR RIVAL TEAM HAS FAILED. 
Wow, Karkat. What a good listener that you are! You caught everything that Sollux just said. Especially the "not playing anymore" part. A+++ Keep on it, my young fellow.
TA: ii know, 2he told me, ii dont care. 
TA: the game ii2 bad new2, iit wiill cau2e the end of the world, not 2top iit. 
TA: 2o forget iit, ju2t go back two whatever you were doiing. 
TA: wriitiing your 2hiitty code or whatever. 
CG: HAHAHA! SO PATHETIC. 
CG: THIS IS YET ANOTHER FEEBLE ATTEMPT TO WEAKEN YOUR OPPOSITION. 
KARKAT NO I WAS KIDDING BEFORE
IS HE FOR REAL
I'M GONNA ACTUALLY CRY
CG: TEREZI AND I HAVE ALREADY ESTABLISHED A CONNECTION AND WE ARE MAKING GREAT PROGRESS HERE. 
CG: WE ARE A GREAT TEAM, AND I AM A FANTASTIC LEADER. 
CG: WE WILL BEAT THIS GAME IN NO TIME, WHILE YOUR TEAM IS CLEARLY STILL ASLEEP AT THE THORAX. 
TA: oh god. 
TA: no you iidiiot, ii dont care about the game anymore. 
TA: ii ju2t quiit, iim not playiing, you 2hould two. 
CG: AMAZING. 
CG: YOU'RE EITHER BEING REALLY PERSISTENT WITH THIS TRANSPARENT RUSE, OR YOU REALLY ARE JUST THAT SAD AND INCOMPETENT. 
I WASN'T EXPECTING HIM TO ACTUALLY THINK THAT SOLLUX WAS TRYING TO SABOTAGE HIM I WAS KIDDING, I WAS EXAGGERATING! BUT APPARENTLY NOT SO MUCH, OH MY GOD KARKAT YOU ARE INCREDIBLE
CG: NEITHER CASE DESERVES MY RESPECT OR MY FRIENDSHIP. 
CG: IN FACT, YOU KNOW WHAT, FRIENDSHIP CANCELED. 
CG: THERE IT'S OFFICIAL, BYE BYE FRIENDSHIP! 
TA: oh liike you havent 2aiid that liike a biilliion tiime2. 
TA: you arent iin any po2iitiion two que2tiion my competence. 
TA: youre the wor2t programmer iive ever 2een, you dont know anythiing about computer2, why do you bother. 
TA: the only thiing youre good at ii2 yelliing and makiing huge mii2take2. 
NOW YOU ARE BEING AN ASSHOLE SOLLUX. Because he is gonna run the COMPLETELY HARMLESS code that you created and decided to send around very intelligently!! And he is gonna curse everyone and then he will think back to these words that you said and think "wow, sollux sure was right" and then I'm going tO PUNCH YOU SOLLUX
TA: and beiing UGLY AND HORRIIBLE IN EVERY WAY, AND HAVIING 2TUPIID LIITTLE NUBBY HORN2. 
yOU DON'T KNOW HOW SELF CONSCIOUS HE IS ABOUT THOSE YOU PIECE OF CRAP
AND I GUESS I DON'T KNOW EITHER BUT I IMAGINE HE IS!
CG: TO BE HONEST I DON'T SEE WHAT'S SO GREAT ABOUT YOUR PROGRAMMING OR HACKING. 
CG: WHAT IS A HACKER EVEN? JUST SOME SMUG ASSHOLE IN MOVIES DOING FAKE THINGS AND MAKING UP WORDS. 
CG: IT'S NOT EVEN A REAL THING TO BE, IT'S JUST SOME BULLSHIT TITLE YOU GAVE YOURSELF SO YOU CAN FEEL JUST A TINY BIT LESS LOATHESOME. 
TA: oh no, more chiildii2h burn2, ii dont have two prove anythiing two you, iim a great hacker, periiod. 
CG: NO IT'S ALL SO CLEAR NOW, YOU WERE A FRAUD ALL ALONG. 
CG: WHAT DOES ALL THIS NONSENSICAL CODE YOU WROTE EVEN DO? 
CG: IT'S ALL NONSENSE. 
CG: LIKE A BLUFF. YOU JUST SAY, OH KARKAT WILL NEVER UNDERSTAND WHAT I WROTE IS BULLSHIT BECAUSE HE'S TOO DUMB TO FIGURE IT OUT. 
CG: WELL YOU'RE BUSTED, THESE VIRUSES HERE I BET DO NOTHING AT ALL. 
uuuuuuuuhhhh
TA: waiit, KK… 
CG: I BET IF I RAN THEM NOTHING BAD WOULD HAPPEN. 
CG: MIGHT EVEN IMPROVE MY COMPUTER'S PERFORMANCE! 
……….karkaaaaaat………….
TA: no don't. 
CG: HOW ABOUT THIS IDIOTIC PROGRAM WITH THE RED AND BLUE CODE, WHICH IS A MEANINGLESS THING TO DO WITH CODE ANYWAY. 
KARKAT NO
CG: WHAT DOES THAT EVEN MEAN? IT'S ANOTHER ONE OF YOUR SCAMS. 
CG: WHY NOT SNEAK SOME BAD CLIP ART INTO THE FILES TOO, AND PRETEND THAT'S CODE??? 
TA: oh god, no dont run that, iim 2eriiou2. 
CG: WHAT WOULD HAPPEN? 
TA: iim not 2ure, but iit would be really, really bad iif you ran iit, ju2t dont. 
CG: AH HA. JUST AS I THOUGHT, YOU CAN'T EVEN COME UP WITH A GOOD LIE WHEN I PRESS YOU ON IT. 
CG: YOUR BLUFF HAS BEEN CALLED. 
CG: COMPILING AS WE SPEAK, IT WILL AUTORUN WHEN IT FINISHES. 
…………………..my brain cannot sustain this much stupidity i am going to sit in that corner, see you later when i don't feel like screaming, maybe i will meditate a little…… well done, karkat…. well done………
CG: AND NOW I HAVE TO GO ATTEND TO SOMETHING OUTSIDE, BECAUSE TEREZI IS DOING SOMETHING JUST UNSPEAKABLY STUPID RIGHT NOW. 
TEREZI JUST SAVED KARKAT'S LIFE I CANNOT BELIEVE
SHE JUST LEGITIMATELY UNKNOWINGLY SAVED HIS LIFE HE WOULD HAVE DIED IF HE STOOD THERE
KABOOM NO MORE KARKAT VANTAS
WHAT IS SHE DOING???? PAINTING SHITTY SELF PORTRAITS OVER THE WHOLE HOUSE??? MAKING THE TOILET FLOAT AROUND AND GIGGLE AT THE SIGHT (SMELL EW)??? WHATEVER IT IS SHE JUST SAVED HIS LIFE
CG: WHOOPS, FORGET I SAID THAT. IT WAS PRIVILEGED INFORMATION. 
KARKAT YOU FUCKING DORK GO THANK TEREZI IN ADVANCE
TA: you are the dumbe2t grubfucker on the planet, ii 2wear. 
CG: LATER DOUCHE BAG. 
TA: KK DO NOT RUN THAT CODE. 
TA: hello?????????????? 

carcinoGeneticist's [CG'S] computer exploded. 

TA: oh my god.
BUT WHO CARES HONESTLY WE WILL DEAL WITH THE CURSE LATER THE IMPORTANT THING IS THAT KARKAT DID NOT GET BLOWN UP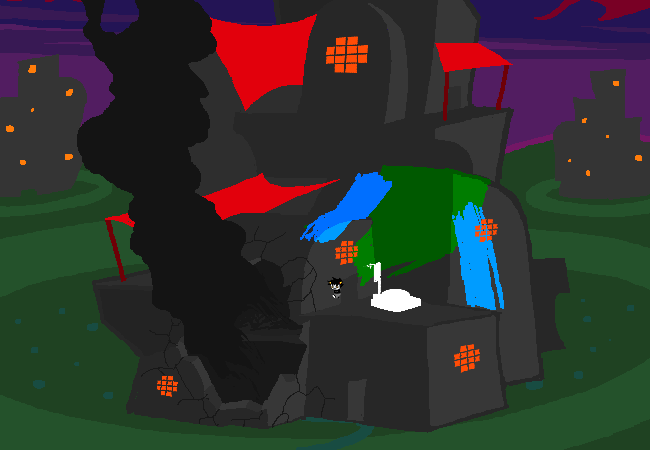 IT WAS THE PAINT DEAR GOD BLESS TEREZI AND HER FIXATION ON COLORS
LOOK AT KARKAT GO, HE LEARNT THAT RUN FROM TROLL NARUTO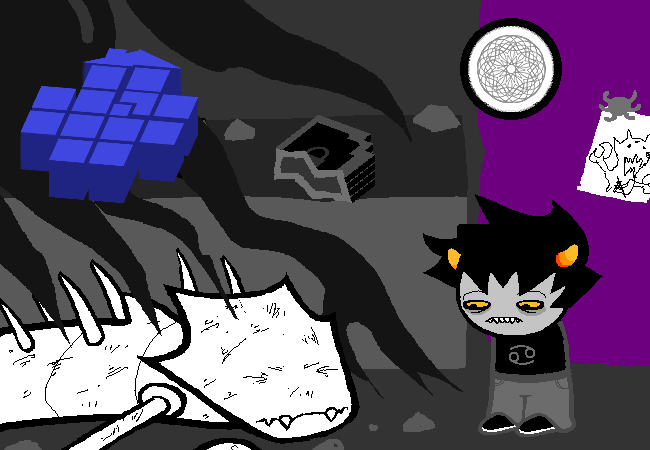 FFFFFFUUUUUUCKKKKKK OH MY GOD OH GOD OH NOOOO NO NO AAAAA IS IT DEAD
CMON UNFAIR KARKAT NO
OH MY GOD IT'S DEAD WHYYY,,, DID,,,YOU HAVE TO OD THT NOPE,, KARKAT DONT MAKE THAT FACE
OH MY GOD IC AN'T WATCH THIS SOMEBODY HUG HIM SOMEBODY FUCKING HUG HIM
IT'S  DEAD LIKE THERE IS EVEN THE KERNEL IN THE PICTURE LIKE I KNOW WHAT YOU ARE SUGGESTING BUT FUCK YOU NARRATOR HONESTLY WHY
IT EVEN DIED NEXT TO KARKAT'S SHITTY DRAWING OH MY GOD I'M SO SORRY KARKAT
FUCK YOU TEN THOUSAND TIMES HUSSIE
Karkat and his friends and everyone they would ever meet thereafter would experience great misfortune on account of the curse unwittingly implemented through Sollux's esoteric MOBIUS DOUBLE REACHAROUND VIRUS. 
FUCK OFF
Every troll's lusus would soon die.
FUCK Y— EEEHHHH???????? EVERYONE'S LUSI???""" I AM NOT WATCHING THIS HAPPEN TWELVE TIMES DO YOU WANT ME TO ACTUALLY CRY????!!
 All but one of their kernelsprites would be prototyped with a dead lusus, each prior to entering the Medium. 
*ELEVEN TIMES
NO WAIT IT'S STILL DYING ONLY IT DOES NOT GET PROTOTYPED FUCK YOU
Upon entry, they would each have a bittersweet reunion with the creature after the kernel hatched, triggering the sprite's metamorphosis. For the first time, the trolls would be able to have verbal conversations with their custodians, and would be guided by them along their journeys. 
OKAY THAT'S SLIGHTLY BETTER ………Slightly. B-But they are basically their parents. Gigantic, beastlike creatures, but parents nonetheless! They raised them!! Unf.
Unfortunately, the underlings and warring royalty would gain the benefits of the monstrous prototypings as well. Each sprite, except for one, would only be prototyped once. The players would learn quickly that while one pre-entry prototyping per player was absolutely necessary for ultimate success, additional pre-entry prototypings merely empowered their enemies unnecessarily.
FUCKING FINALLY. I've been wondering about this for four acts! Every single player needs to prototype, it is not a requirement only for the first player who enters. I'm guessing this is so that Skaia reaches the last stage of its transformation… which would be whatever form it takes after the last player enters the game….. In WV: Rise up it was shown that the second-to-last stage was a planet.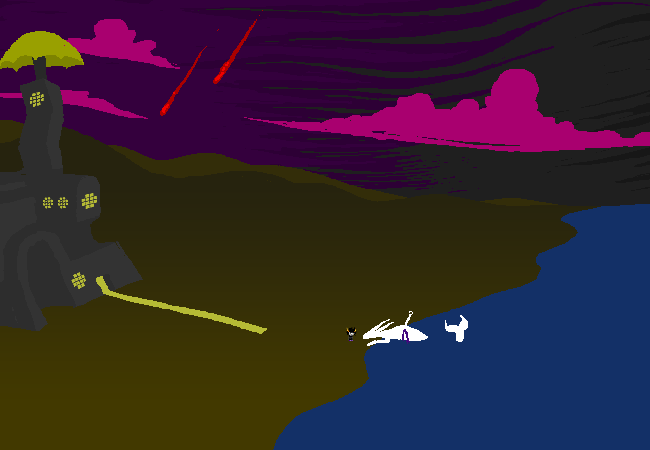 NO NOPE NO WHY
IT NOT ONLY HAD TO DIE BUT ALSO WASH UP JUST IN FRONT OF HIM LIKE HEY THERE WHATS UP ENJOYING YOURSELF?? HERE IS YOUR DEAD FATHER FIGURE THAT YOU HAVEN'T SEEN IN LIKE YEARS!!!
FUCK YOUUU I'M OUTTA HERE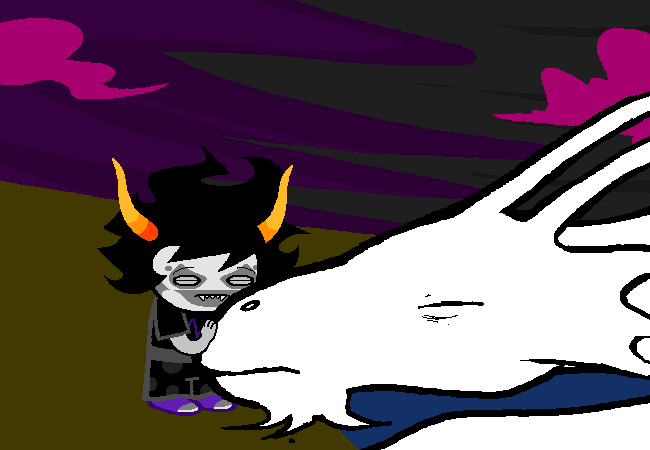 AAAAHHH OH MY GOD I'M SO SORRY I'M SO SORRYYYYYYYY
It was harpooned :(((( 
The game has no explicit rule that demands something dead for prototyping. But in practice, the kernelsprite has particular attraction to the deceased or the doomed. Across every session ever played, exceptions to this pattern are extremely rare.
And now I wonder if we will see exceptions in the future?? Like someone who is alive and not doomed (sorry, davesprite) prototyping themselves?? Doesn't have to be a person actually, could be an animal as well, as long as it is a living being. Hmmmm.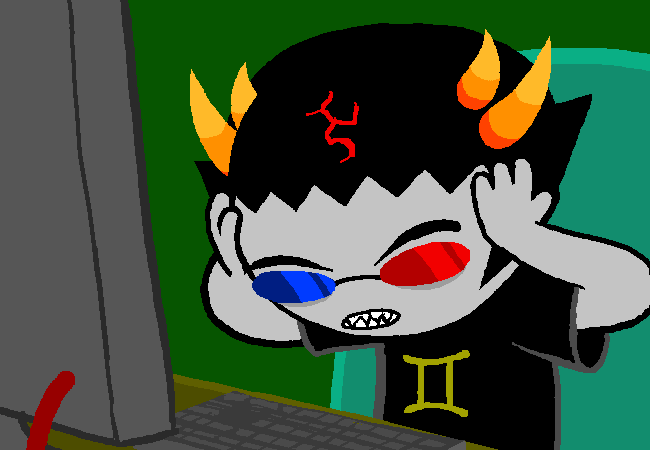 Why did you send Karkat that code? It was such a bad idea. You suppose it was a boastful gesture to get a friend to think more highly of you. But why would flaunting your superior skills accomplish this? It was foolish. 
Sollux, no blaming yourself!!! It is not allowed!!! I forbid it!!! It had to happen and it did PERIOD. although if you want me to be totally utterly honest why IN HOLY HELL DID YOU THINK THAT SENDING A CURSED VIRUS TO THE MOST IMPULSIVE HOT-HEATED IDIOTIC TROLL ON ALTERNIA WOULD BE A GOOD IDEA EVER OKay no sorry not your fault sorry
You ought to wipe all these clever viruses you wrote off your computer. They can only bring more trouble.
oH GOD HE IS SO TOTALLY GONNA ACCIDENTALLY RUN SOME VIRUS THAT MAKES THE UNIVERSE FUCKING IMPLODE OR SOMETHING. REST IN FUCKING PIECES SNOWMAN YOUR INSURMOUNTABLE BADASSNESS WILL BE REMEMBERED ALONG WITH YOUR OBSTINACY IN RIDICULING SLICK AND TAKE WITH YOU A FEW OF HIS BODY PARTS
…..I miss Snowman….. ;_; All these talks about universes dying…. like can u not…. #ProtectSnowman2k15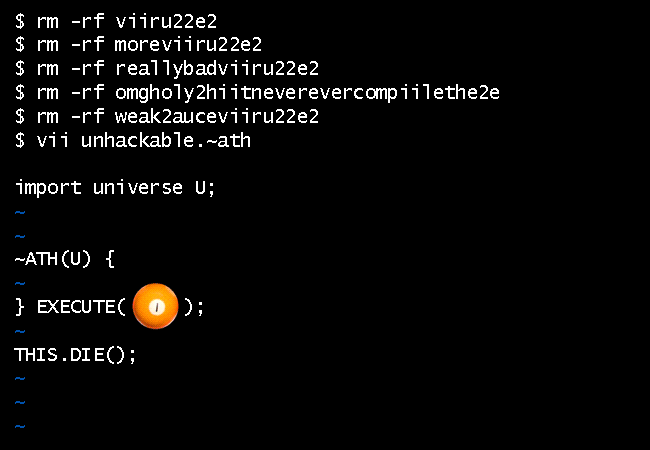 Oh, like hell I'm trying to decipher this shit this time around. It always ends up being nonsensical and not mentioning anything that is actually written in the code!! I could decipher all this crap in a perfectly reasonable manner and in the next paragraph Sollux would still be talking about how running this code makes unicorns real and gets you to ride them into the Skaia sunset.
While deleting your virus folders, you pause on one oddball file you have lying around. 

You did not write this virus. You copied it from an obscure server, far beyond your planet's global network. This application is running on that server perpetually. 
PLEASE ENLIGHTEN ME SOLLUX, WHAT DOES THE CODE DO. ARE THE DISTILLED TEARS OF A VIRGIN DWARF INVOLVED??
It is an extremely simple ~ATH program. Its main loop is tied to the lifespan of the universe.
That I had understood,There are enough tildes and Us to KO about fifteen universes and their mothers. I kind of figured that the lifespan of one would be involved.
When the universe dies, a mysterious subprogram will be executed. You have no way of knowing what that subprogram does. It runs on a protected part of the server. It is completely unhackable. 
Unhackable by the guy who adapted Sburb??? …..okay…… that sounds fake but……. okay
Also???? The Felt is involved????? Somehow. Yes, I can totally see Eggs and Biscuits as hardcore hackers compiling deathly shitty codes all around yup sure whatever you say
You delete the file, but it won't do much good. The program is already running elsewhere. Luckily, whatever harm it will do will not be done for many billions of years. And even then, what harm could a virus do after the expiration of the universe? This file always struck you as quite odd.
You sure this code is not actually named ominousbullshit.ath ??? Well, figures the one who went ahead and wrote the code either knows fully well what they are doing or is a complete idiot. I am inclined toward the former for plot reasons.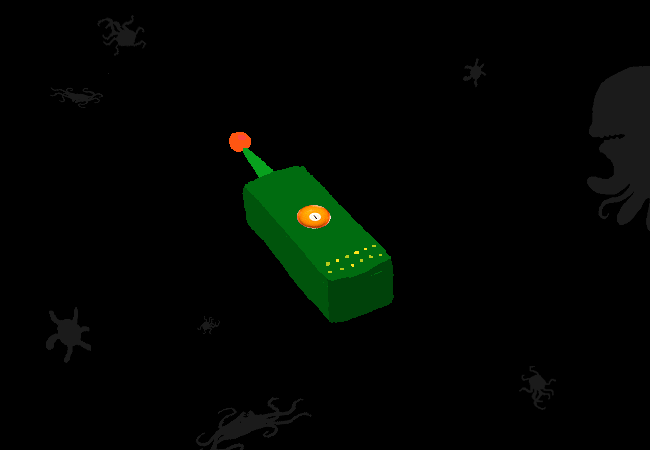 IN THE FURTHEST RING SERIOUSLY?????? Hiya, that's Rose's new friends in the background, the Horrorterrors, how is it hanging?? OH WAIT FUCK. It was uploaded on one of the Furthest Ring's servers??? That's… interesting. Shouldn't you have to be in the game to have access to them? oh wait WAIT WHAT THE HELL HOW DID SOLLUX REACH THOSE SERVERS?? Isn't the furthest ring a game thing?? I mean… this is hella confusing, I don't know, Would that make Paradox Space… no okay I have no idea I'm confused now
But Sollux, even with his vision twofold, does not have the perceptional luxuries of our vision omnipresent. 
You mean he isn't at the mercy of a narrator who is willing to randomly spoil his own story to the readers because he is more of a troll than the whole alternian population put together?
When executed, the subprogram will summon an indestructible demon into the recently voided universe. 
OH SHIT. So is this actually a new villain that we are introducing here or what. Are we talking about the indestructible-indestructible kind of demon, or of the indestructible "there is only one convoluted way to kill it" kind, OR of the "can't kill it we have to find a way to banish its soul to the depths of hell" kind or even of the "leTS START SEARCHING FOR HORCRUXES" kind because let me tell you there is a BIG difference
also i don't understand, who cares if there is a demon into a voided universe?!!?!?! it's called VOIDED for a reason, there is nobody there beside the void itself so i guess RIP to the void, we will miss it dearly, it will be a tragic loss and people will weep and sorrow.
This monstrous being with the power to travel through time is inconvenienced very little by his arrival upon THE GREAT UNDOING.
OH.
OH!!!!!
OOOOHHHH SHIT YOU'RE ALL FUCKED HAHA
He has the entire cadaver of the expired universe to pick apart at his whim.
HAHAHAHAHA YES TOTALLY FUCKED
From its birth through its swelling maturity and tapering decay. In a reality he is known to have marked for predation, he will go about assembling followers through various epochs, even going as far as personally establishing the parameters for his future summoning. 
Okaaaaaaaaay. So:
1) That. Sounds like a really bad thing. Really bad. Also through various epochs?? really?? Maybe you should try to stop him before he is….. summoned? or should you stop the summoner. @future summoner whoever you are why the heck do you want an indestructible demon to destroy the universe GO TO YOUR ROOM, YOU'RE GROUNDED. ….orrrr is the demon summoning himself because if he can time travels he can also do that, i guess.
2)IT'S AN ACTUALLY SENTIENT DEMON SIGN ME THE FUCK UP GOOD SHIT RIGHT THERE (right there) UH HUH
….I kind of have a tiny little weakness for sentient demons and everything that comes with them. Okay, I kind of have a huge weakness for those. The fangirling kind. …Okay, but let's be clear, not the kind of weakness that makes you end up writing nsfw fanfictions and/or grossly mischaracterize them etc. etc. If watching Gravity Falls made me realize anything, is that smartass demons are the shit. …..That and the fact that people really are able to ship anything. srsly people stop
Sollux couldn't know that the virus is essentially a formality. 

The demon is already here.
DUN DUN DUN DUUUUUN
That makes sense. I think. ((i suck!!! at understanding!!!! time travel!!!! i suck!!! so much!!!! at it!!!!! why,,, hel.p))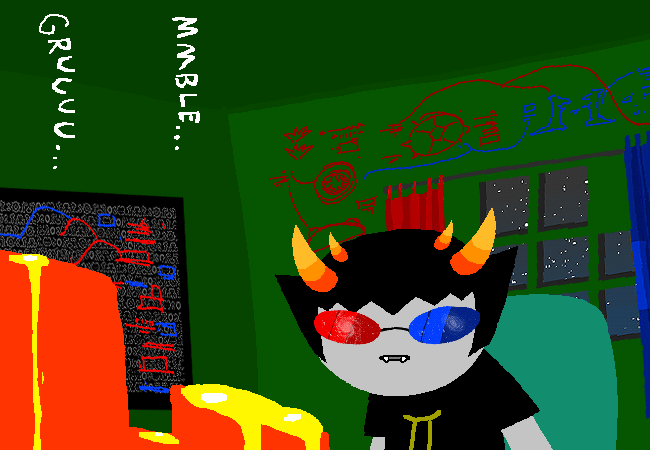 Sounds like your lusus is agitated about something up there. You already gave him his serving of honey today. If he thinks he can get more, well that's just greedy. 
cALLING IT THAT SOLLUX' LUSUS IS GONNA DIE OF HONEY INDIGESTION
You wonder what could be bothering him?
That nasty indigestion, what did I just say?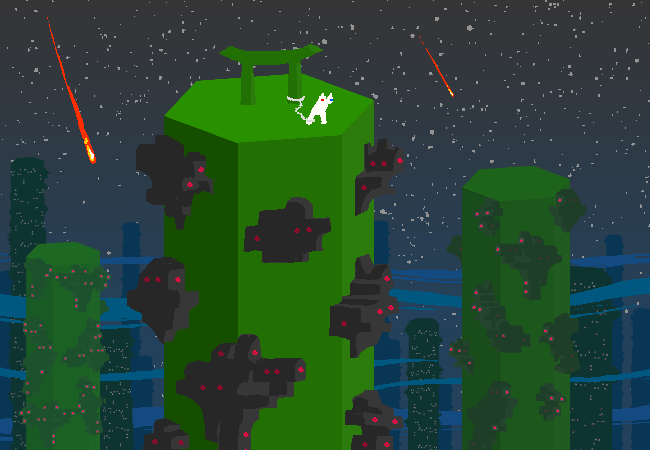 You keep your enormous BICYCLOPS chained to the roof of your COMMUNAL HIVE STEM. It is the only place there is room for him. Dueling with him on the roof during feeding time is a daily ordeal.
AND THE DAVE PARALLELS DON'T EVER STOP (though dave didn't chain bro to the roof… that's not a bad idea, tho…. not bad at all. no more lil'cal sneaking up on him in the dead of the night, no sudden sword fighting, really nice)
I swear Sollux is actually just an experiment to find out how many parallels you can draw between two characters without them ultimately becoming the same person.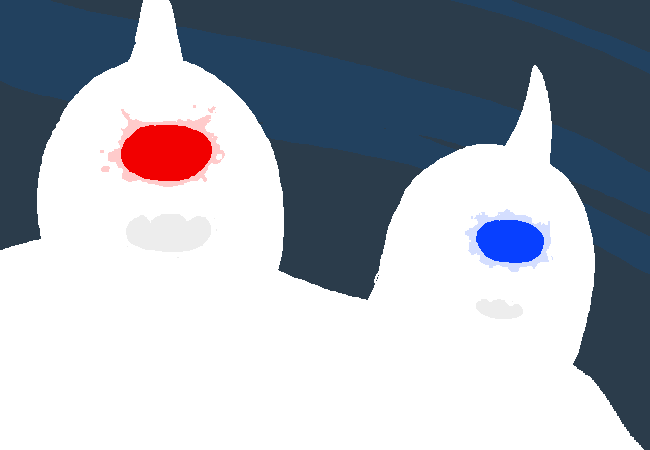 Its eyes are kind of…. weird. Yes, I have just been faced by a two headed troll version of polyphemus and that's what i am wondering about.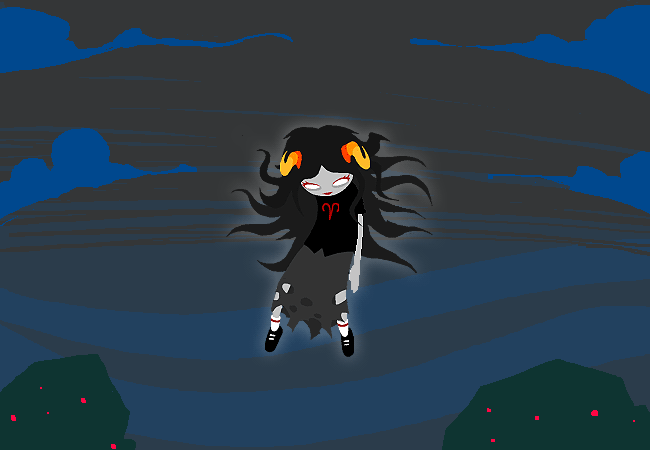 IS SHE GOING TO FREAKING KILL IT I SWEAR TO GOD
STOP GLOWING!!! WHY ARE YOU GLOWING!!!!
And what happened to her horns, did she have a head on collision with another flying pupilless troll while on her way to Sollux' hive or what.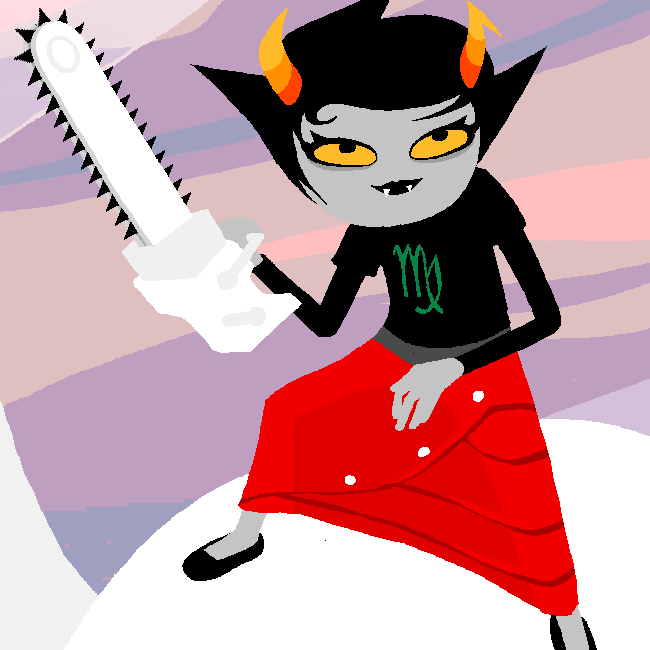 AAAAAAAaaaaaaaaaAAAAAAHHHHHHAhhhhh YESSS THERE YOU ARE!!! THAT'S ILLEGAL HOW MUCH I HAD TO WAIT FOR THIS YOUNG LADY TO SHOW UP, IT IS SO ILLEGAL I'M TELLING YOU
AND HOLY PRETZELS!! CHAINSAWKIND??? THAT'S BRUTAL!! GEEZ, IT'S ALWAYS THE NICE ONES! YOU'RE LUCKY THAT SBURB'S ENEMIES ARE JUST GAME CONSTRUCTS 'CAUSE BLOOD STAINS ARE A BITCH!! …Or so I have heard….. Ha! Haha! ((Yes, I know she has totally used that thing before shhhh don't wanna disrupt the cinnamon roll image I had of her until extremely necessary shhhh she is totally just a woodwoman shhhhh))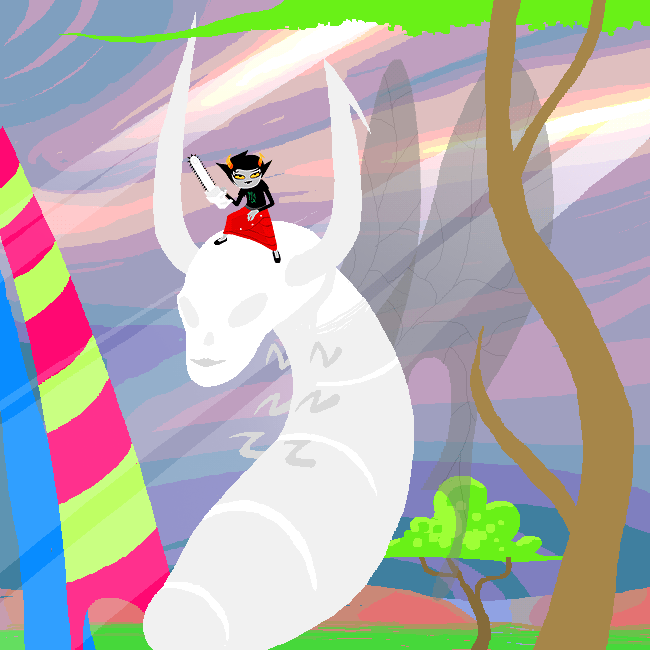 HOLY CRAP. How do you even stand on its head.
That's also the most Earth-like landscape I've seen so far on this planet! And consequently the prettiest. B)
AND THE LUSUS!!! LOOK!!! THEY EVEN HAVE THE SAME HORN SHAPE! AWW! THAT'S A SHE-LUSUS IF I HAVE EVER SEEN ONE!! Which…. I haven't but…. manner of speaking, ya kno'… Actually I'm pretty sure Karkat addressed his lusus with it/its pronouns?? Gamzee is the one who went with he/him. Terezi also went with it/its and the "it" is possibly an effing dragon unless she is the one who didn't prototype her lusus. Sollux' lusus is a double headed manly man who just so happened to get teary eyed as AA stared at him menacingly. JUST SO HAPPENED. Fear is not involved. Nope. Next is Sollux.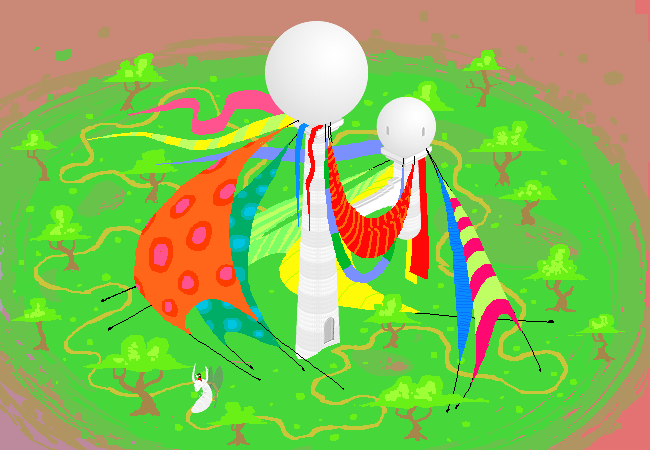 THAT'S IDENTICAL TO JADE'S HOUSE AND INCREDIBLY PRETTY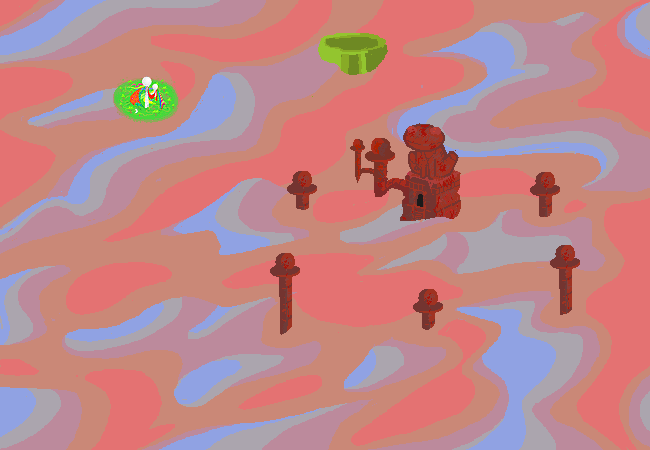 !!!!! FROG TEMPLE!!!!! ANOTHER ONE!!!! ONE THAT AA DIDN'T GET HER HANDS ON!!! VOLCANO!!!! AND WATER MAYBE??? I AM NOT SURE?? 
Although this temple has….five?? towers?? Plus the little one attached?? Did Jade's have the little one attached?? Uggghhh, I don't remember I have to check.
OKAY SO. Five hours later. It took me an eternity to find it. Because Jade's temple is currently wrecked so I had to go and search for the flash which showed it as it…. grew….? (wtf am i reading) And I didn't remember which one it was ANYWAY. Jade's temple has four towers plus the one attached plus her own if we want to include it?? But. That doesn't make sense?? That would make four ummhh normal towers plus the two with like… the little tower appendage (shoosh i don't know how to call it) for a total of eight towers for the kids and nine for the trolls???? Uuuuugghhhh AA's temple has six towers plus the other two with the……. appendage….. actually the one attached to the frog was lost in the fucking war or something. Or AA has already wrecked it. But I suppose it was there?? Why the fuck is one of the towers attached to the temple HOLY FUCKING SHIT. HOLY FUCKING SHIT I AM AN IDIOT SERIOUSLY I AM. AN IDIOT. AAAAhhhhh. Since the frog symbolize skaia for some fucking reason please don't ask because i have no idea THE TOWERS ARE THE PLANETS/PLAYERS WHILE THE LITTLE TOWER ATTACHED IS PROSPIT AND ITS MOON AND THE ONE IN WHICH JADE AND GA LIVE IS DERSE WAIT WHY DOES JADE LIVE IN THE DERSE TOWER AAAAAAAAAAAHHHH
Also GA's temple does have six towers only one is probably hidden behind the frog. but it still doesn't make sense because!!! the trolls' session has twelve players??? why six towers?? does one temple symbolize Prospit while the other symbolizes Derse?? Still doesn't make sense because the kids only have one temple!! And it has foour towers anyway! Not two. It doesn't fit. Unless the trolls really are going to have two separate sessions?? But they are in the Veil together right now??? So??? So nope??? You know what, I give up. Let's move on.
OOOH COME OOOOONN WHYYYYY
P
L
EASE
LET'S
STAY
A WHILE
Welp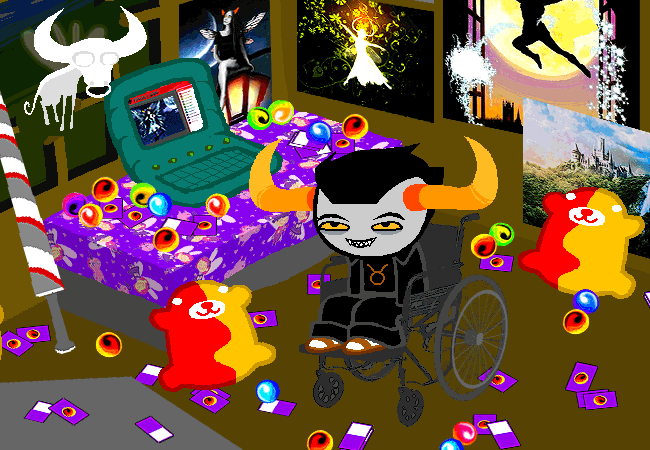 Oooh, it's AT!!!! How's is it going, Mr Big Horns?? THIS IS THE MESSIEST PLACE I'VE EVER SEEN SINCE THE STRIDERS' LIVING ROOM AND ALSO???? Was I hammered when they showed him in a panel or was the wheel chair just NOT THERE. Or it couldn't be seen?? And considering the fact that Terezi pretty much flaunted her disability around this is kind of sudden tho. 
You are now no longer the other girl, or any of the other five for that matter. 
yeah, you say that but I see plenty of ladies in this room. Ladies everywhere. AT, I see time has passed but trolls do not change….. You keep sinning and this time the victims are those not much dressed ladies….. The Troll Bible, AT, it is not to late…… I HOPE
Also is that monokuma from Dangan Ronpa there in the corner, Harlequin Version??
AND FUCKING UNICORNS AND FAIRIES ON THE DESK NO. Wait I'm pretty fucking sure those fairies are human. While on the posters they are troll fairies?? What??
That's a cute Lusus you've got there…. It would be a shame if— NO OKAY I DON'T HAVE THE HEART TO SAY IT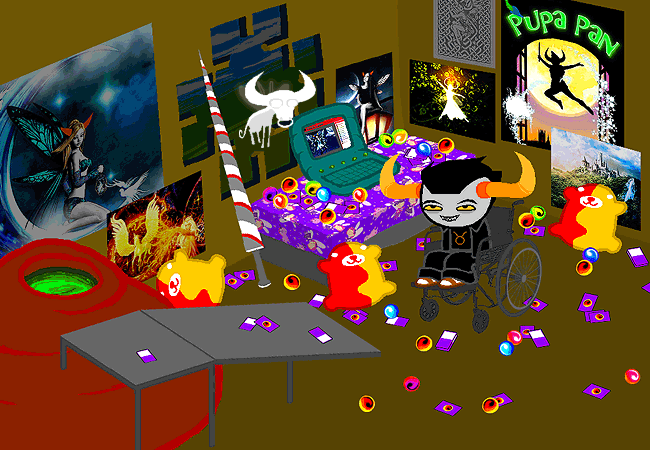 Your name is TAVROS NITRAM. 
TAVROS NITRAM. I DEMAND AN EXPLANATION. FOR ALL THOSE POSTERS
SKIMPILY DRESSED LADIES EVERYWHERE. HOW INDECENT. HOW ARE YOU NOT THE ONE ENDING UP BLIND, I WONDER.
You are known to be heavily arrested by FAIRY TALES AND FANTASY STORIES. You have an acute ability to COMMUNE WITH THE MANY CREATURES OF ALTERNIA, a skill you have utilized to CAPTURE AND TRAIN a great many. They are all your friends, as well as your warriors, which you pit in battle through a variety of related CARD AND ROLE PLAYING GAMES.
Tavros confirmed for pokemon master, pass it on.
You used to engage in various forms of MORE EXTREME ROLEPLAYING with some of your other friends before you had an accident. 
This is either the same Terezi was involved into or these kids just have an awful lot of accidents. 
You like to engage in the noble practice of ALTERNIAN SLAM POETRY, possibly the oldest, most revered, and certainly freshest artform in your planet's rich history. You have a profound fascination with the concept of FLIGHT, and all lore surrounding the topic. You believe in FAIRIES, even though they AREN'T REAL. 
Aw, c'mon kid. Have you learned nothing from Peter Pan. That poster you have on the wall is either a troll version of it or a pansexual troll teen idol ready to go clubbing at the rise of the moon…. which… all things considering, I wouldn't put past Tavros to have as a hero to look up to. ANYWAY WHAT DO YOU MEAN THEY ARE NOT REAL, YOUR SKEPTICISM IS GOING TO KILL TINKERBELL, YOU MONSTER.
Oooohh, wait wait wait. The narrator is saying that fairies aren't real! Tavros believes in them! I see. Which if I have to take a guess taking into consideration the logic that this webcomic has been following so far means only one thing: I can't fucking wait for fairies to show up. B)
> Tavros: Cut to the chase and play card games immediately.
You gonna set parallels to Terezi??? Fine, but it will be hard to beat her Courtroom Drama Session.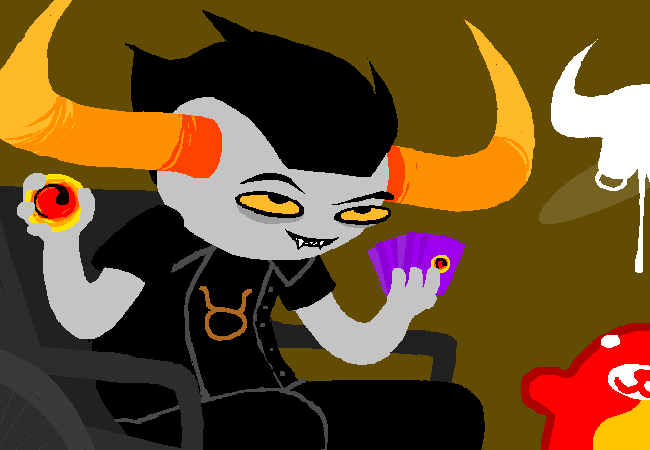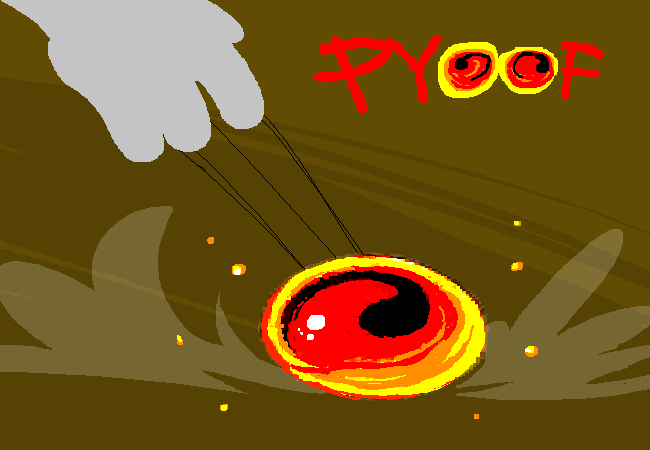 THIS IS THE RIGHT MOMENT TO TELL YOU GUYS THAT I KNOW NOTHING WHATSOEVER ABOUT POKEMON I ONLY WATCHED THE ANIME FIVE THOUSANDS YEARS AGO
You kickstart a rousing match of FIDUSPAWN, with the only friend you've got to play with in person, your loyal lusus TINKERBULL.
…Tinkerbull. I. Seriously? I am. Just. Going to stare at that wall for a while. Contemplating things. Tinkerbull. This is the point in which Hussie realized that he had to name twelve little motherfuckers and simultaneously that he had no fucks left to give whatsoever. I imagine. And then Tavros happened.
You take a look at the favorable hand you dealt yourself and crack a mischievous smile. With a HOST PLUSH at the ready, you quickly lob an OOGONIBOMB and catch your adversary off guard!!!
You say host plush and all I can think of is that you're going to let it throw a tea party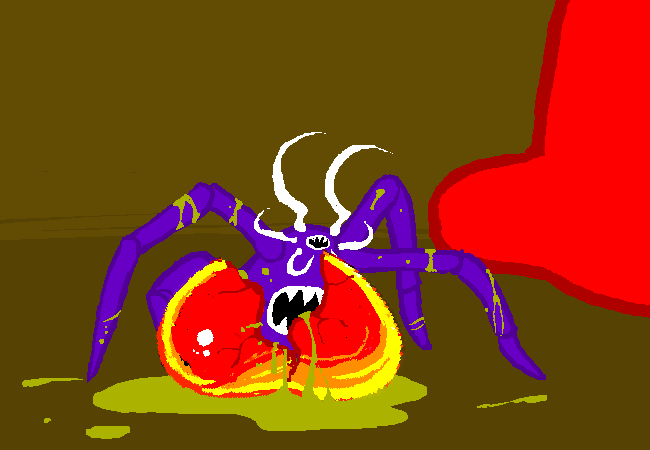 HWTA THE FUCK IS THAT THING HOLY JESUS THE SPAWN OF TROLL LUCIFER IS HERE TAVROS WHAT THE FUCK IS THAT WHAT THE FUCK WHAT ARE YOU SUMMONING KILL IT
KILL IT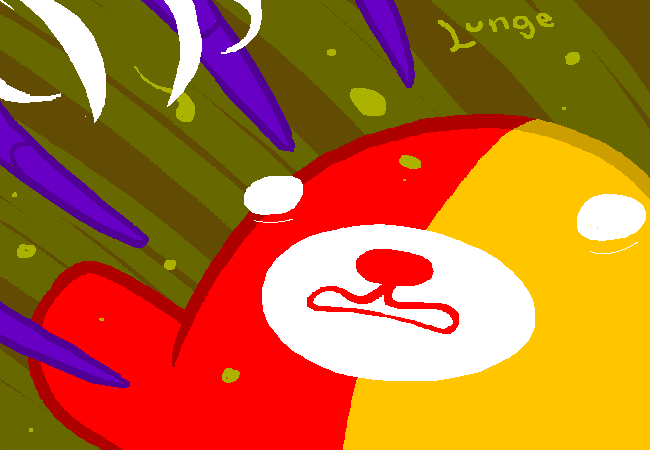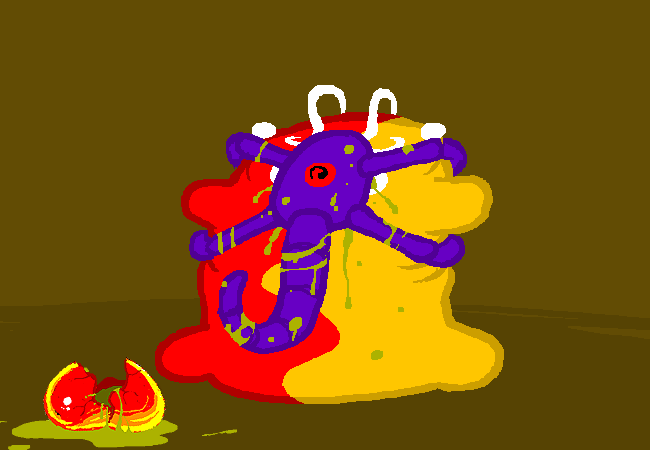 WHAT IS THIS OH GOD OH GOD CAN I GO BACK TO TEREZI'S SCALEMATES PRETTY PLEASE I WILL PAY YOU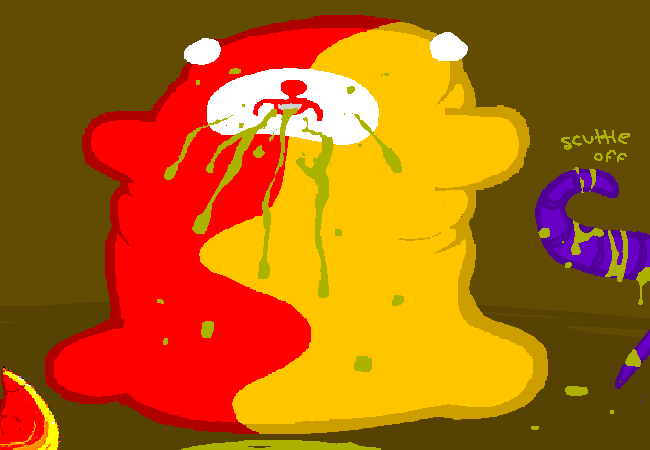 IT LOOKS LIKE IT'S GOING TO THROW UP 
IT SHOULDN'T LOOK LIKE THAT 
GOODBYE EVERYONE I AM GOING TO SEE WHAT AC IS UP TO IF I AM LUCKY MAYBE SHE IS SLAUGHTERING A CROCODILE CYA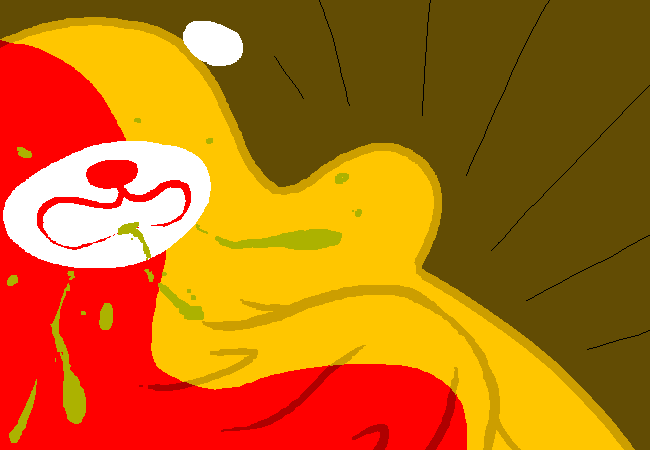 WHAT IS HAPPENING
FUCKEN CHRIST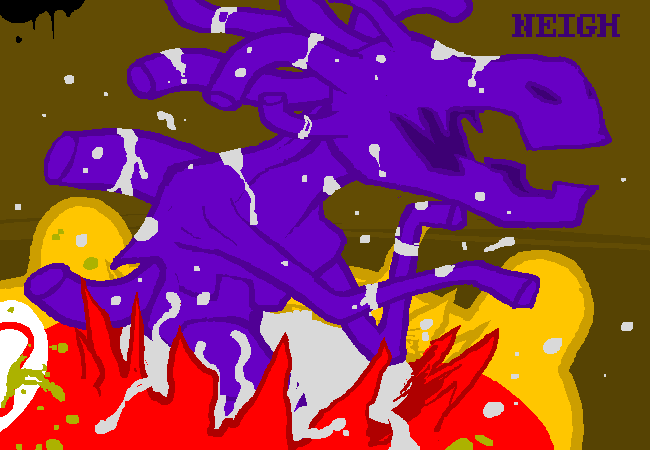 HORSARONI, I CHOOSE YOU!!!!!!
DID IT FUCKING LAY AN EGG IN THE PLUSH DID IT IMPREGNATE THE HOST PLUSH OH GOD ARE YOU TELLING ME THAT I JUST WITNESSED A FUCKING ALIEN POKEMON GETTING IT GOING ON WITH A PLUSH IS THAT WHAT YOU ARE TELLING ME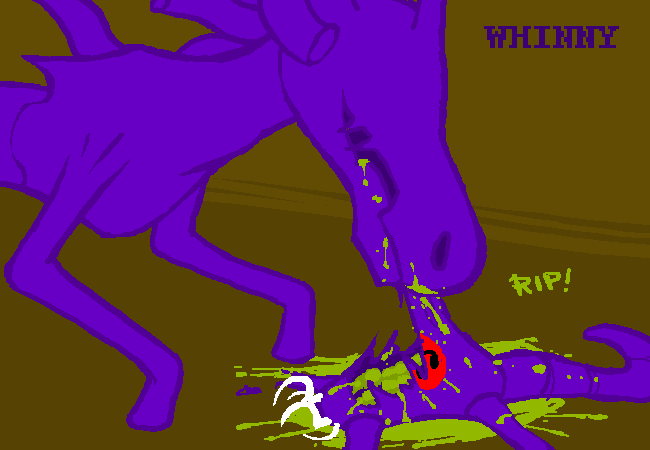 …….can you hear this sound….. in the distance…… it is i, throwing up before i could reach the safety of a bathroom……ye   :)  :)  :))))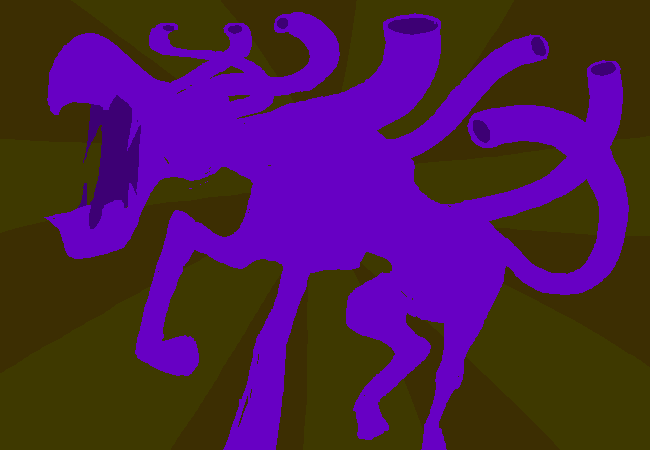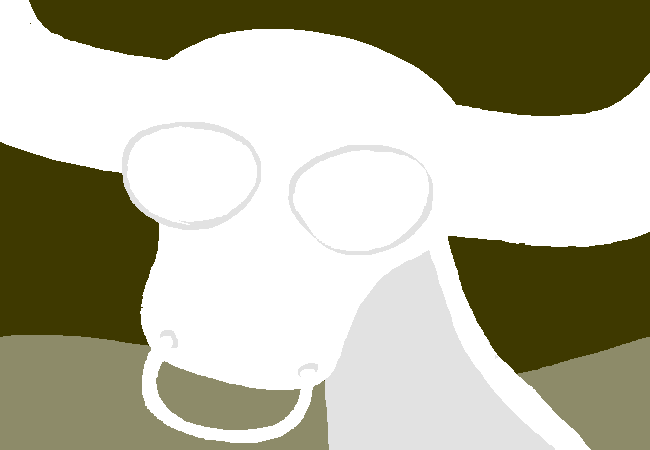 THE FUCK IS HAPPENING NOW
You use your awesome bestial communion abilities and bend the ferocious stallion to your whim. Tinkerbull can't stand the suspense!
i CAN'T WAIT for it to be OVER either!!!!!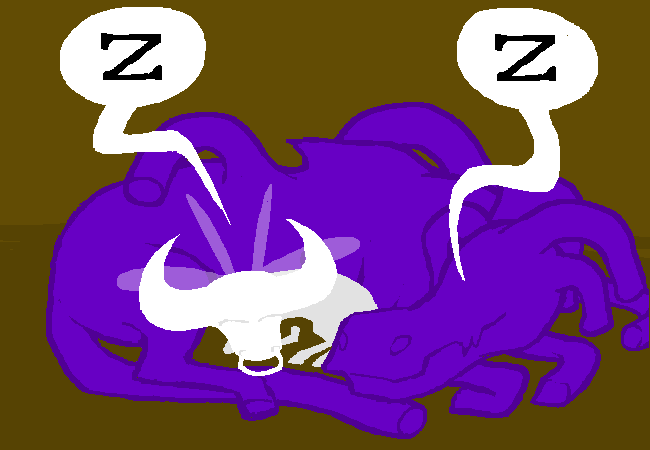 what
Nap time! 
that was…. anticlimactic. okay.
Everybody wins. Horsaroni gains a bunch of levels. In no time he will be ready to breed and you can put him out to stud.
haha…. ha… breed…….
thanks for confirming my worst suspicions now do you think that hitting my head repeatedly on a hard flat surface would be enough to make me forget this or do you have any other less painful suggestions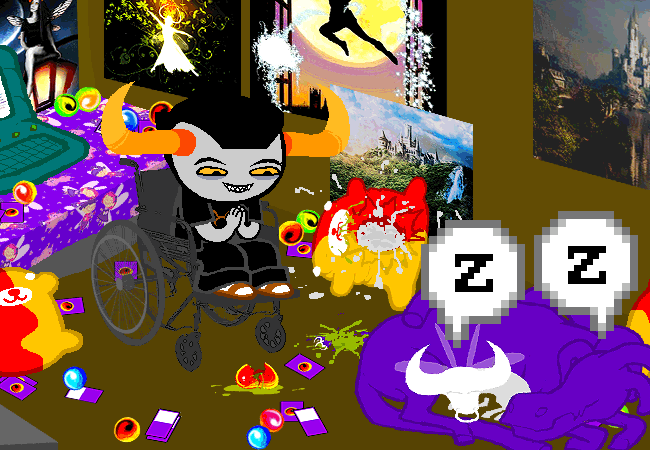 NO.
You are forbidden from nonchalantly drawing any kind of parallel between this…. this…. DISPLAY and Jade. Because Squiddles may be horrific but at least they aren't……. copula,,,tin,,g on sc,,,reen they actually are meant to hint to copulation aren't they that's what i was always joking around about and it was true and i was JOKING  it wasn't meant to be true GOODBYE I AM GONE
Tavros: Roll up your ramp.
This is how you get up to your recuperacoon when it's time to rest. It's kind of a production getting in and out.
How is that ramp even safe
You can't fit all the way in because of your huge horns. It makes it hard to get any solid shuteye.
OH DEAR
Oh great, now you're covered in slime. Why did you do this? You're going to have to change your clothes. There goes another solid hour down the tubes. 

Aw damn and there goes your four wheel device down the ramp. That happens a lot.
I could be saying something absurd but don't wheelchairs have BRAKES???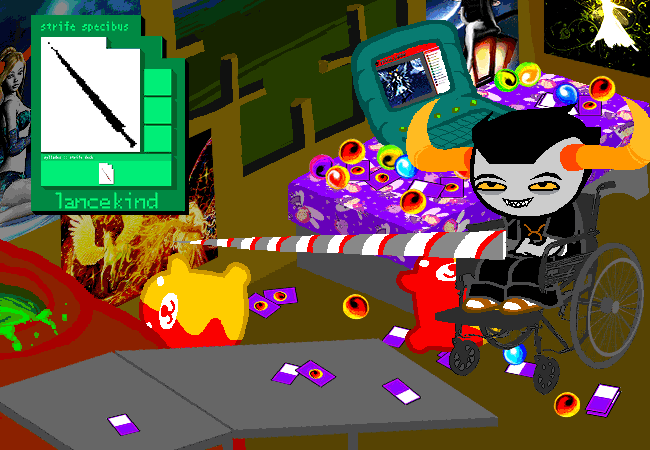 After a major cleanup rigmarole and a lot of crawling around your respiteblock, you equip your JOUSTING LANCE.
HOLY SHIT HE JUST IMPALES HIS ENEMIES 
dunno how effective it would be against imps but still. brutal af
GA REALLY DID FIND A WORTHY REPLACEMENT TO HER INTRODUCTION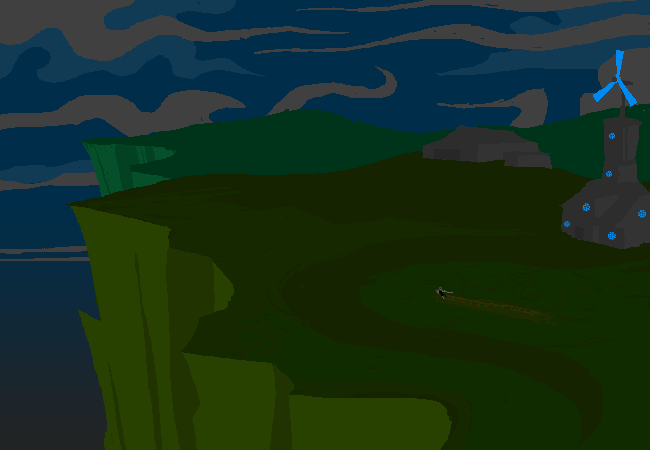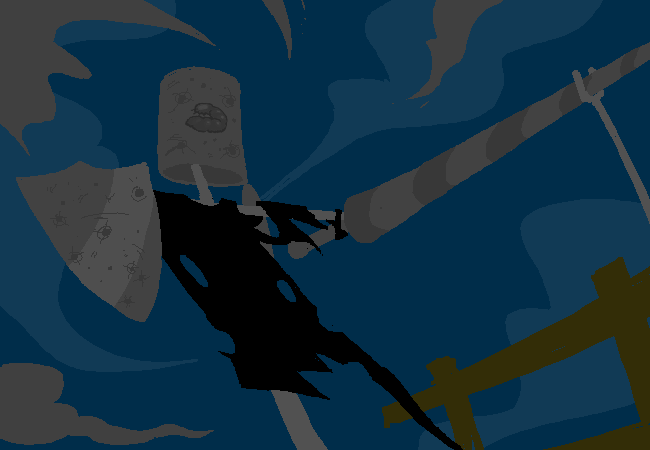 You like to practice your jousting outside.
THE EXTREMELY OFF PUTTING THING IS THAT HE EXERCISES OUT HERE AND MOST PROBABLY CHARGES THAT MANNEQUIN AT FULL SPEED WHILE BEING ON A WHEELCHAIR THAT DOESN'T HAVE ANY SORT OF BRAKES AND I DO NOT NEED TO EVEN FINISH THIS TRAIN OF THOUGHT
TAVROS' LIFE IS A SAFETY HAZARD
One day you hope to prove yourself worthy of recruitment into the halls of the dreaded imperial CAVALREAPERS.
Oh. Like a member of the cavalry? What is Alternia's equivalent of a horse??
Assuming you are not slated for culling first on account of your disability. Or really any other arbitrary reason.
Whenever any of the trolls says something of this extent just imagine a tiny feeble voice chanting "what the fuck alternia wtf the fuck alternia who is in charge of this place wtf what the fuck" and that would be me, as i wrap all these children in tons of fluffy blankets and whisk them away from this awful horrible awful place yes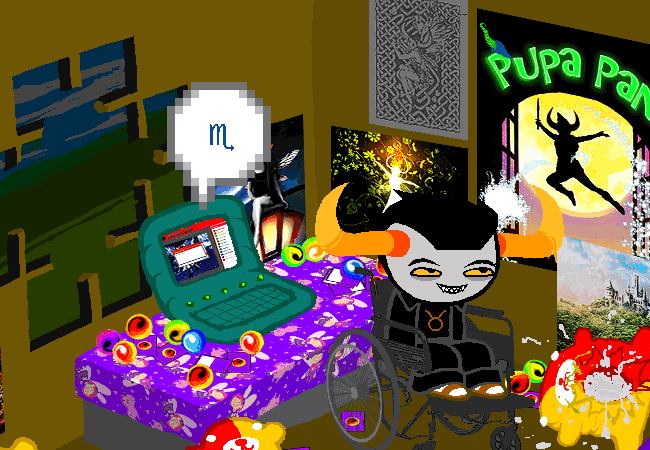 NEW TROLL
TAVROS, TAV, T-BOY YOU'VE GOT NEW MESSAGES
You wheel over to your favorite poster featuring PUPA PAN, which is your favorite thing. You have always fantasized that one day intrepid young Pupa would come and take you away,
Oh. So he does not fantasize about being Pupa Pan himself?? About being the hero?? Well, I guess being Wendy also has its own advantages, like you get to chill without responsibilities…. since when did Peter Pan have responsibilities, he had no fucks to give, THAT WAS THE WHOLE POINT, what am I saying. But being Wendy rocks because you go on an impromptu super rad adventure with a magical flying boy showing up at your windowsill one night and……. IS THAT WHY THE WINDOW IS SAWN OFF I S2G TAVROS YOU FUCKING NERD
and together you would fly to a beautiful paradise planet of legend, that has all sorts of fanciful stuff like pirates, treasure, a cruel villain with a missing arm and a missing eye, and these weird aliens called "indians".
How bad is it from one to Karkat's coding skills that my brain went straight to Jack Noir and forgot entirely of Captain Hook's existence??
Also!!! If the Skaia froggy gods are on your side maybe you can get that wish fulfilled! There are lands with puzzles after all!! It's not treasure hunting but it's the best next thing!
You have left your window open since you were very young, just in case Pupa stopped by one night
I CANNOT BELIEVE
and decided to splash a pinch of SPECIAL STARDUST in your face. 
……….Would it be the same if it were a happy-go-lucky Gamzee Makara showing up to your window with loads of special stardust orrrr…. I don't know about how much fun you would have with him though, given that his concept of magical adventure seems to be along the lines of staring at the pretty colors of his husktop screen for hours at end…. mmmmh
You have had this interest far prior to your accident. Being paralyzed isn't what made you want to be able to fly. That would be dumb and would make no sense. 

Being paralyzed does sort of make you want to be able to walk, though.
Ouch.
Way in the future…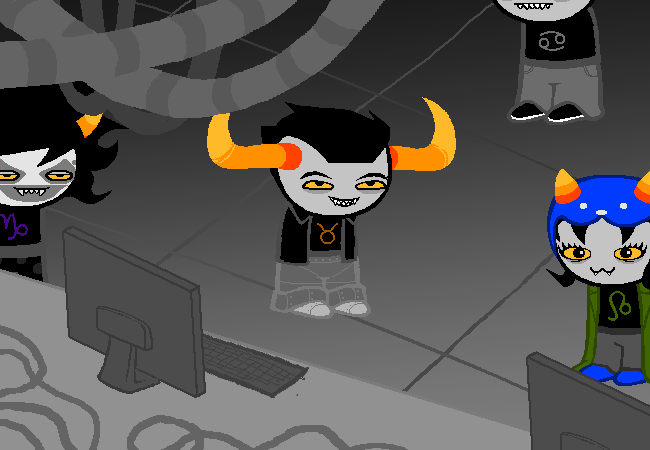 Not so ouch anymore WHAT ARE THOSE
Over the course of your long journey, at one point you were fitted with a cool pair of robolegs. The guy who likes to build robots built them for you. 
Those are so not robolegs or if they are there is also a robowaist and a robocrotch and a robo-everything-that-constitutes-his-lower-half.
OH WELL. But. Does the metal like… wrap around his legs and somehow connect to his nerves making him able to walk or are those like prosthetic robot legs?? But I'm pretty fucking sure those would require you NOT to have any legs in the first place?? I don't even want to know actually. I really don't. Also those look so heavy that Tavros jumping would possibly leave indents in the pavement and/or hijack the meteor from its natural orbit through the sheer force of the kid's impact with the floor but I DIGRESS
But then, he does like to break them more than he likes to build them. It's usually why he builds them in the first place. 
Maybe he is striving for perfection! Maybe he gets angry because the robots aren't as good as he wants them to be! Maybe he breaks them as a stress relief! There are people who hunt for frog temples to destroy and people who build their personal and expensive punching bags!!! 
Occasionally though, he will allow philanthropy to override misanthrobopy.
Misanthrobopy. Really?? The man who hated its own creations, how tragic. A misunderstood genius, seriously I wanna meet him tho! He sounds really interesting!! And hopefully I won't ever have to witness Tavros being chased around by an hammer wielding dude who is screaming about how he could "modify them!!!", "make them BETTER, STRONGER, FASTER" Okay, maybe not faster, he is already having a hard time catching up to Tavros as it is. Okay, no, that's actually kind of hilarious.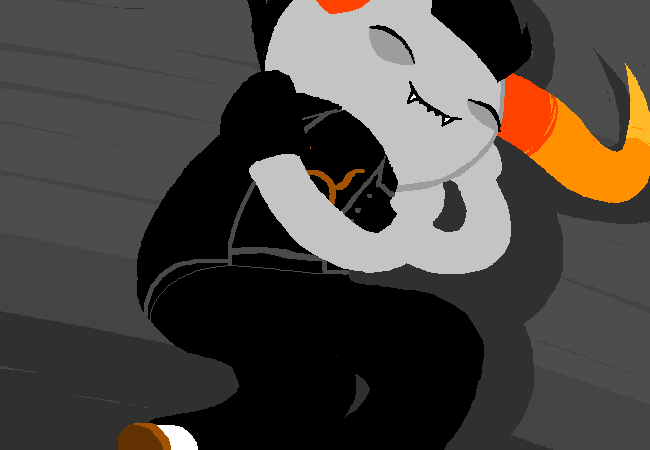 AWWWW—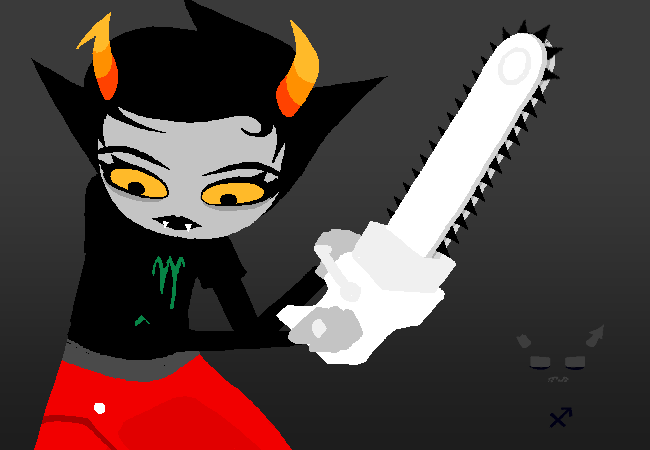 ……………GA?????
And I see you, kid's silhouette looming in the shadows for dramatic effect, I see you.
You were lucky enough to have a friend who didn't mind getting her hands dirty on account of your best interest. 
I AM
ARE YOU
ARE YOU GONNA
IS SHE
GONNA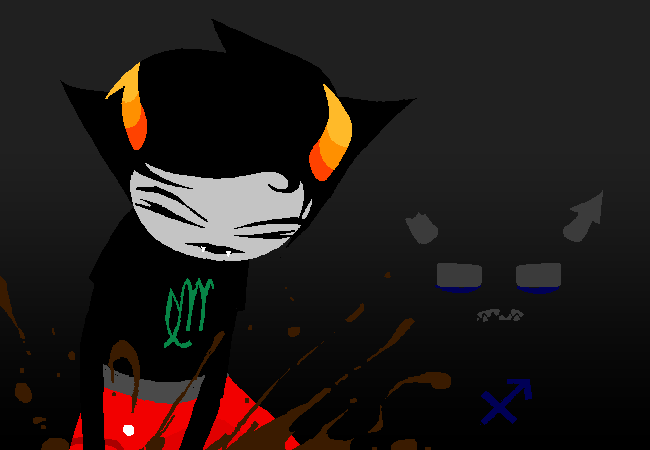 AAAAAHHHHHHHHH OH GOD OH FUCKING HELL GA!!!
WHAT THE FUCK
SERIOUSLY WHAT THE FUCK
I'VE NEVER BEEN IN THIS SITUATION BUT I'M PRETTY SURE YOU ASK FOR PERMISSION BEFORE CHAINSAWING OFF SOMEBODY'S LOWER HALF
JESUS
JESUS CHRIST
I don't even know if the fact that the blood is not red makes it better or even more disturbing.
Hello there, kid looming in the shadows DON'T YOU JUST STAND THERE AS SHE SLAUGHTERS THE BOY. Are we going to ignore the fact that he stepped way closer when GA did the deed?? Was he like "holy shit no way i'm losing this" as he rushed next to her?? Oh godness. Also, kid…. you are in serious need of some dental work. You could also use a horn reparation if that is even a thing and I'm not sure if you got punched in both eyes and/or you are….. bleeding?? (pretty sure he is a blueblood, thanks to this bloodshed it's pretty safe to assume their blood is the same color of their symbol and font on trollian? karkat went all anon on us, the little shit) ORRR that is just particularly heavy eyeshadow that you are wearing. Upside down. Umh. Seriously he looks like he has been hit—….GUYS!! I think we finally found the one troll AA had an head-on collision with while on her way to Sollux's hive! Ha! Another mystery easily solved, no biggie! :)
Also, not pictured in this panel: Karkat, screaming on top of his lungs, he can't turn around ONE SECOND he swears; Terezi cackling like a maniac, which at this point could as well be her neutral expression; AC, coming from the hallway because she smelled fresh blood, disappointingly slinking away when she realizes it's nothing she can eat; Sollux, shrugging because "why bother beiing alarmed when we are all goiing to diie anyway"; AA, high-fiving him "that's the spirit, s0llux". Not pictured afterwards: GA and the guy who builds robots, patting each other's shoulders. "this was a good choice" "definitely" "he's not even going to bleed to death" "not at all" "it's not like he was using those legs anyway" "it's only logical" "by the way, do you know of a fast way to get brown blood off a red skirt" "of course, follow me. i've got this secret technique, doesn't even leave any traces—"
The guy who likes to build robots just stood there and watched. It would always make everyone uncomfortable whenever he would just stand there. 

And watch.
Maybe he likes the sight of people getting slaughtered.
.
.
That came out wrong. Wow.
(i didn't mean it in the serial killer way okay?? i meant it… like… one would stare with fascination at uuuhh a surgery?? idk)
aaaaaaaanyway
But before that you had to scoot around in your wheel device throughout the various worlds of the Medium, and endure all sorts of follies related to your disability, which on account of their great plurality and marginal relevance we will not get to see. Just as well. 
OR they could have given him robot legs just because they could BEFORE and allow him to move around freely >://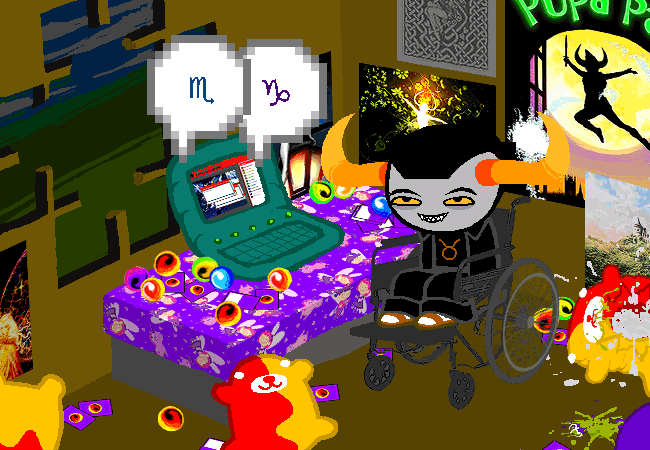 Wow, look what happens when you space out and contemplate the future like that. The messages start piling up.
Gamzee is also pestering him, possibly trying to smuggle some special stardust.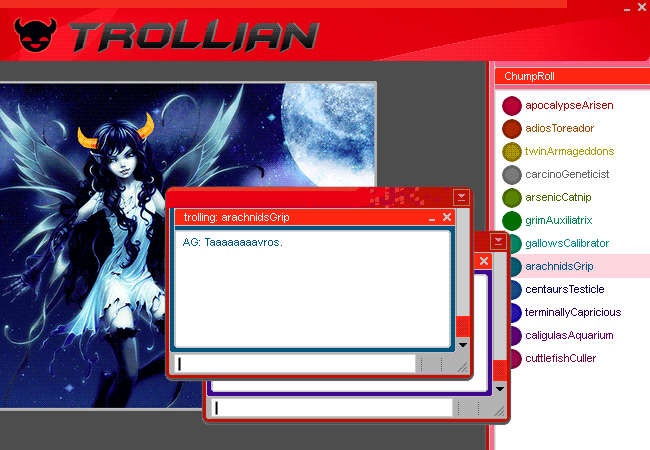 tavros…….. the wallpaper………. tavros you could just admit that you have a weakness for skimpily dressed ladies and that fairies have nothing to do with it………… who would judge you…… nobody….. we don't kinkshame…….
AG: Taaaaaaaavros. 
AT: hEY, 
AG: Red team is going to 8ite the dust! 
AG: And I know you are on the red team. 
AT: wHOA, rEALLY, 
for a moment I was like "HOLY SHIT, tavros, you don't even remember what team you are on??? WOW" and then I remembered that nobody actually enlisted him on their teams so really what are they going on about here, stop confusing me
AG: Yeah, you totally are. 
AG: My team's got no use for a 8oy that can't make no use of his legs! 
AG: You were f8ed for a team of losers, full of 8lind girls and lame 8oys and cranky iiiiiiiim8eciles. 
OH WOW FUCK YOU VERY MUCH???
An ultimatum for all the trolls, if anybody ever again refers to a kid by mentioning their handicap/mental illness/whatever the fuck else in a derogatory manner, they will face my wrath. :)))
AG: ::::) 
nO WAIT, I JUST DID IT. THE EYES ARE THE WRONG THING TO DUPLICATE IN THE EMOTICON. 
FOR AN OVERDRAMATIC PASSIVE AGGRESSIVE VIBE YOU DO THIS: :))))) 
ALSO USED TO FEIGN OKAYNESS
​go on now
AT: oK, yOU'RE PROBABLY RIGHT ABOUT THAT, 
nnnnnoo? they are not?? tavros??? what.
AT: bUT i SHOULDN'T BE TALKING TO YOU, 
AG: Oh???????? 
AT: i PROMISED I WOULDN'T TALK TO YOU ANYMORE, 
AG: Whaaaaaaaat. Promised who? 
AT: rUFIO, 
AG: Omg, who's that???????? 
AG: I h8 this guy already! 
RUFIO IS THE NAME OF THE LEADER OF THE LOST BOYS OH MY
AT: hE'S, uHH, 
AT: oKAY, 
AT: sOMEONE SAID i SHOULD GIVE MY SELF ESTEEM A NAME, 
AT: aND TO BE CAREFUL ABOUT WHAT i SAY, tO MAKE SURE i DON'T HURT HIS FEELINGS, 
………………….tavros why rufio of all people……. remember the movie?? REMEMBER IT???
Who said that anyway?? That's a pretty good advice. Makes you actually realize that some of the stuff you think about yourself is really quite nasty. But Tavros, honey….. you're not supposed to go around telling people you do that unless you want to be bullied till the end of the times……. I never got this self deprecating vibe from him that apparently seems to be A THING until two seconds ago anyway.
AG: Haha! So he's imaginary! A fake. 
AG: Like a made up friend, the way fairies are. 
AG: Made up make believe fakey fake fakes. 
YOU MADE YOUR POINT. Y'all are a bunch of non-believers. Tinkerbell will die and you will deeply regret your choices, moving on.
AG: Who told you to do something so fraudulent? 
AT: gA,
WHO ELSE IF NOT HER I AM LAUGHING
DON'T TRUST HER TAVROS. ONE DAY SHE GIVES YOU FRIENDLY AND QUITE VALID ADVICE AND THE OTHER SHE FUCKING SAWS YOUR LEGS OFF """"""IN YOUR BEST INTEREST""""""
AT: bUT i DON'T KNOW IF SHE WAS JOKING ABOUT IT, 
AT: iT MIGHT BE A JOKE, uHH, i DON'T KNOW, bUT i DID IT ANYWAY, 
AG: Oh maaaaaaaan, what a meddler. 
AG: I h8 her meddling! Why is she always meddling? 
AG: I don't know if it was a joke, 8ut man. 
I know, right???? What does she think she is doing? Trying to… help people? *GASP* HOW INDECENT. People like her will be Alternia's downfall, seriously. So she is a meddler, huh…..  We will see…. ( ͡° ͜ʖ ͡°) 
AT: uH, 
AG: I don't think it was a joke. It was more like…….. 
AG: Ok, complete this analogy. 
AG: Laughing is to a joke as meddling is to ……..? 
AT: uUHHH, 
AG: Exactly!
HE DIDN'T SAY ANYTHING! I'M GOING TO CRY. ARE THEY FOR REAL.
That's what she just did to you. 
AG: It is worse than a joke. It is worse than anything you can do.
AG: Next time tell her to can it! That's what I do. 
AG: But she keeps 8ugging me. 8ugging and fussing and meddling. What's her deal! 
AG: I guess it's flattering that she wants to talk to me so much though. I guess I don't mind. It's cool. 
I do agree that she could use a bit of troll etiquette especially when it comes to respecting other people limbs and let those stay connected to the rest of their owner's body but SHE IS TRYING TO HELP??? GA seems like a pretty determined girl, and if she sets an objective she is going to pursue it. And if she wants to help she has to know what's going on in your life, YOU GENIUS. She is not looking for gossip. I think??? 
AG: I guess it's flattering that she wants to talk to me so much though. I guess I don't mind. It's cool. 
PFFTAHAHAHAH WHAT THE HELL 
I…
I DON'T EVEN KNOW WHAT TO SAY ACTUALLY
AG: Anyway Tavros, you've been amazingly 8oring as usual, so I'm going to go. 
YOU DIDN'T EVEN LET HIM TALK I'M LAUGHING SO HARD
And you say that only because you have never heard him go freestyle!
This kid's logic is fucking flawless though look:
*thinks that Tavros is boring and weak and a loser* OMG who told you to never talk to me again?!?!? HOW DARE THEY?? this is unconceivable why would you do that holy sHIT
*thinks GA is a meddler of the worst kind and that she should leave people alone* she is cool tho. i like it when she talks to me. she is coo l
AT: oKAY, 
TAVROS, NO.
AG: This show needs to get on the freaking road. 
AG: 8elieve it or not, the 8lue team doesn't have a single player in the session yet! 
AG: While you guys have like two or three or such! 
AG: Un8elievable, I wonder what the holdup is.
Your charming personality??
Oh well, let's face it! You guys need the head start. 
AT: uHH, 
Tavros is speaking so intelligently, look at this flood of words coming out of his mouth.
Also the blue team doesn't have a single player? …Did Sollux fall in a pit and die or did AA really beat him into a honey flavored pulp after all because I'm pretty fucking sure he was on the blue team and he kind of was the leader before AA began spouting cryptic bullshit about how he was never meant to……. AG, this could be a good moment to tell you that whatever that girl has told you it is 500% a lie. 
AG: Ok, anyway, good luck to you. It will be just like old tiiiiiiiimes. 
AG: :::;) 
Are you talking about roleplaying old times because I don't think he has such happy memories from those I DON'T KNOW ABOUT YOU
Is it time for backstory yet??? :D :D
AG: Adios, Toreasnore!!!!!!!! 

arachnidsGrip [AG] ceased trolling adiosToreador [AT] 

AT: bYE,
OH DEAR
This conversation was completely pointless. They should also lower the amount of sugar in their daily diet because holy shit if the kid didn't sound on a sugar rush. Kind of hyperactive. Poor Tavros didn't get to say a world! And they are kind of a jerk?? Then again so is almost everybody else. But I hadn't see bullying so far! Welp, only a matter of time, should have seen it coming.
wHAT. No nope wait i did nothing to deserve this cmon i don't deserve another rapping session from tavros and i'm pretty sure gamzee rapping would just be actual lyrics from an icp sonG DEAR GOD HELP ME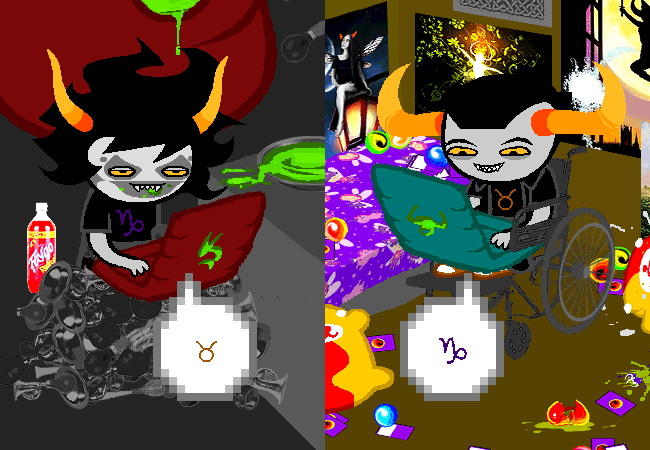 terminallyCapricious [TC] began trolling adiosToreador [AT] 

TC: mOtHeRfUcK mY bRoThEr, Im So SoRrY i KiNd Of ZoNeD oUt ThErE.
Gamzee, this was a five days old conversation, the kids thought you had been caught in that special stardust smuggling ring incident, they organized a search party, man. Speaking of illegal activities, how in holy FUCK does Gamzee eating sopor slime still manage to look creepier than Tavros' fiduspawn endeavors. And with that I'm talking about the spawn of Lucifer impregnating a puppet and several leaking and unidentified body fluids.
AT: hI, tHAT'S OK. 
AT: i WASN'T EXPECTING YOU TO NOT BE ZONED OUT FOR ANY REASON. 
AT: sO i GUESS, i DON'T UNDERSTAND YOUR APOLOGY. 
Following that line of reasoning every time someone apologizes to you but you were expecting that kind of behavior from them then they have nothing to feel sorry about?!?! I'm sorry but WHAT THE FUCK
TC: AlRiGhT, fUcK yEaH, iT's AlL gOoD aNyWaY. 
TC: i JuSt ZoNeD oUt WhEn I wAs SuPpOsEd To Be AlL aBoUt BeInG tO tElL yOu YoU'rE aLl On My TeAm. 
AT: uH, yEAH, tHE RED TEAM YOU MEAN, 
TC: ShIt MoThErFuCkIn YeAh My WiCkEd MoThErFuCkEr! 
TC: :o) hOnK hOnK hOnK 
AT: oK, tHAT'S GREAT, i JUST HEARD ABOUT THIS, 
AT: fROM SOMEONE i DON'T WANT TO TALK ABOUT, 
AT: bUT IT STILL BASICALLY QUALIFIES AS GOOD NEWS, 
TC: :o) HoNkHoNkHoNkHoNkHoNk 
AT: }:o), hEH, 
TC: hAhAh FuUuUuCk, YoU sToLe My FuCkIn NoSe BrO! 
TC: WhAt GoT yOu EvEn Up ThE gUmPtIoN tO aLl FuCkIn Do ThE sHiT lIkE tHaT? 
AT: eRR, i DON'T KNOW, iT'S JUST, 
AT: kIND OF THE OBVIOUS THING TO DO, 
AT: sTICK THE CIRCLE IN FRONT OF THE DOTS, aND, bEHIND THE BENDY ONE, 
AT: pLUS, oH YEAH, mY HORNS, 
TC: hAhAhAhA. 
AT: mAYBE WE CAN SLAM ABOUT IT, 
they are going to rap about curly brackets.
TC: YeAh, I cOuLd KiCk ThE sHiT oUt Of SoMe RhYmEs BrO. 
TC: aLl StIr Up SoMe FuCkIn HeLl MiRtH aNd RiP oPeN a FuCkIn BaG oF hArShWhImSy. 
You know, during his first conversation with Karkat I felt like I understood pretty much everything he said, 90% of it more or less. Then he talked to Terezi and it dropped down to an acceptable 50%, mostly because I didn't understand what the fuck Terezi was going on about either in that conversation, and now I guess that he could be talking about either quantum physic or yesterday's cricket match and I wouldn't be able to freaking tell which one.
AT: yEAHHH, yOU CAN TALK ABOUT THE CLOWN THINGS, wHICH, 
AT: i DON'T REALLY UNDERSTAND EVER, bUT THAT'S OKAY, 
AT: bECAUSE IT'S KIND OF FUNNY, 
AT: wHEREAS, i'LL ADDRESS SOME TOPICS PERTAINING TO MY INTERESTS, 
AT: aND i GUESS, pERSONAL MOTIFS, 
((jesus spare me please please please))
TC: YeAh! FuCk YeAh, ThAt Be HoW sHiT's AlL uSuAlLy Up AnD fUcKiN lOcKeD bRo. 
TC: bUt FiRsT hErE's ThE tHiNg WiTh ThE gAmE. 
AT: oH YEAH, i ALMOST FORGOT, aBOUT, 
AT: tHE RED TEAM GAME, 
TC: YeAh Ok If I rEmEmBeR rIgHt ThIs Is HoW wE'rE jUgGlInG tHiS sHiT. 
TC: lOt'S oF fUcKiN bAlLs In ThE aIr, HaHaHa. 
TC: TeReZi CoNnEcTeD tO kArKaT, sO hE's FuCkIn ChIlL. 
as chill as he can be when the troll equivalent of his fucking guardian just died and he caused it WAIT it didn't happen yet, did it? nor did gamzee's guardian show up, right?? otherwise he wouldn't be rapping, that's for sure :(((((
TC: tHeN i'M sUpPoSeD tO cOnNeCt To HeR sOoN tO gEt HeR aLl ChIlL tOo. 
TC: BuT sHe'S iN tHe WoOdS dOiNg SoMeThInG. 
TC: wHeN sHe CoMeS bAcK sHe StArTs PlAyInG. 
shE IS WHERE NOW??!?!! There are meteors showers every fucking where, and she goes to take a walk in the woods??? Does she want to get get crisped by fire?? What's up with Seers and almost dying due to fire tornadoes before entering the game?!?!? 
TC: So In ThE mEaN mOtHeRfUcKiN tImE i'M sUpPoSeD tO gEt YoU tO cOnNeCt To Me. 
TC: bUt I fUcKiN sPaCeD oUt AnD fOrGoT. 
TC: BeCaUsE i GuEsS i WaS wAy ToO mOtHeRfUcKiN cHiLl AlL uP iN tHiS sHiT, hAhAhAhAhA! 
AT: yEAH, i UNDERSTAND, 
TC: sO jUsT dOwNlOaD tHiS mOtHeRfUcKeR i'M sEnDiNg YoU sO wE cAn KiCk ThIs BiTcH dOwN tHe StAiRs. 
wE WARNED YOU ABOUT STAIRS, KIDS
AT: oKAY, i'LL DO THAT, aND, 
AT: iN THE MEANTIME, sHALL i, 
AT: cUE UP THE, 
AT: sTRICT BEATS????? }:D 
TC: AwWwWw BrOtHeR nOw YoU aLl FuCk AnD uP aNd DoNe It. 
TC: yOu ArE fUcKiN wHeEl DeEp In A bIg SlOpPy MaSsAcRe PiE tOpPeD wItH mOtHeRfUcKiN wHiPpEd RhYmE. 
TC: HoW sTrIcT aRe ThOsE bEaTs At, MoThErFuCkEr? 
AT: wELL, i, 
AT: tURNED UP THOSE BITCHES TO PRETTY STERN, 
AT: sET BEATS TO LECTURE, aND, i'M KIND OF GOING HOG WILD ON THE CURMUDGEON KNOB, 
AT: wHICH, i HAD RECENTLY INSTALLED, 
Okay, forget Gamzee, TAVROS is the one that I don't understand now.
TC: gOd DaMn!!! 
TC: TeLl Me MoRe WhIlE i GeT mY rEaCh On FoR tHiS fRoStY bReW. 
AT: oKAY, 
AT: iMAGINE AN ARRAY OF BEATS THAT SET LIMITS, 
AT: tHEY GOT A RULEBOOK, iT DOESN'T PAY TO SKIM IT, 
AT: bECAUSE, tHERE'S NOT A LOT OF LATITUDE, 
AT: tHEY WON'T STAND FOR AN ATTITUDE, 
AT: aND, cROSSING THEM'S A HABIT YOU'D, 
AT: (nOT REALLY WANT TO GET INTO BECAUSE, uHH), 
AT: tHEY'D GET PRETTY MAD AT YOU, 
TC: fUuUuCk, So FuCkIn FrEsH. 
TC: YoU nEeD tO bE sLaPpEd FuCkIn SiLlY wItH a MoUtH lIkE tHaT! hAhA. 
Presented without comment.
hAhA. 
AT: aND, iF YOU GOT A PROBLEM WITH IT, 
AT: tHEN i SUGGEST YOU GO AND RAP IT DUDE, 
TC: oK i WiLl. 
TC: JuSt LeT mE sNeAk Up On ThIs BoTtLe Of FaYgO aNd SnAp ItS nEcK lIkE iM a FuCkIn LaUgHsSaSsIn. 
For anyone who wants to know, a laughssassin would be like your regular earthling assassin, only when you place hits on them you can choose not only the way the victim dies but also the kind of laugh that the latter hears before kicking it. The laughssassin could cackle evilly, snort loudly, laugh heartily, sneer like a super villain, etc. etc. It's just your everyday Alternian profession. NOT FUCKING CREEPY AT ALL. This has been an alien culture lesson. You're welcome.
I told you you don't want me to come up with headcanons anyway.
TC: oK. 
TC: ArE tHoSe BeAtS sTiLl ChIlL? 
AT: yEAH, 
TC: aRe ThEy MoThErFuCkIn StRiCt??? 
AT: yEAHHHHH, 
TC: AiGhT. 
TC: cRaCk…… 
TC: HiSsSsSsSsSsSsSs. 
TC: mOtHeRfUcKiN kIcK iT!!!!!!!!!!!!!!!!!!! 

You both then proceed to have one of the worst rap-offs in the history of paradox space.
OH MY GOD
OH GOD OH GOD
JESUS THANK YOU MAN YOU ALWAYS COME THROUGH
IT'S NOT INCLUDED THE RAP IS NOT INCLUDED ALL HAIL 
BLESS
I'M SAVED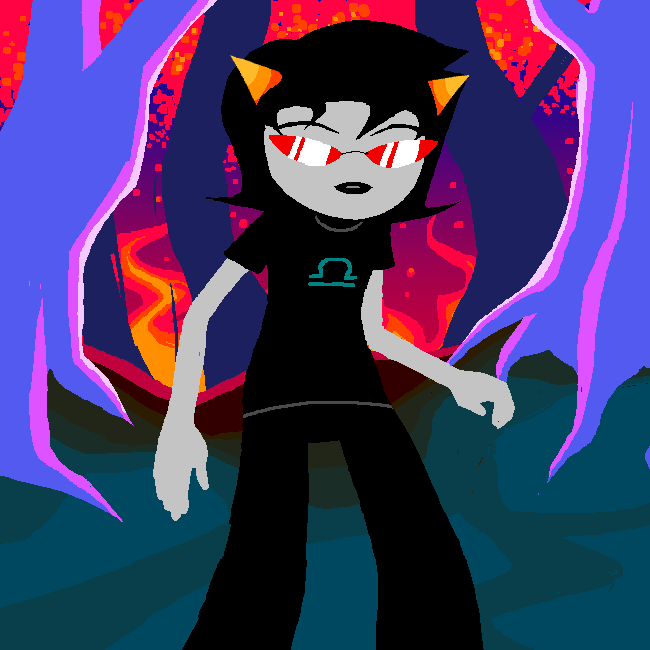 THERE YOU ARE!!!!! DON'T YOU THINK IT'S A LITTLE TOO WARM IN THE FOREST? WELL, LAST MINUTE NEWS, IT'S BECAUSE IT'S ON FIRE!
You make your way through the burning woods to meet the lusus you never had. 
nevermind i will shut up please do your thing and take your time
It's time for her to hatch. It's now or never.
hATCH?!?!!?!? BABY DRAGON BAB DRAGON PUPPY PUP DRAGON DRAGON DR A GO  N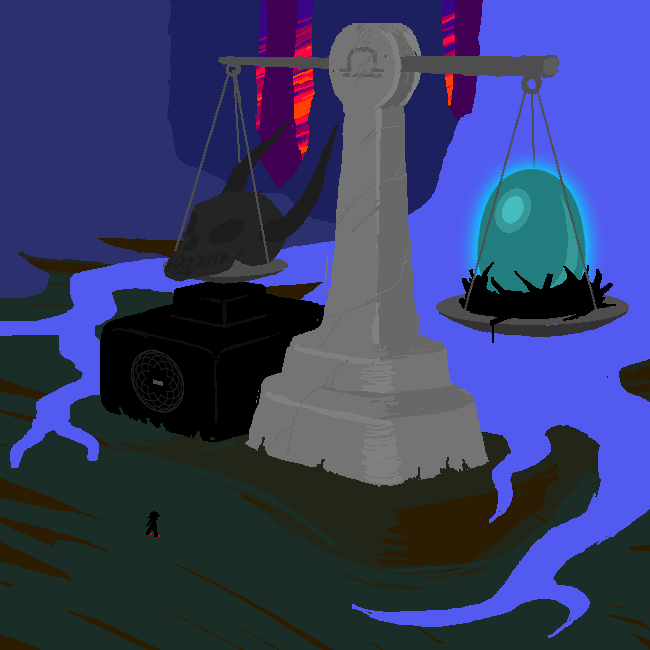 the fuck is that
oh myyyy oh my be careful terezi what the hell is that thing????? it's… a sburb related device??? and the skull of something eerily similar to GA's lusus??? hahah i have a bad feeling about this
Since the world is about to end anyway, you suppose it no longer matters if the DOOMSDAY SCALE is tipped.
you… you suppose?? hahahaha no seriously be careful wtf
The counterweight is the skull of an ancient mother grub, slain thousands of solar sweeps ago. 
So??? GA's lusus is… the mother grub. Wow. Because Virgo. Picture me slowly raising my hand, yeah, palm up, now I'm ever-so-gently bringing it in the proximity of my forehead, yeah, they're touching now, that's what I'm doing.

The egg contains a rare species of dragon which remains blind until maturity, using its other senses to survive. It has balanced the skull here for millennia, waiting for the warmth of a meteor-sparked forest fire before hatching. 
excuse me but if it has been here for millennia who the hell picked up terezi when she was back in the caverns?? her surrogate lusus uncle????? explain
In case it wasn't clear, dragons are real.
LOUD CHEERING FROM THE SIDELINES. IT'S ONLY ME. I'M SCREAMING. THERE ARE CONFETTI EVERYWHERE.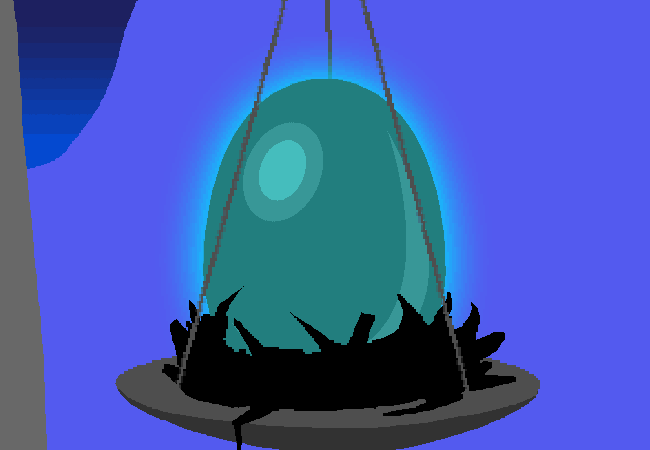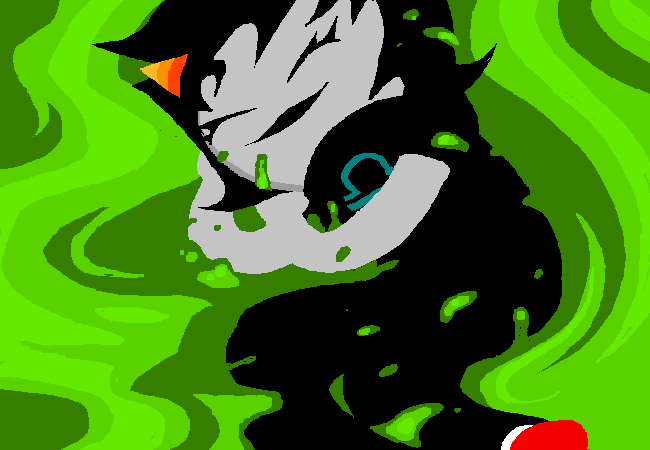 While she slept in her egg, she would communicate with you in your sleep.
Terezi doesn't own a recuperacoon though?? Does she just dump the sopor slime on the ground and… lays in it? Well, whatever floats your boat, hon.
After your accident, she would use your dreams to teach you to detect the world around you without vision.
Awwww. That's so sweet. :')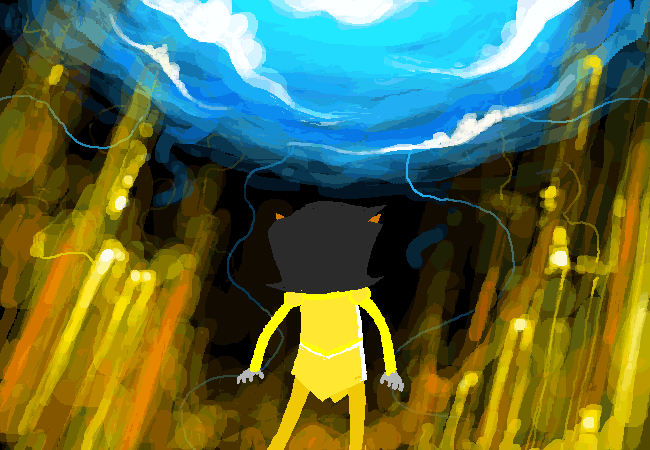 HOLY MOLY THAT'S PROSPIT TEREZI IS A PROSPITIAN
As you learned, your dreams became more vivid. Where before there was darkness, odors and flavors painted a striking picture. You found yourself surrounded by bright honey walls, and in the sky was a huge tasty ball of cotton candy, which is this sweet troll delicacy we wouldn't know anything about. 

The first time you caught a glimpse of this world in your dreams, there was no turning back.
shoosh please i am actually legitimately tearing up please stop
And just like Jade. Aww. Except she is a Seer. A Seer on Prospit. Which gives her quite the head-start. So will we have a Witch on Derse? And… an Heir on Derse and a Prospitian Knight?? maybe?? that would be neat. Dersitian Witch tho, a dersitian Witch is the one I want the most.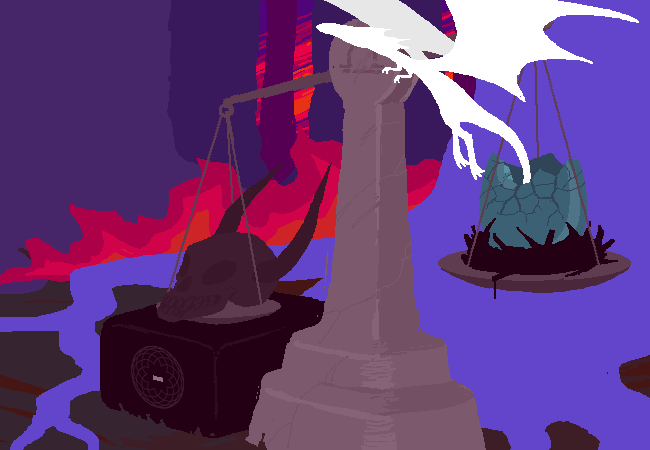 THERE SHE GOES THERE SHE GOE
The young lusus would take to the sky and promptly get herself killed.
WHAT RIGHT NOW NO FUCK
Shit sorry, formatting screws me up…… Actually though…. I think I'm onto something…..
The young lusus would take to the sky and promptly land next to her child. They would stand one in front of the other and words would not be necessary to convey what they were feeling at the moment. Then Terezi hugged THE SHIT out of her freaking dragon mom DON'T ASK ME HOW, POETIC LICENSE, HUGS ARE HAPPENING OFFSCREEN, SO MANY HUGS, and everybody was happy. The end, you can go home.
THERE!!!! I FIXED IT!!!!!!! I F I XE D IT…………………..FUCK
This would be much more shocking and maybe a little bit more sad if we didn't already know it was going to happen. 
FUCK YOU IT DIDN'T HAVE TO HAPPEN RIGHT THE FUCK NOW

We already knew this. But of course, you didn't.
TEREZI IS RIGHT THERE!!! TEREZI IS WATCHING!!!! WATCHING… SMELLING… FUCK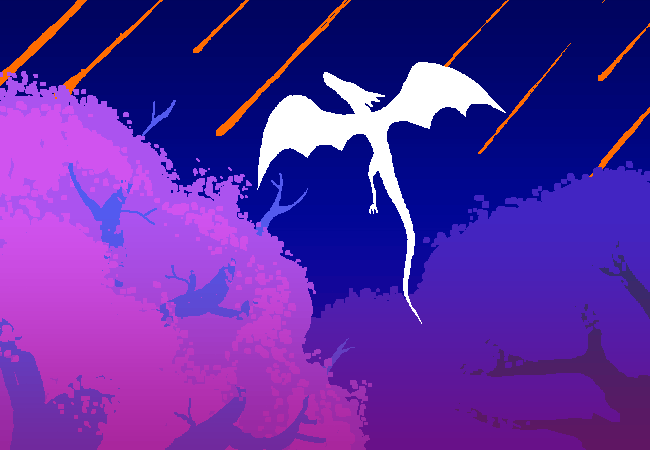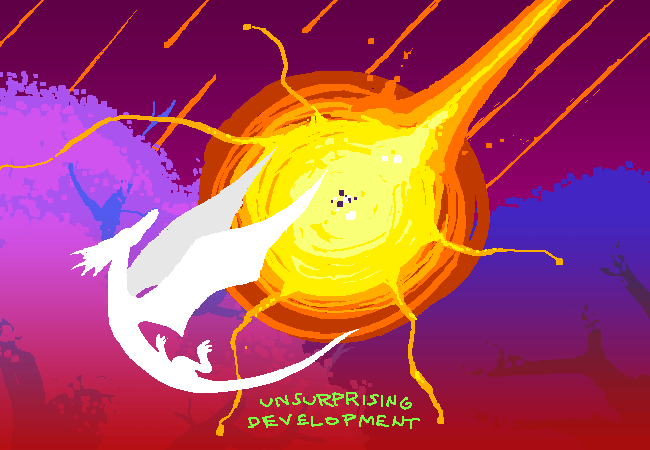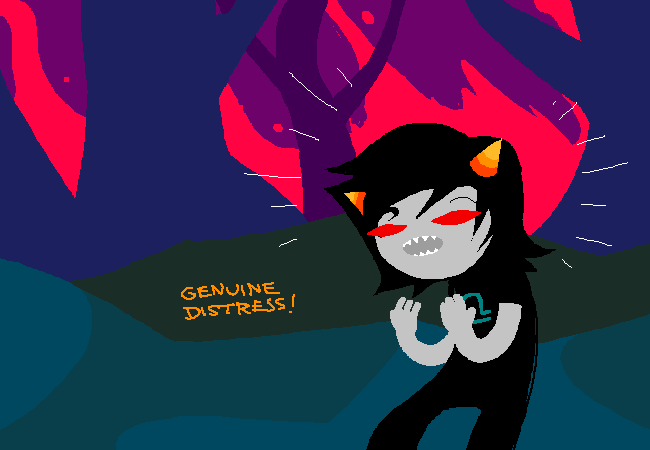 OH MY GOD TEREZI OH MY GOD OH MY GOD
She would fall to your treehive. On your return, she would be scooped up by a sympathetic ally and deposited into the kernelsprite. 
OF COURSE HE IS FUCKING SYMPATHETIC IT JUST HAPPENED TO HIM AS WELL, IT WILL HAPPEN TO EVERYONE, IT'S NOT A FCKING CONSOLATION THOUGH, THEY WILL ALL BEGIN THE GAME AS FRESHLY ORPHANS
OH GODNESS
how many to go?? 3 dead out of 12 right? haha ha ha aaaaaaaaah i can't do this
Then you and she could talk! There would be plenty to discuss.
good!! good!!!!! see it's okay it will be okay. this is fine I AM NOT FINE THOUGH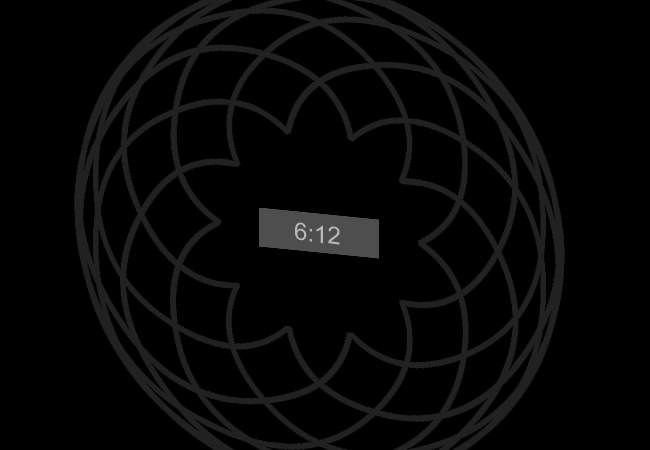 oh. 612 is the new arch number. i forget it's karkat's birthday. ah. oh and i guess from now on and the rest of his life it's also the anniversary of his lusus' death. :)
what?! if i'm having sad thoughts i'm dragging you down with me
The doomsday device would display the amount of time you had to get back to your hive and enter the Medium before the forest was destroyed. 
SIX MINUTES HOLY FUCK

At the time, it wouldn't occur to you to wonder whether the device was directly responsible for the apocalypse, or merely served as its precisely calibrated harbinger. And it certainly wouldn't occur to you to cast doubt on any perceived difference between those two things. 

It wouldn't until later, when you better understood the game you were about to play.
so? wait. does this mean that this doomsday device does shit nothing. does this mean that terezi could have set the forest on fire and got her lusus whenever the fuck she wanted. DID I GET THIS RIGHT
GOOD, I NEED A BREAK FROM LUSI'S DEATHS AND PAIN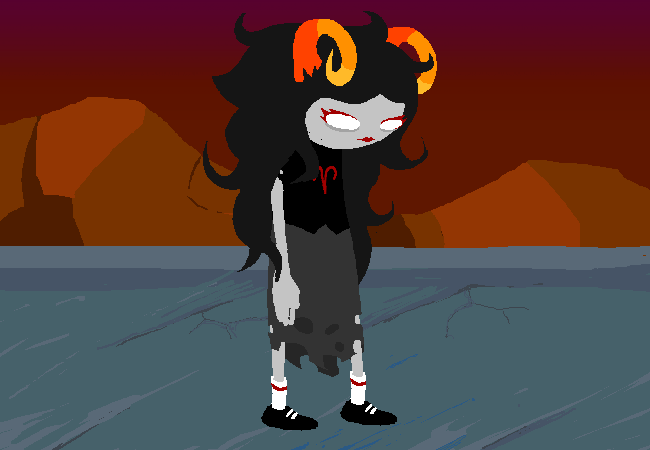 ……………………….of all people to cheer me up look what i get. ah. I see she has chosen to grace the ground of her presence.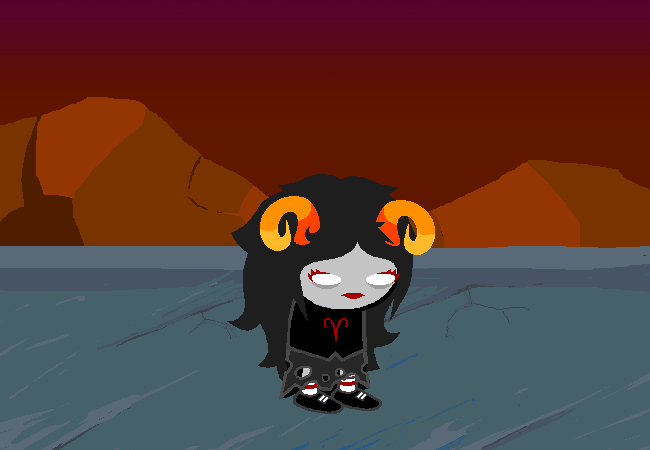 Who's this spooky lady?
stop calling her spooky!!! this is not halloween, it's rude, she just has ragged clothes GET OVER IT …. and no pupils, and she floats, and glows… okay, she is spooky
Your name is ARADIA MEGIDO. 

You once had a number of INTERESTS, which in time you have LOST INTEREST IN. You seem to recollect once having a fondness for ARCHEOLOGY, though now have trouble recalling this passion. It nonetheless has led you to find your PRESENT CALLING, which came through the discovery of these MYSTIC RUINS on which you presently stand, and which you recently DESECRATED OUT OF BOREDOM. 
GOOD START!!!
Guiding you to this calling were the VOICES OF THE DEAD
girl, you gonna get such a headache real soon
which you have been able to hear since you were young. The voices have become louder as THE GREAT UNDOING approaches. This trend in escalation began after an ACCIDENT involving a CERTAIN KIND OF ROLE PLAYING, which might have been another of your interests once upon a time. It doesn't matter much anymore.
concept: the trolls stayed home that fateful night and did not roleplay, tavros can still walk, run and do fucking somersaults, terezi has a 11/10 sight, eagles are envious, aradia still experiences a wide range of emotions and if you piss her off she will kick your ass …………………..i can go on…….. aradia never found the ruins, sollux never adapted sburb, karkat never started up the game, the end of the world did not come, everybody's lusi are alive, GUYS THE WHOLE TROLL RACE WILL DIE BECAUSE ONE DAY THESE LITTLE SHITS HAD AN ACCIDENT WHILE THEY PLAYED DUNGEON & DRAGONS OR SOMETHING
WHAT. THE. FUCK.
also, i'm imagining this ridiculous domino effect for this accident. all i'm telling you is that terezi's tree is involved
The accident resulted in the DEATH OF YOUR LUSUS, which prompted you to leave your home and take up these ruins as residence.
oooooohhh my gosh i'm so sorry aradia i'm so sorry 
((one!! death!!! that i will not!!!! have to witness!!!! fuck yeah fuck yeah fuck yeah fuck ye))
On the instruction of your ANCESTORS,
how the fuck did you track them down i thought trolls came from a big incestuous slurry?!?! ectobiology suggests otherwise though. and ectobiology is a science you can trust.
also did you contact them or did they contact you THIS IS IMPORTANT
did you… did you set up an ouija board to talk to them…. this is also important…. okay it's not i'm just curious
you have recovered MYSTERIOUS TECHNOLOGY from the ruins, and convinced a friend to adapt it into a GAME THAT WILL BRING ABOUT THE DESTRUCTION OF YOUR CIVILIZATION. And by convinced, you suppose you mean tricked. 
That you did, my girl. That you did. And it was hilarious.
Guys, I still crack up when I remember Sollux going "the fuck??", I will never forget it.
He has tentatively named the game SGRUB, which is a word that is NOT TERRIBLY ELEGANT. If it were marketed by a legitimate game company instead of rapidly patched together by a young hacker,
or alternatively by jade's grandpa who lives on a island, is an outlier and should not have been counted……. well….. "lives" now…. occupies space……… wow i'm horrible. wow. i'm sorry, jade. truly sorry. i can't believe i said that
it would ostensibly be given a better title. He is presently mobilizing twelve friends to play it, including him and yourself. He believes he will lead the blue team. But he is wrong. 
Because YOU will lead the blue team!!!!!!! I guess!!! I suppose!!!!! ….Please make your intentions more clear, hon.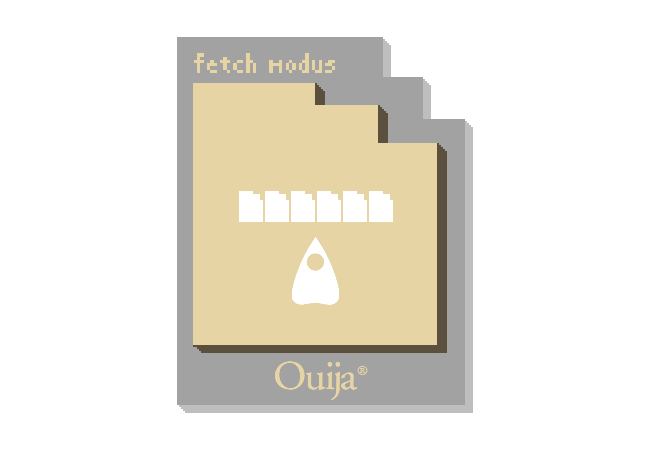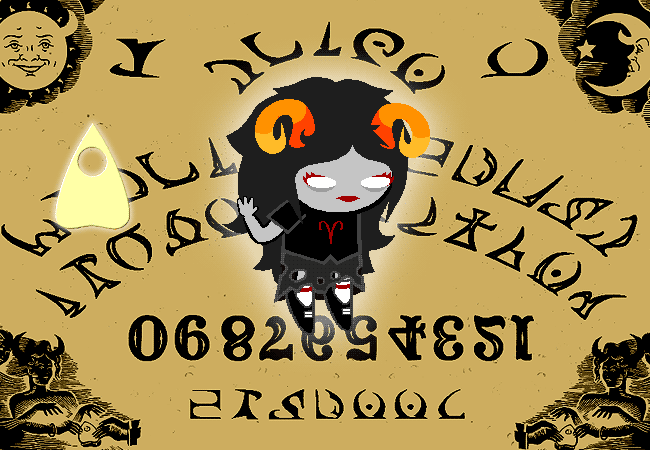 IM FUCKGN
ARE YOU SERIOUS NOW
the numbers are just… nevermind. nevermind! why is there a sun and a moon?? why do they have horns OH MY GOD, alternia has two moons, i object to this, i want representation for both moons, they are equal and don't deserve this
THE SUN'S FACE THO
It's not up to you to decide what you retrieve from your sylladex. It's up to the spirits.
But!!! Aradia, spirits are little shits, do you want everything you do to be dictated by the freaking spirits. They will play pranks on you! Then again, I've seen weirder modi. (moduses?! actually, that's a second declension word… that i am using as an object complement, modum-modos… modos, it should be modos?? right?!… I SUCK AT LATIN, GUYS) There is people who waits for miracles out there, without naming anybody…
Looks like the spirits are being cooperative today, if a bit cryptic, as usual.
you don't say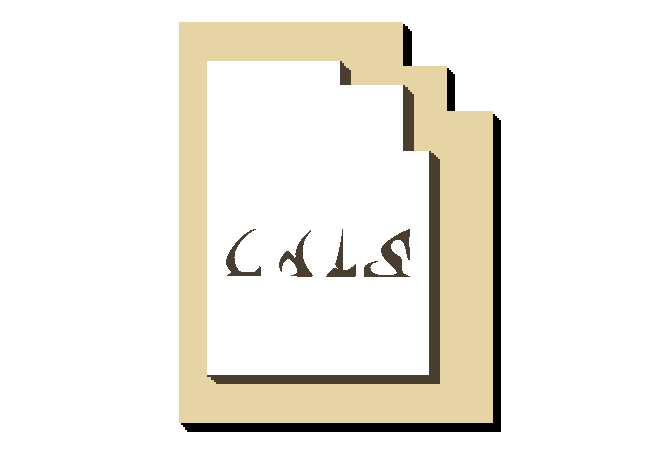 Who's this douchebag?
You know, I have no idea. Indeed, who is this douchebag?? I don't know. I guess it will stay a mystery. Is there any proof that he is actually a douchebag? Maybe he is a nice guy. ……Moving on.
WAIT HOW DO YOU OWN THIS THING. THAT'S A HUMAN. THAT'S. OH FUCK IT.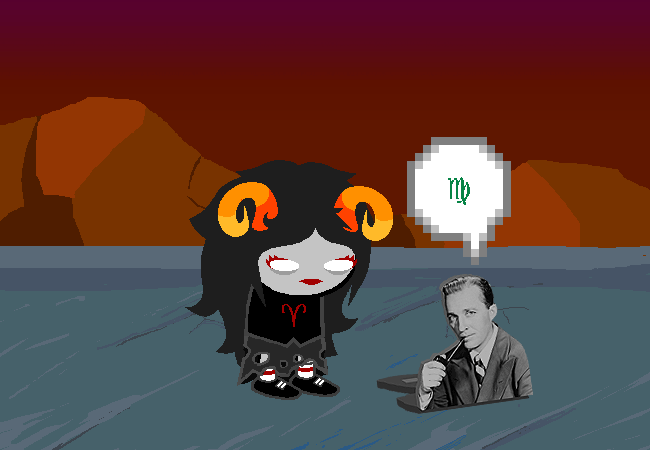 You found this baffling artifact some time ago on one of your digs. The creature on its facade is completely mystifying. You have taken to using it as your primary computing device on account of its bizarre novelty, as well as convenient portability. 

Oh, look who's bothering you again. 
Tell her to can it!!!!!!! That's what AG does. Wait I missed one exclamation point, there you go, "!", eight because eight themed and arachnid and bluh bluh. From what I've gathered GA gives them friendly and disinterested advice and they tell her to can it. That's incredible. And I must witness it with my very eyes.
She's always bugging you. Bugging and fussing and meddling. What's her deal! You guess it's flattering that she wants to talk to you so much though.
GA, everyone thinks you are a pain in the ass but they like the attention you give them too much to bother. Why do you even associate with these people.
You're ok with it. You're ok with a lot of things.
And I'm not okay with that attitude.
Rose!!! Parallel!!! Rose!!! Parallel!!!!! You only lack the smile, honey.
Guys, you don't know how much it bothers me that a girl so apathetic and that completely distanced herself from everything that brought her joy because SOMETHING happened to her is so blatantly linked to Rose. I'm worried. :(
grimAuxiliatrix [GA] began trolling apocalypseArisen [AA] 

GA: Hi Again Aradia 
AA: 0h n0000000 
GA: So I Guess Tonight Is The Night You Blow Everything Up 
AND GA MAKES HER GRAND ENTRANCE IN HIVEBENT. Quoting Karkat, no less.
Quick question: blowing everything up figuratively oR LITERALLY. It is of vital importance that I know. And also that I know about how you are in possession of that information. prospit dreamer??? most probably. she did draw the strongest parallel in the history of parallels to our Jade
AA: 0_0 
You know what the most beautiful thing about Aradia using the 0_0 emoticon is? that since she doesn't own a pair of pupils like everybody else those aren't eyes wide open in shock it'S JUST HER NATURAL EXPRESSION. You thought she was displaying an emotion?? PSYCHE nope no way
GA: Is There Nothing I Can Do To Change Your Mind 
AA: n0 
AA: 0r yes 
AA: yes theres n0thing 
look at this little emotionless dork
AA: and n0 y0u cant 
AA: but y0u sh0uldnt pretend as if y0u believe this has anything t0 d0 with the state 0f my mind 
AA: 0r the decisi0ns it will make 0r has already made 
GA: Yeah I Guess Not 
GA: I Thought Id Be Friendly Though 
GA: And Remind You That You Do In Fact Have A Hand In All The Terrible Things That Are About To Happen 
GA: Because Thats What Friends Are For 
AWWWWW. You know, GA, it doesn't matter that you go around chainsawing people's limbs off while they sleep, I just can't stay mad at you, I wish I could. Make of that what you will. You're officially forgiven.
GA: And The Fact That What Ensues Will Be Terrible 
GA: Is An Immutable Fact I Am Stating For The Record 
GA: And The Fact That We Will Not Be On The Same Team Is Similarly Immutable 
GA: It Does Not Mean That Teamwork Is What Isnt Taking Place Here 
AA: s0rry i didnt f0ll0w that 
DO NOT FEAR, FOR I AM HERE
Double negatives cancel one another and produce an affirmative, that's like… basic alternian grammar, girl. Okay I admit it took me at least one minute and half and an initial wtf moment to figure it out but HEY
GA: Ill Be Here To Help 
GA: If You Need Me 
AA: 0k 
AA: thanks
*cough* fucking dorks i love them so far*cough*
​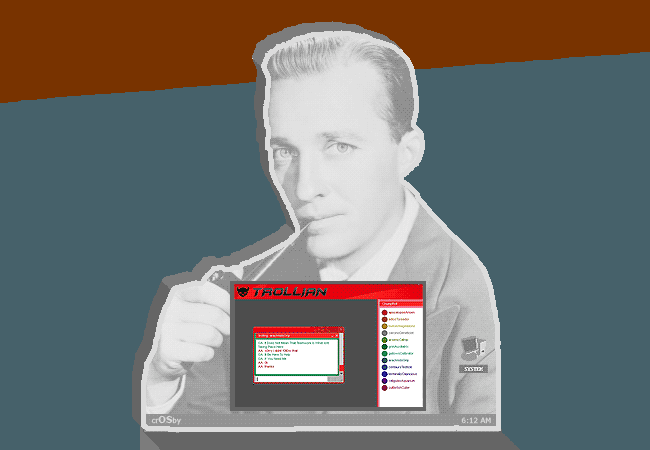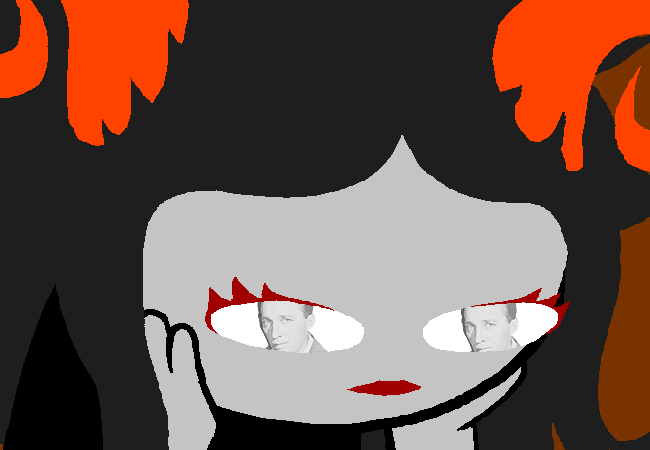 "She who fights douchebags should see to it that she herself does not become a douchebag. And if you gaze for long into a human, the human gazes also into you."
-Troll Friedrich Nietzsche