Before getting back to liveblogging I would like to tell everyone that I will reply to those asks… one day… if I actually manage to find the time… NO, OKAY. I PROMISE I'M GOING TO REPLY SOON, JUST NOT RIGHT NOW.

Back to Rose and John. What a wonderful team they make.

I thought we had agreed Rose should never again get near John's bathroom or its remains.

The piano cannot level up for slaying imps or anything else because it is an inanimate object.

I guess this can also be a pretty valid reason.

I CAN'T BELIEVE THEY HAVE INSIDE JOKES ABOUT DAVE'S IDIOTIC COMIC.
Why can't Rose just build a simple ladder if stairs are so expensive? Besides, it's pretty obvious John is going to fall so hard on his butt while climbing those. 
Such a proper girl… laughing at those dreadful things… where has humanity fallen…

SOMEONE STOP JOHN, PLEASE. You know, Rose, it wouldn't kill you to type an "hahaha" once in a century so that John doesn't feel like a fool. …I doubt he cares anyway. He's probably giggling by himself.
The thing about John is that he doesn't care if you're laughing with him or laughing at him as long as he is enjoying himself. You think he's lame? Well, too bad, he knows he's cool. I think that him being so self-confident is one of his most endearing character traits. REMEMBER THAT HE'S THIRTEEN. I think DAD's notes were useful other than sappy.

If you had even so much as considered looking at what your buddy had sent you, John, you might know about his true feelings about them like Rose does by now. But since you don't bother… 
Rose is not commenting and obviously keeps what Dave confided to her to herself. Thumbs up.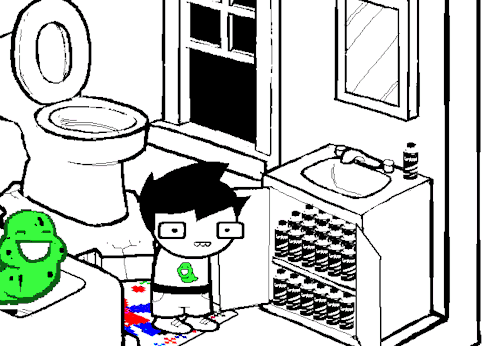 I think he has some… faulty concepts about what dads usually do in their free time.

I don't think you will need that as a boy who is barely prebuscent. But if he's bringing it as a kid embarking on a journey that could be pretty long… and considering there must not be many supermarkets in The Medium, bring a whole lot of that. Gotta get Dave covered too.

I forgot he's fully convinced he's a master prankster.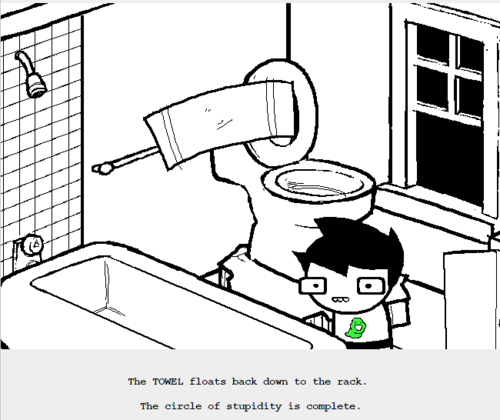 AT LAST, I CAN SEE THE LIGHT. BETTER DAYS… THAT AWAIT ME…

Nanna… plus Harlequin… Rose. We are dealing with people who had died.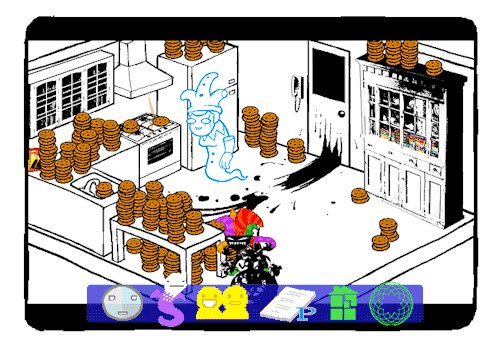 JESUS, NANNA WHAT IS UP WITH YOUR FAMILY AND BAKING I THINK YOU GUYS HAVE SOME SORT OF DISORDER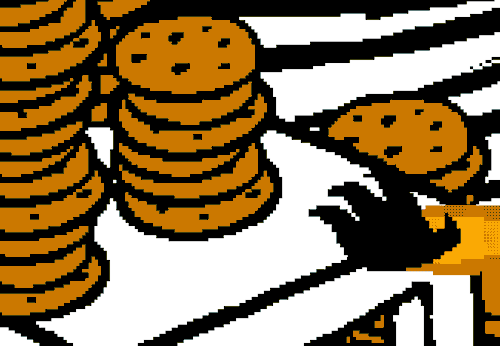 Those cookies are for her grandson and her grandson only.

John, let's focus less on looking outraged and more on not pass out while fighting those things this time.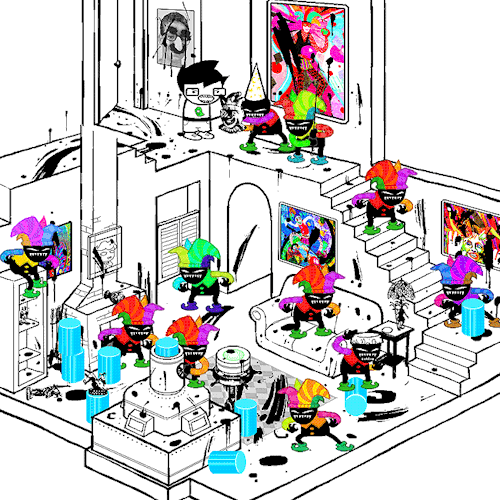 OH, GODNESS.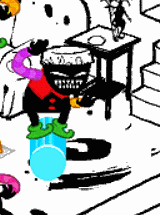 This one is really talented! Mister, I suggest a change of career.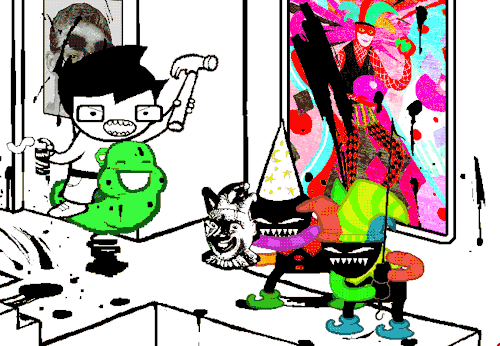 WHAT ARE YOU GONNA DO?! SHAVE THEM??
I should hope that shaving cream is not deadly.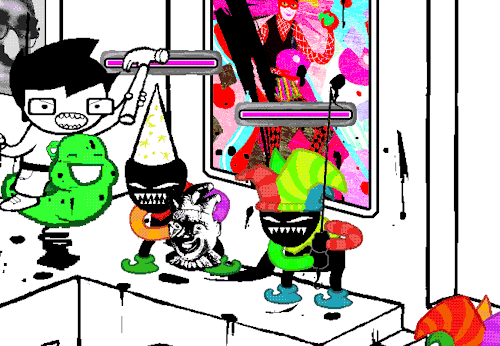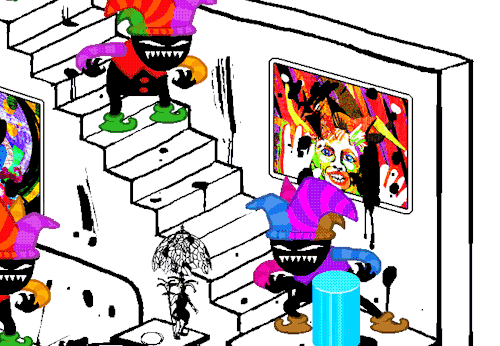 WHATEVER THE HECK HE IS DOING, IT'S WORKING.

JOHN

WILL HE EVER BE ABLE TO HOLD HIS GROUND FOR A FULL MINUTE WITHOUT PASSING OUT???

…Is this who I think it is?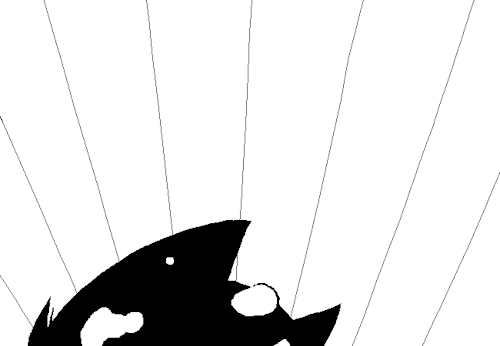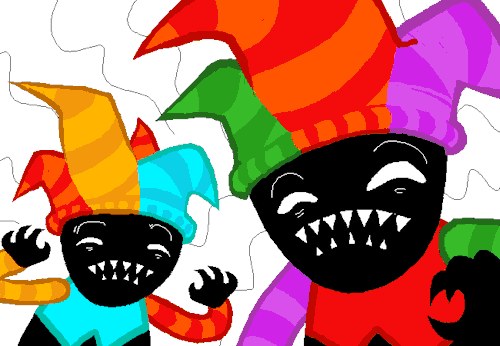 Asking nicely worked?? Well, WV, it seems now you can ask him basically everything you want. Tread carefully.

WHY DO THEY CARE ABOUT THE POGO?? THEY'RE TERRIFIED IT'S RIDICULOUS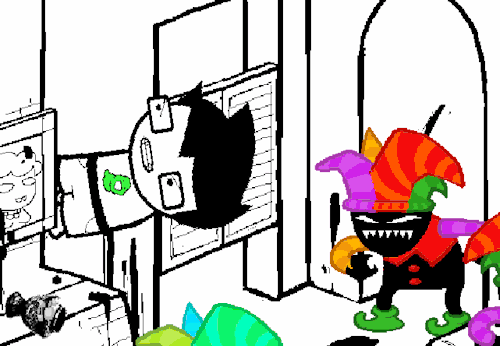 John's real identity is Spider-Man.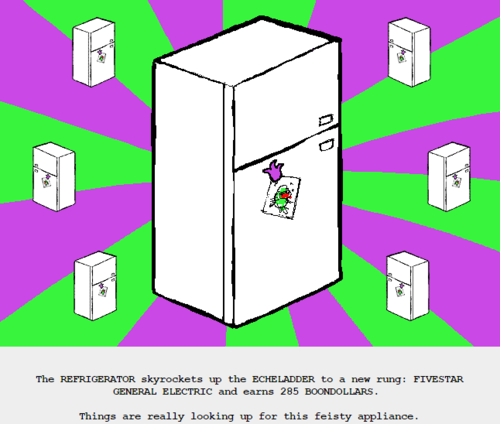 At least Rose didn't break this too.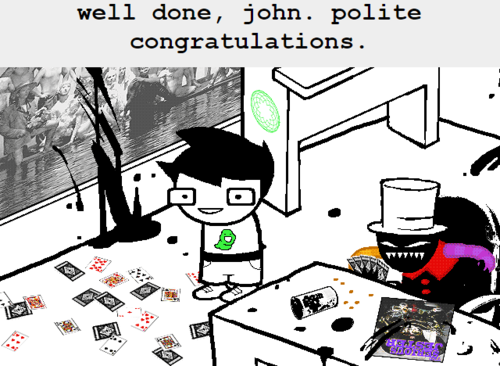 You see?? Politeness is the one true weapon. Looking forward for many pages of smooth collaboration between these two.
…WHY IS THAT IMP PLAYING CARD GAMES

GO ON, KIND FELLOW.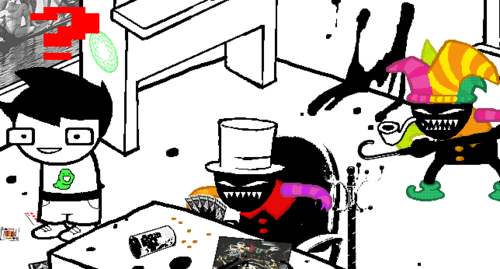 JOHN

You say that now but what about when you will want smooth legs?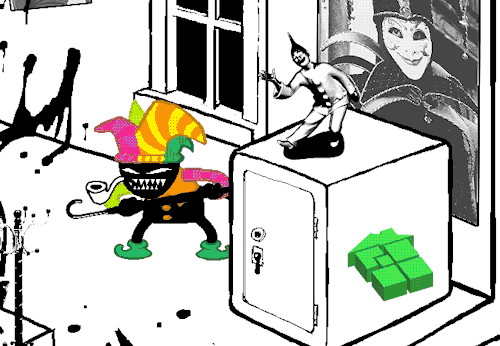 Is that another copy of Colonel Sassacre? And why is it in a safe? There was another chaptalogue card under the safe.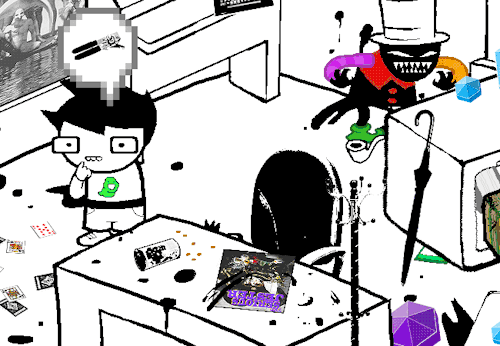 …He couldn't open the cans of food. I don't know if to laugh or cry.
But even if he finds it, it's not like you're in the same place. Why doesn't WV get this? He's pretty smart.
HE LOOKS LIKE A SIM WHEN HE HAS TO GO SOMEWHERE BUT SOMETHING BLOCKS HIS PATH I'M LAUGHING SO HARD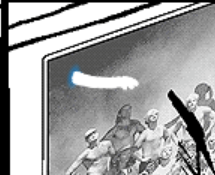 But let's not pretend I know how to end this sentence like last time.

Exactly.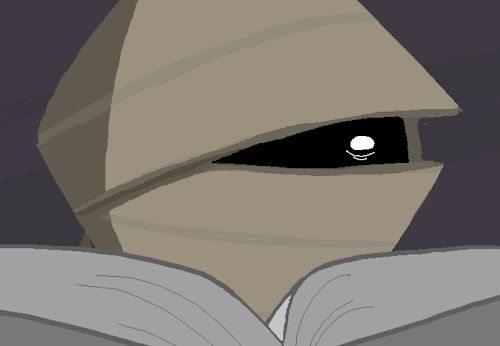 He read that book only to get John to bring him a can opener, didn't he? The adorable little shit.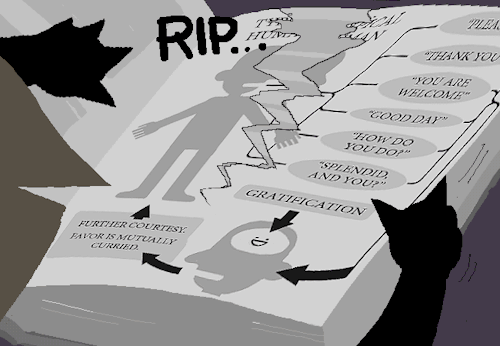 HE IS EATING THE BOOK??!?  That's not so well-mannered, but when hunger calls… He's even taking the time to read them before gulping them down, it's still something.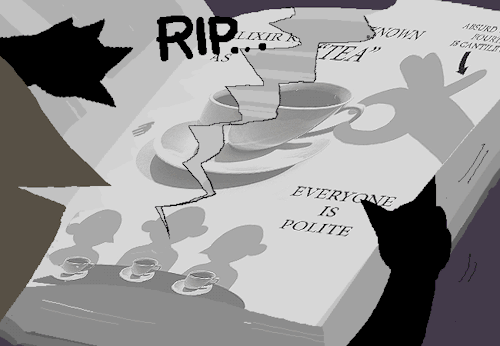 I doubt he can raise his pinky if he doesn't have one. I still haven't figured out what he is. He looks similar to the imps, but he is taller. And he doesn't look enraged like them. Plus, where is he? In The Medium or on Earth? Somewhere else entirely? If it was on Earth this would be after civilization has ended for good. The desert and those ruins of a city in the background would back up this theory. But in The Medium? It could as well be after the war and he is left wandering. Maybe he escaped from it. But are there deserts in Sburb?
And also this is years (but not many) after John started playing and  John's session would need to be still active?? Or something got wrong and it stayed active??
The apocalypse is going down, but don't worry. Keep uploading your pictures on tinyurl.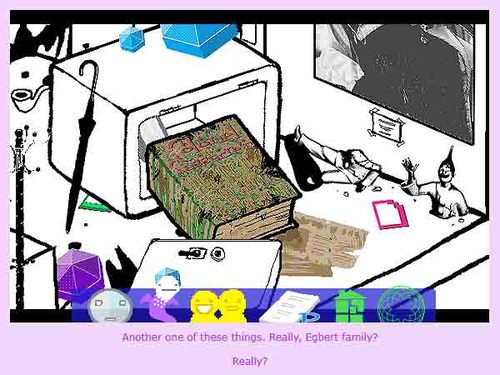 This one looks older though. Could it be…? The one true book that killed grandma?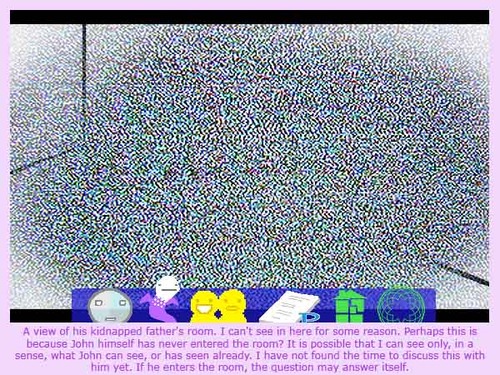 Interesting.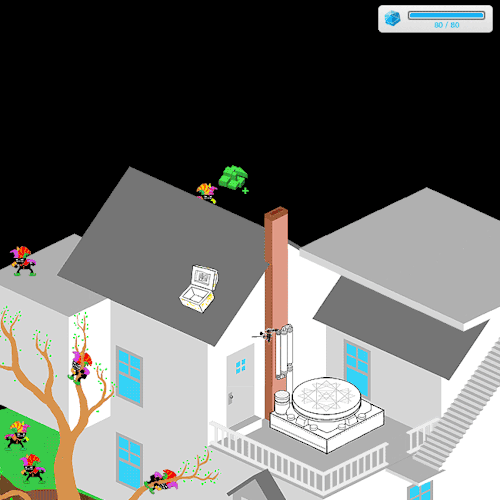 Oh, man. A ladder. Just build a freaking ladder.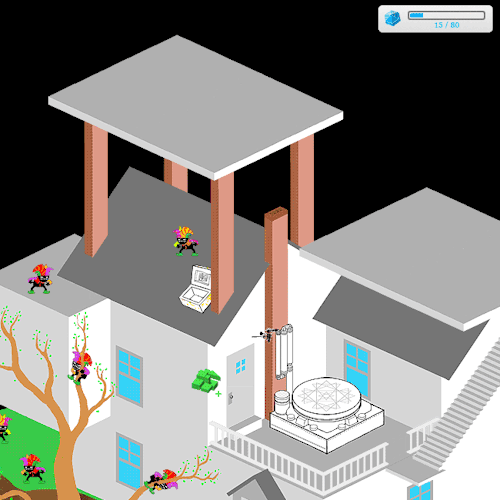 FINALLY. But just a ladder?? That goes up up to the first gate? Wouldn't that be easier?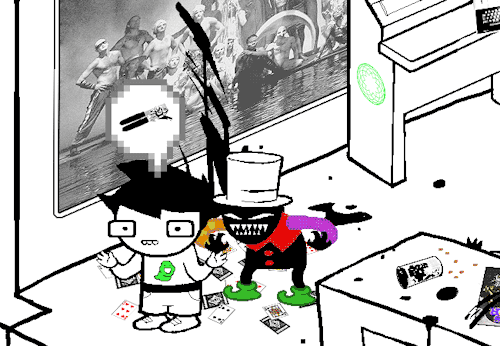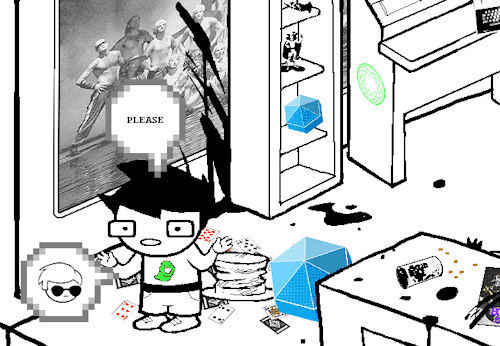 Unsettled is also the dilemma of how John managed to stay alive for this long inside The Medium.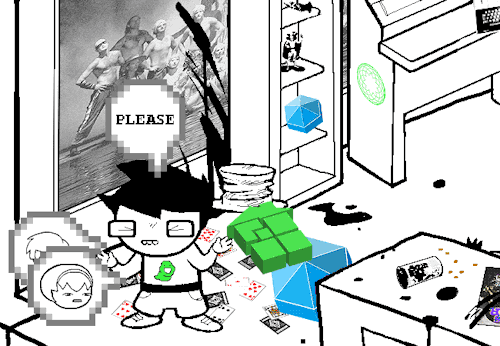 I love how he got even more frustrated when WV asked nicely.


DEAR FAVORABLE SMALL PRIMATE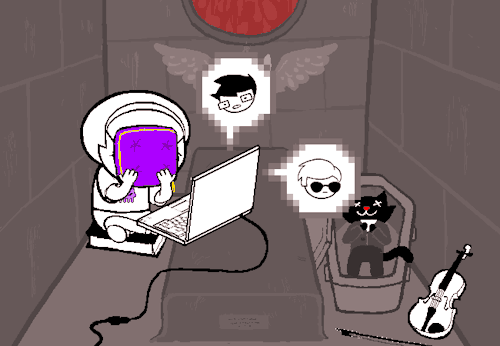 SOMEONE MAKE ROSE A SAINT IF SHE SURVIVES WITH HER SANITY INTACT.


You have to insert some sort of code or password?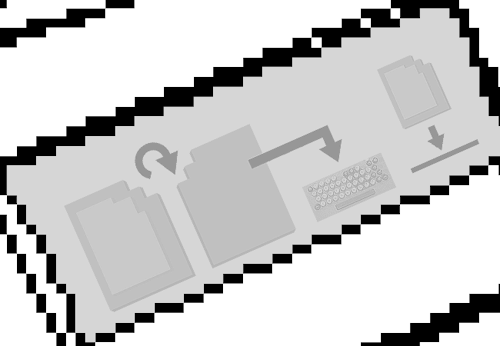 A code that is behind chaptalogue cards? WAIT. It's a chapta. Facepalming over here.

…What happened to Dave…?
This is to save Rose's life. Plus, it's training for when you will have to fight thousands of tiny Lil' Cal themed imps.

Rose, he is a rapper, of course he's good with words too. He just doesn't need to show it every five seconds.

……What happened to Dave…………..?

So he raps about other's disgraces but not about his own.
ROSE NO

I'M SORRY I SAID I WASN'T THAT FOND OF THEIR INTERACTIONS.  I TAKE IT BACK. THEY'RE PERFECT.

Notice how Dave opens up way more to the girls than to John. He cares more about keeping up the cool facade business with John than to them.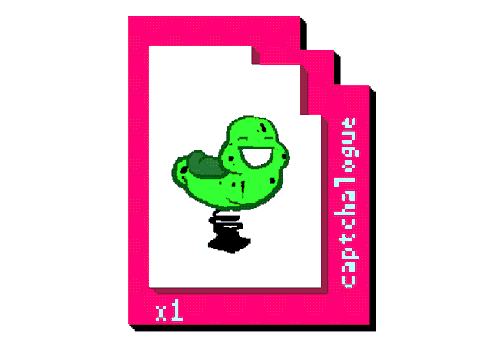 He knew already??? And why did he not deign to tell us??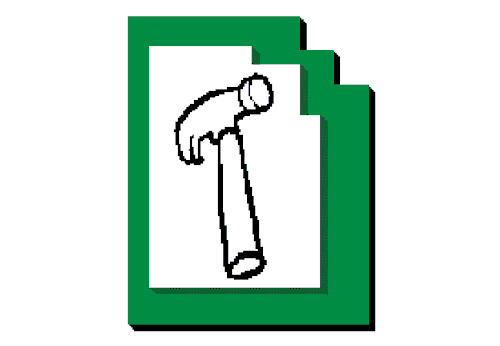 I can't see a thing. I hope this doesn't turn out to be an interactive page where you have to insert those chaptas because I'd be so screwed.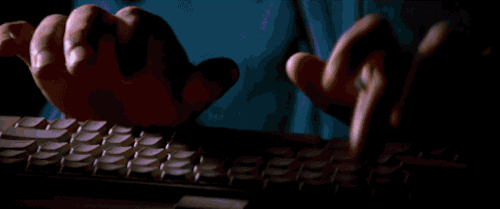 Hacked. I'M IN.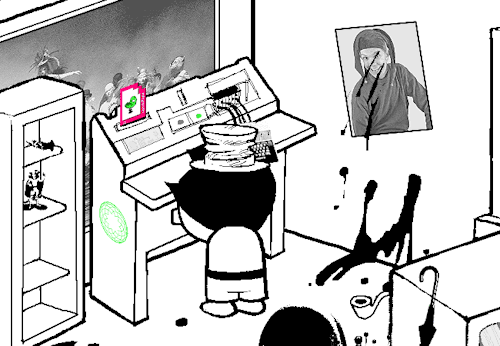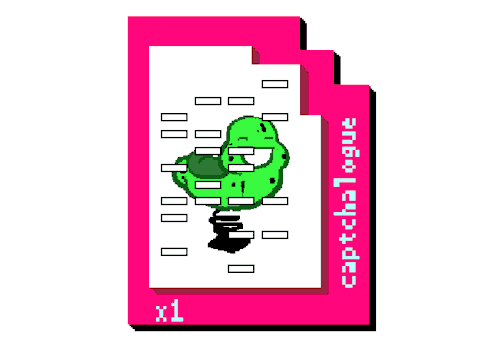 I… I don't think that's how you do it… Umh… Rose, where are you?!

Are the holes a thing that is supposed to happen? Oh, well.


I TOLD YOU WE NEEDED ROSE

…I forgot what the pre-punched card even is. Was it the one who created the cylinder of cruxite?? And then John inserted it into the… I GOTTA RE-READ ROSE'S FAQ, BRB.
Okay. We inserted the card into the totem lathe and got the cruxite dowel that John put onto the alchemiter in order to get tree and apple. I also looked up the meaning of a blue apple and it seems it is kind of like… the Holy Grail?? What the heck. So just something that is difficult to get, because many others failed, I guess.

So, if I got this right, we insert the cards into the totem lathe and put the cruxite on the alchemiter to get the original item back.
Whoa, John. Pretty smart of you to immediately figure that out! I'm telling you guys, John is not dumb, just dense.

But sometimes he does things like these and makes you question it.

Is that genius or just sheer luck. Will I ever know?

STOP SAYING THINGS LIKE THIS IT'S SO OMINOUS GIVEN DAD'S SITUATION
AND ALSO DAD IS SUPER BADASS HE WILL BE JUST FINE HE HAS A BROOM AND KNOWS HOW TO USE IT HE WILL BEAT THOSE IMPS SENSELESS AND GET BACK TO YOU AND TELL YOU HE'S PROUD OF YOU AND MAYBE YOU CAN GET DAVE AND HIS BRO TO COME OVER AND HAVE A SHAVING SESSION ALL TOGETHER ACTUALLY HIS BROTHER IS KINDA CREEPY LET'S GET ONLY DAVE I'M RAMBLING AND I NEED TO STOP
Sorry.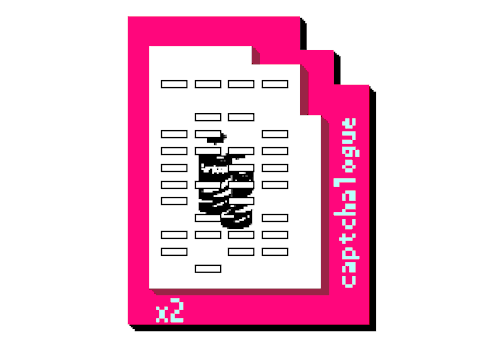 I'm a little afraid of what he will get.

He's losing all of his chaptalogue cards. I'm not even going to get angry about that. When he gets to only one card maybe he will stop using the sylladex altogether and I will stop witnessing this foolishness.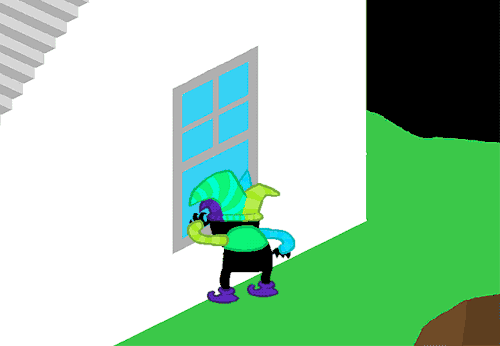 Spy imp. Bad imp!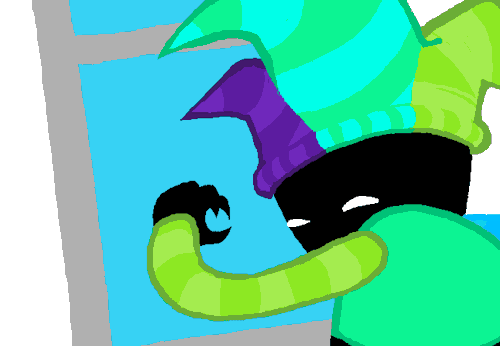 …who's that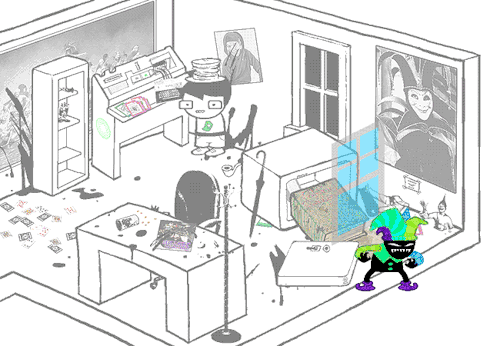 OH MY FUCKING SHIT OH MY GOD 
ROOOSEEEEEEEEEEEE YOU COULD HAVE WARNED JOHN. THE POOR THING JUMPED TEN FEET INTO THE AIR!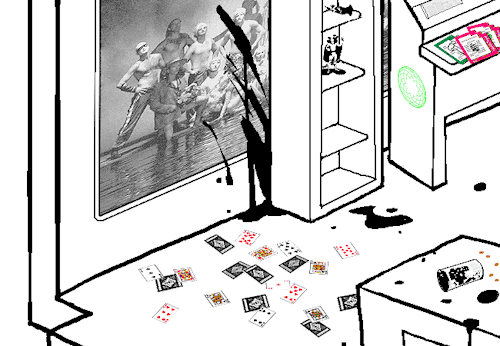 If the bathtub levels up I quit.

WHAT THE FUCK IS HAPPENING TO DAVE I ALMOST DON'T WANT TO KNOW

THIS SENTENCE OUT OF CONTEXT IS AMAZING
…Well, she did warn him at least.

I wouldn't even get near those.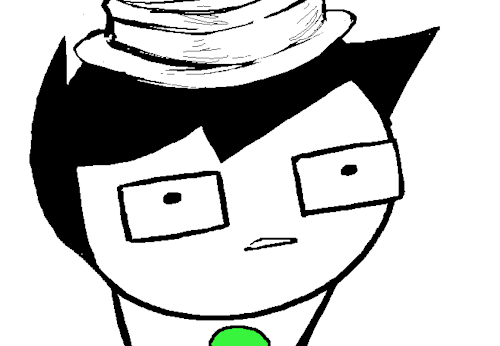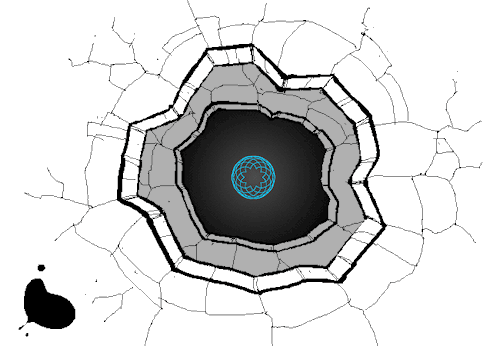 HE'S NEVER BEEN IN HIS FATHER'S ROOM DURING HIS WHOLE LIFE?!???!?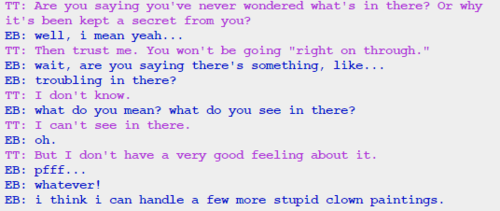 DAD's room is either gonna be a clown themed abomination or even better… remember when John took his father PDA and was surprised there was nothing even remotely resembling harlequins on it? Yeah. That's gonna be even more shocking.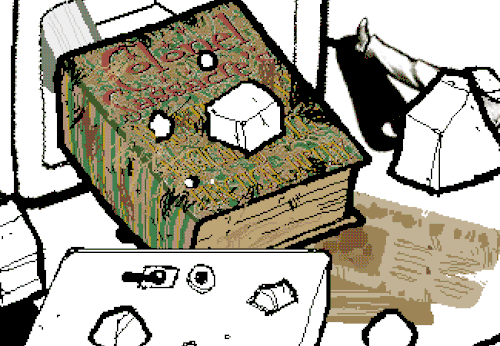 Told you. Let's get NANNA to spill the beans about the day she has gone to meet her maker!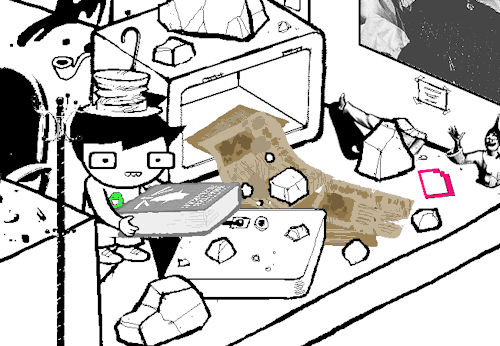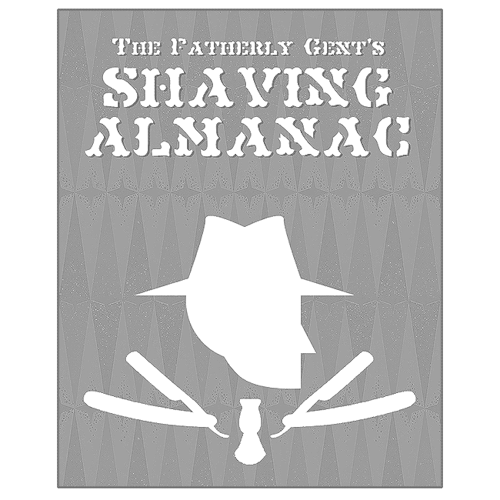 That's because you guys DON'T TALK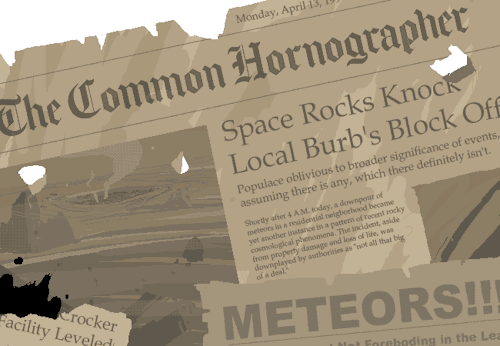 This is the greatest headline I've ever seen.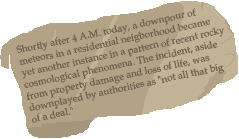 SOME POOR PERSON DIED IT IS A BIG DEAL YOU JERKS
Frigging meteors not only are everywhere right now, but also in the past. Was that another Sburb session? But Rose said the apocalypse comes with the game. But she could be wrong. She has been proved wrong before.
AND DAD IS KEEPING THESE ARTICLES IN A SAFE
So they're important to him and he doesn't want John to see them. He keeps multiple articles about the event so maybe?? He could be investigating it??
He could even know the person who died?? WAIT, OH MY GOD. What if it was John's mom?? And that's why he never talks about her or her death because he just never knew anything? WHAT IF THE KIDS' MISSING RELATIVES ALL PLAYED SBURB TOGETHER BUT DIDN'T GET TO THE MEDIUM  I REALIZE THAT THIS IS FAR-FETCHED BUT IT MAKES SENSE OKAY??!?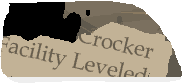 AND CROCKER AS IN BETTY CROCKER DON'T THINK I'VE FORGOTTEN ABOUT THAT I'M TAKING NOTES ABOUT IT

IT'S DATED APRIL 13TH 199?. JOHN'S BIRTHDAY POSSIBLY EVEN THE YEAR HE WAS BORN AND ALSO 0413 THE NUMBER I KEEP SEEING EVERY FREAKING WHERE.
Wait my theory didn't even last two paragraphs what the heck. If it was the day John was born I doubt his mother would be anywhere near Crocker's facility. But if it was on one of John's birthdays… it could be.
If I was right John's relative's deaths would be all effing ridiculous and cruelly ironic. Like… his NANNA is killed by a book the Egbert family practically worships, his mother would be killed by a meteor near (or even inside?) a Crocker facility, and John feels an innate resentment toward Betty Crocker. Next his father will get killed in an incident while spectating a show of the Cirque du Soleil he adores so much.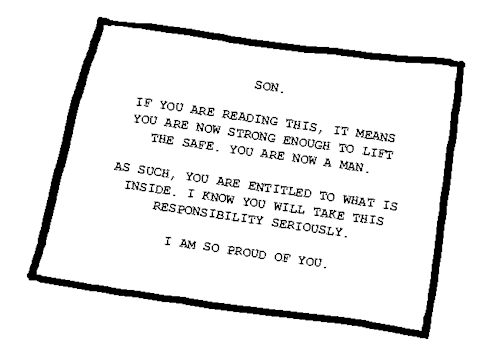 Oh. So… Everything in this safe was meant to be seen by John one day? But when he was older. And he totally cheated.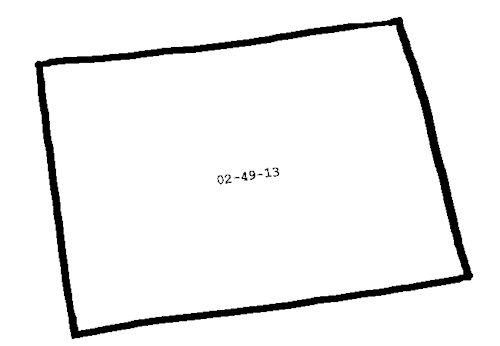 It's not a date but I'm writing it down anyway.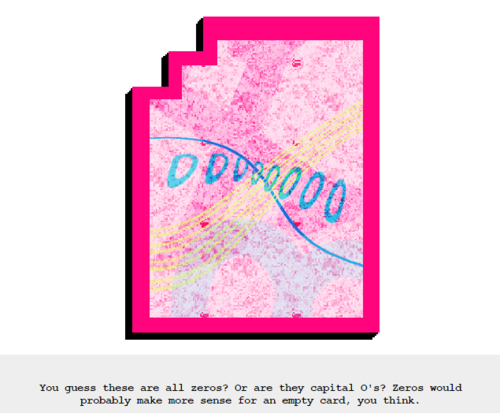 Welp. WAIT, JOHN. Stop and think for one moment. If you chaptalogue that you can make more and have like 50 empty slots in your sylladex.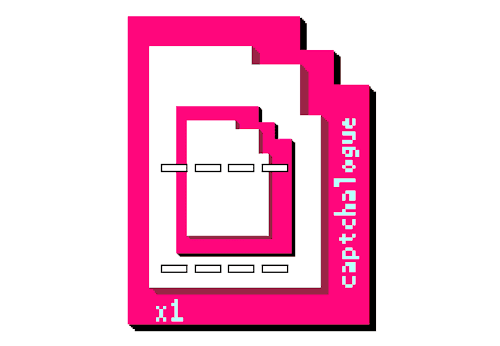 YES

Oh, fuck.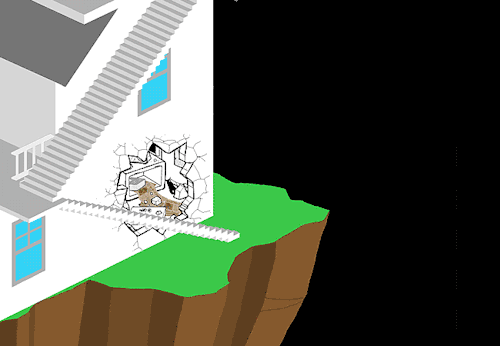 Oh, well. Maybe your father will find it.


The thing on the designix, John. The card you just punched…?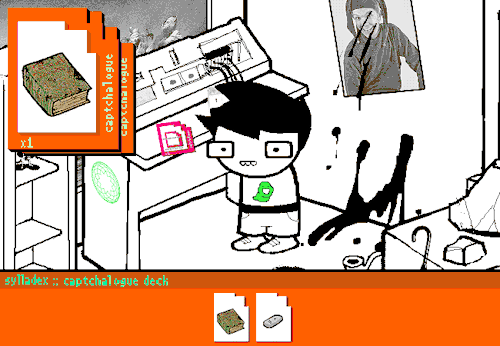 ILU ROSE

NO STOP
That thing is seriously dangerous. It is not the first time it kills.

Pretty much.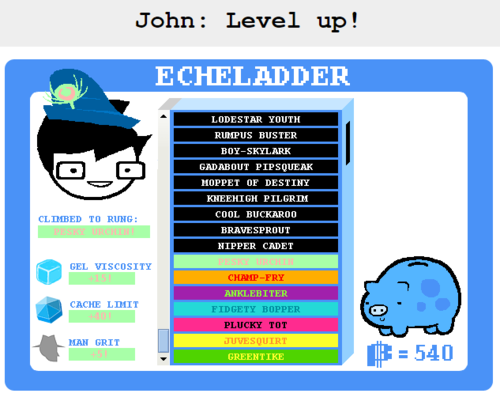 HE DOESN'T DESERVE IT

I knew this was going to happen.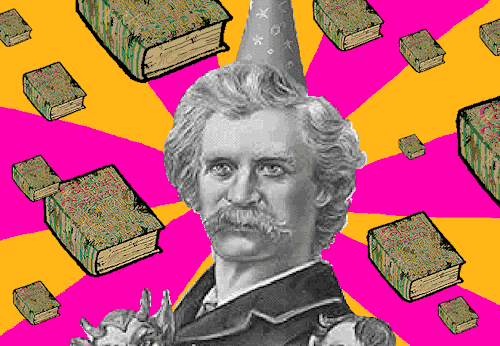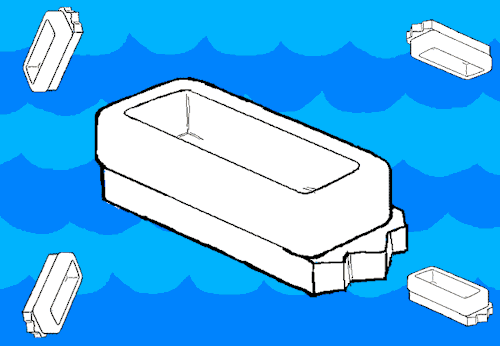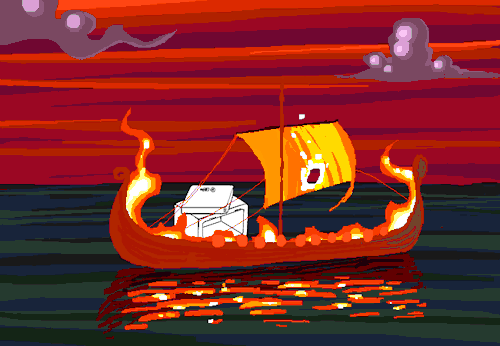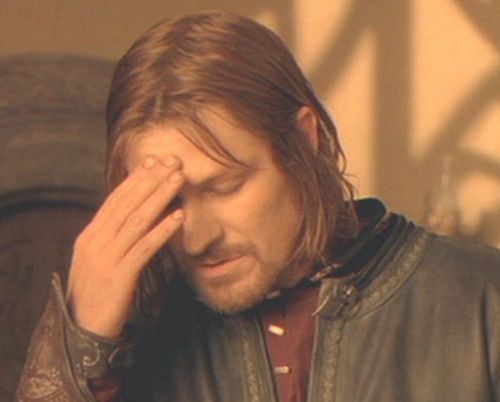 No, proceed cautiously.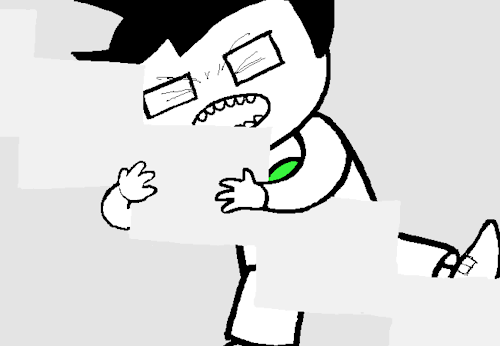 I WARNED YOU ABOUT STAIRS, JOHN.
I TOLD YOU, KID!!
Also a parallel to Rose and wizards.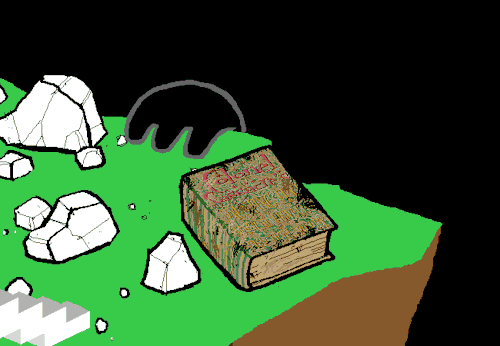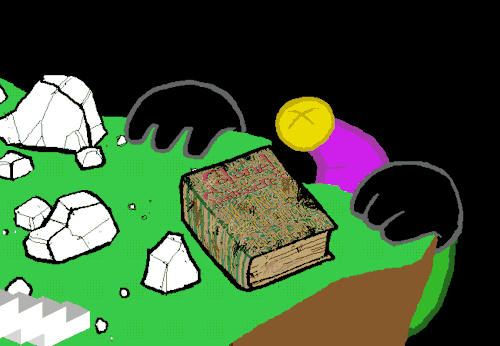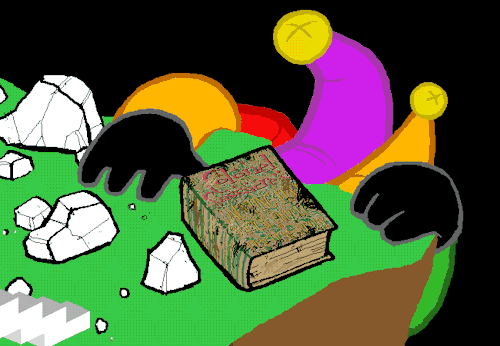 WHAT THE FUCK IS THAT OH MY GOD JOHN RUN!

Fuck you, narrator. Why do we have to change POV every time things get interesting?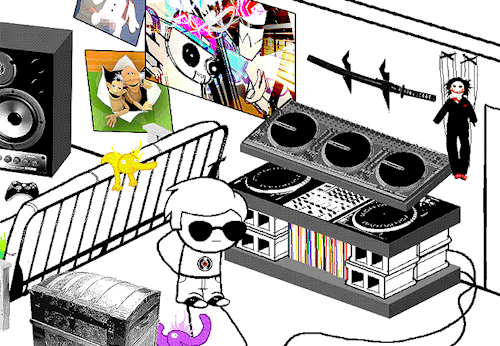 Oooh, not this again. I had vaguely forgotten about it. I thought I could take this.

I'M SO DONE WITH YOU AND YOUR BRO PRETENDING TO BE COOL AND IRONIC, DAVE.

…I'm not gonna make hypothesis. I don't want to.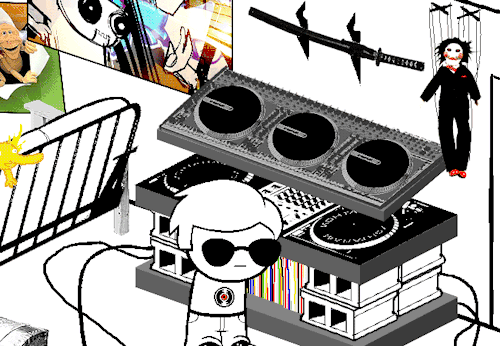 FFFFUCK. Who is flash stepping here???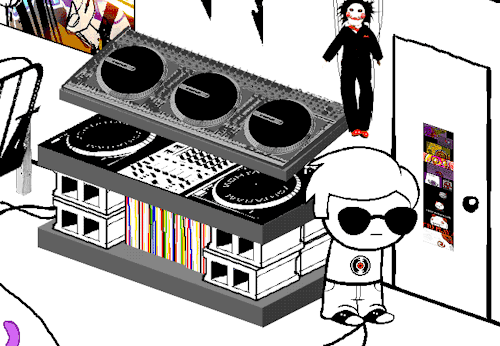 OH MY— IS THAT YOU, DAVE'S BROTHER?? STOP FUCKING FLASH STEPPING AND BEING CREEPY IN GENERAL.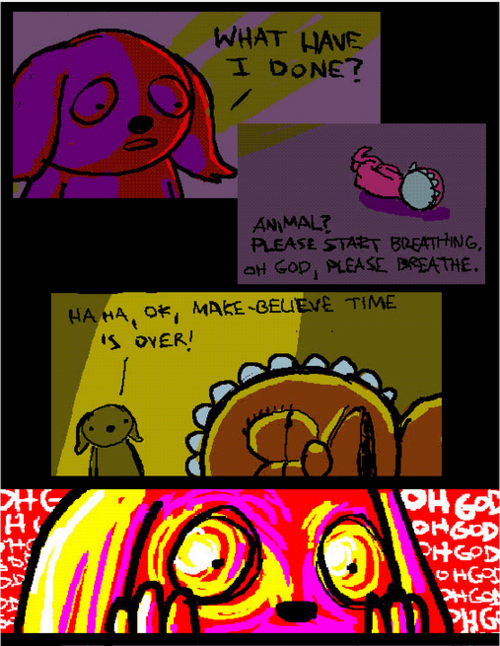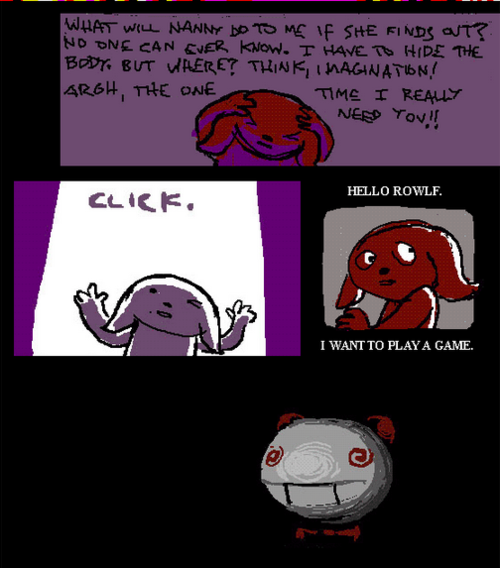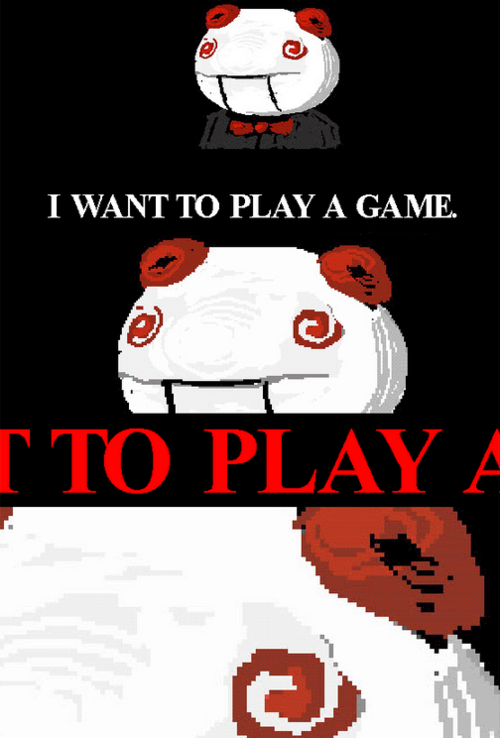 WHAT THE FUCK IS THIS SHIT
Is this some sort of reference to Dave killing the bird? Wait. Did his brother see him and now he's making fun of Dave?

They're very much like Rose and MOM only his brother doesn't need to be drunk to do weirdass things like these.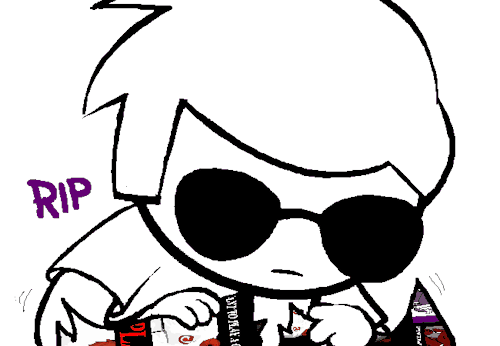 It's not that Dave is not ironic enough, it's that his brother is insane.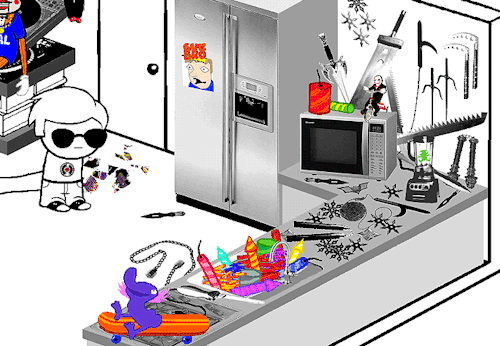 I FUCKING QUIT
THIS IS NOT A SAFE ENVIRONMENT FOR A KID OR ANYONE AT ALL I CHALLENGE YOU TO FIND SOMETHING IN THIS ROOM THAT IS NOT POTENTIALLY DEADLY AND/OR SEXUALLY SUGGESTIVE AND ALTHOUGH I GAVE HIM THE BENEFIT OF THE DOUBT UNTIL NOW THERE IS DEFINITELY SOMETHING WRONG WITH DAVE'S BROTHER AND THE NEIGHBORS SHOULD CALL THE FUCKING CHILD SERVICES THIS IS RIDICULOUSLY HORRIBLE.
….
……….AND CAL WASN'T THERE ONE MOMENT AGO!
Are those fireworks in the sink?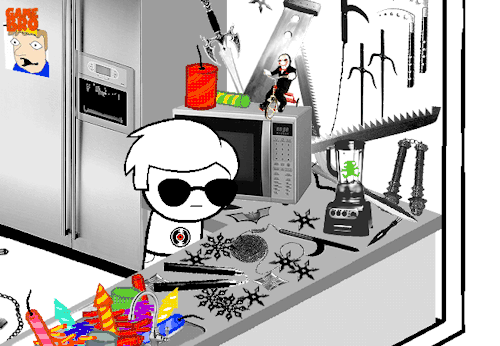 IS THIS TO MESS WITH HIS LITTLE BROTHER'S BRAIN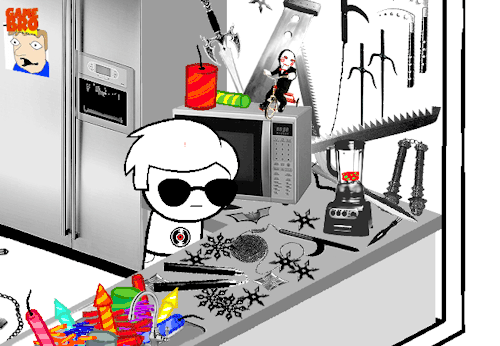 He records him while— Nevermind. I'm getting angry, I don't want to.
Puppet snuff films??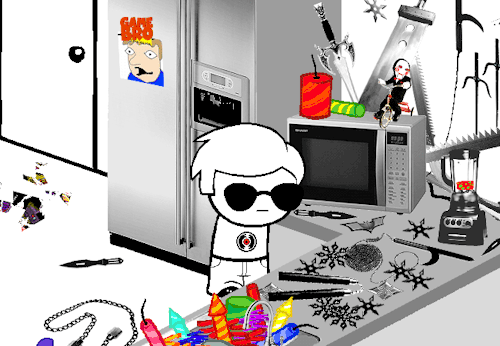 He seems so apathetic to all of this like it's a daily occurrence and IT PROBABLY IS.
Can I skip this part?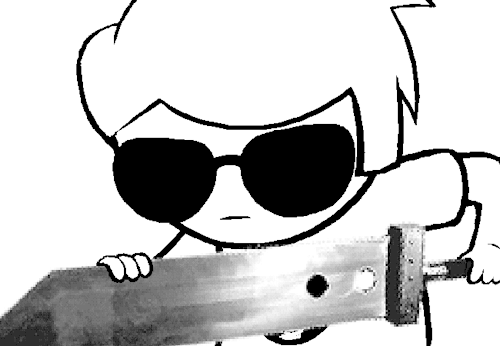 PUT THAT THING DOWN
THANK GOD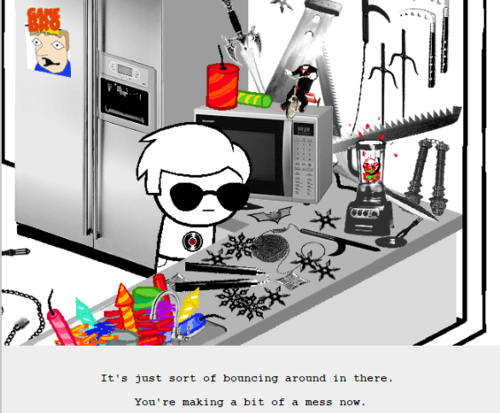 …A bit of a mess? Have you seen the kitchen at all? Where does BRO even cook? …Does he cook?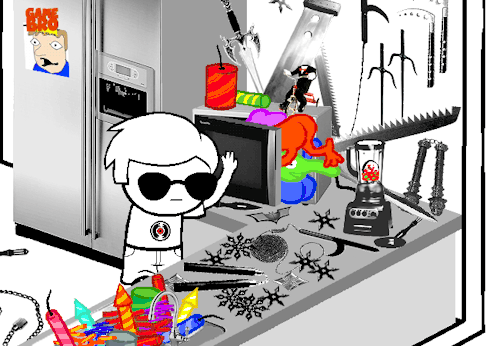 DOESN'T HE HAVE A FUCKING ROOM OF HIS OWN??!?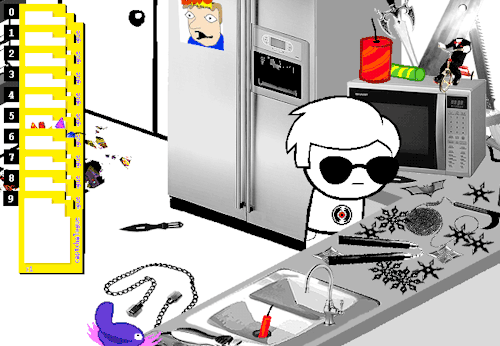 HE'S GOING TO KILL HIMSELF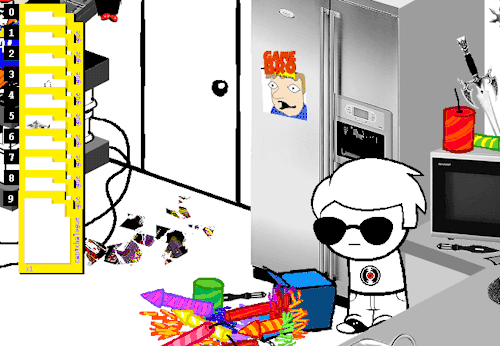 HE'S GOING TO KILL HIMSELF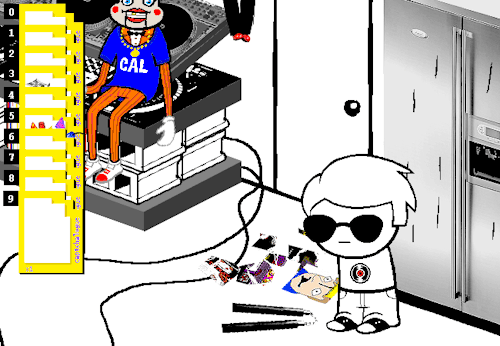 I CAN'T BELIEVE BRO IS WATCHING HIM. HE TOOK CAL AND GOT AWAY

…weaboo.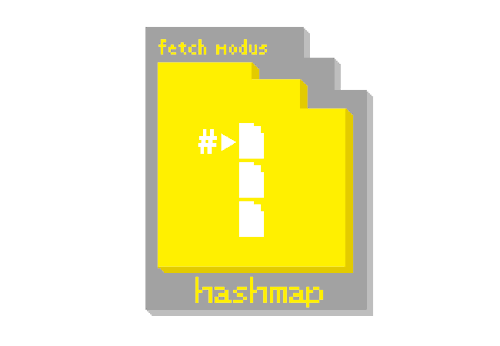 DETECT COLLISIONS DETECT COLLISIONS DETECT COLLISIONS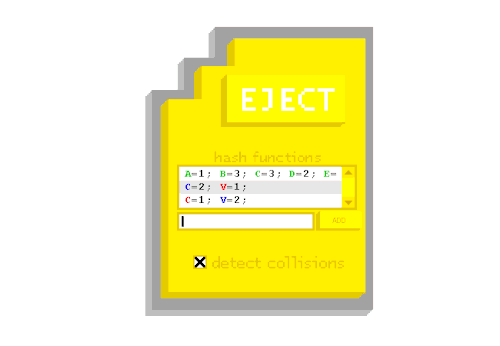 HALLELUJAH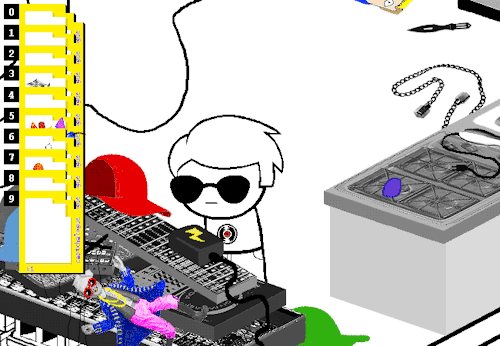 NOPE YOU'RE WRONG, HE IS. FLASH STEPPING LIKE CRAZY IN THE BACKGROUND.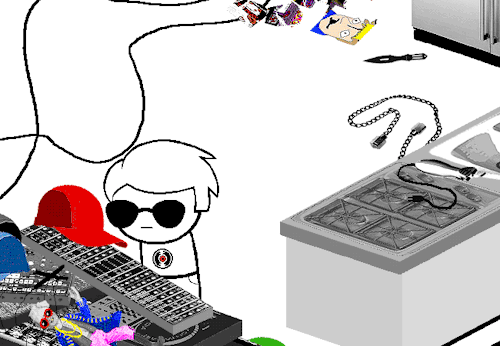 DON'T TURN AROU—AAAAAAHHH. IS THAT BRO???? POINTY SHADES, STUPID HAT, COMPLETELY DERANGED. YUP, FITS THE DESCRIPTION.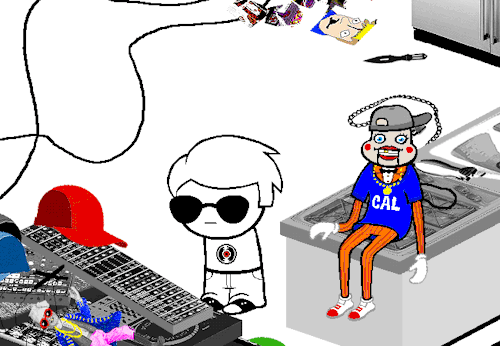 HE JUMPED LIKE A BALLERINA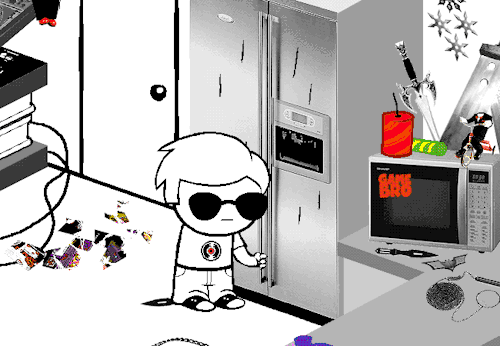 WHAT THE FUCK

IS THIS WHY DAVE WAS SO HAPPY ABOUT THE APPLE JUICE?? BECAUSE IT'S ACTUALLY DIFFICULT FOR HIM TO TO FIND FOOD IN THIS HOUSE???? I'M GOING TO KILL A FICTIONAL CHARACTER. I'M GOING TO KILL BRO
*dials number*
hello, are those the child services?
thERE IS A CHILD WHO LIVES IN A UNACCEPTABLY SHITTY AND DEADLY ENVIRONMENT AND IS PSYCHOLOGICALLY ABUSED EVERYDAY IN A WEBCOMIC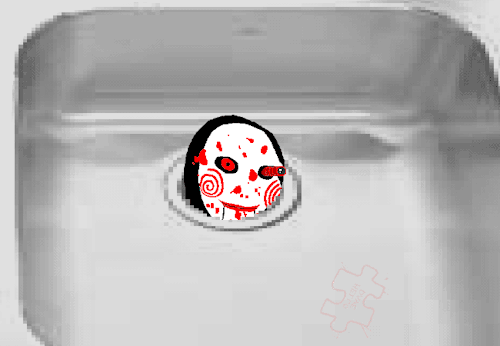 POSSIBLY THE CREEPIEST THING I'VE EVER SEEN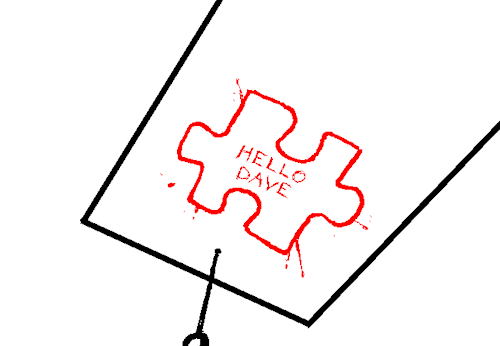 Uuuhh, I've got an awfully bad feeling about this.

At least… they… support each other sometimes?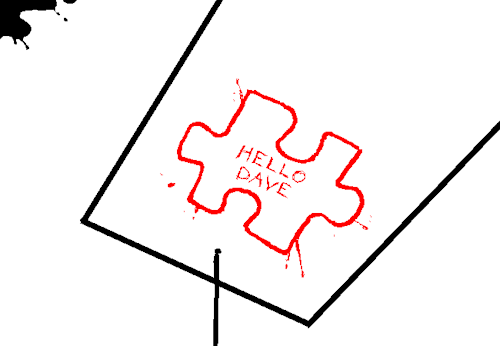 OH MY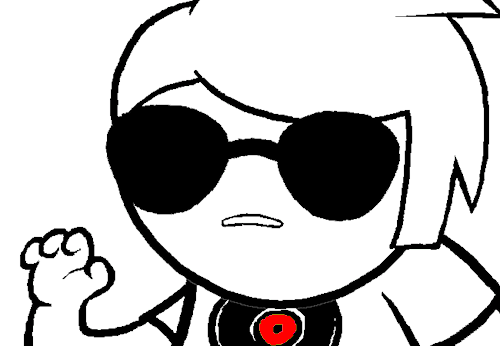 OH MY GOD. Look at his face. First there is stupor, then there is shock, realization and acceptance. 
It's not your fault. Take deep breaths and drink a glass of water.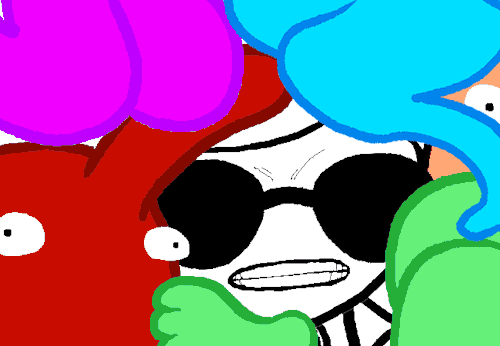 D-Dave?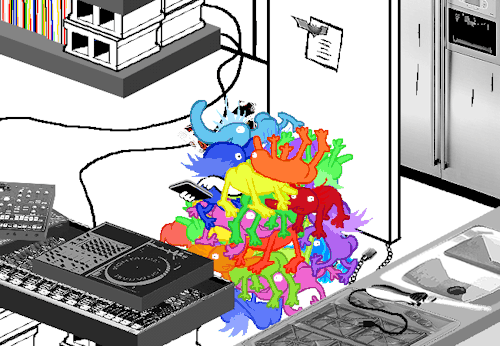 HE'S DROWNING IN THOSE THINGS

AND THEN ROSE RAPS ABOUT IT JESUS TALK ABOUT BEING INAPPROPRIATE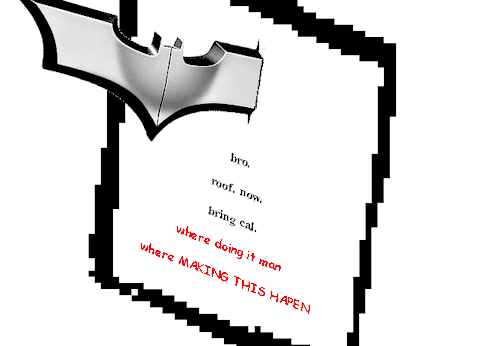 Strife on the roof. Thanks but no, thanks. I've seen enough. Just call the child services already.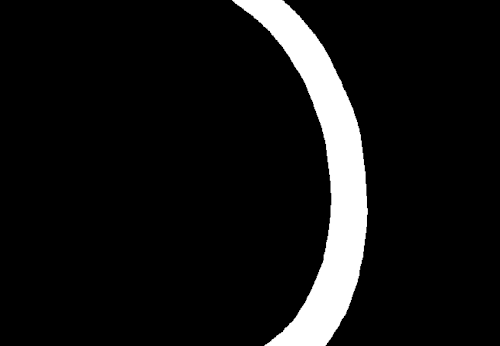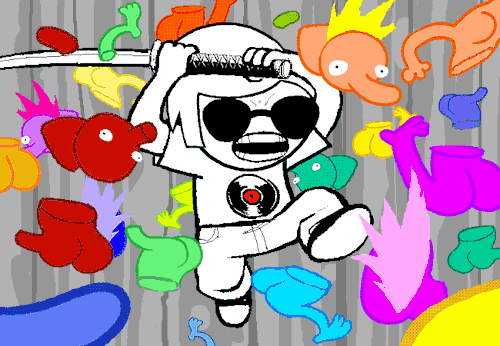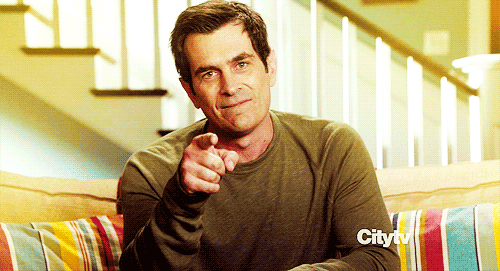 With all that pent up anger he will slay all those enemies in The Medium.

A GODFORSAKEN BREAK FOR ME

Meanwhile, with John and his unbelievably shitty time management skills…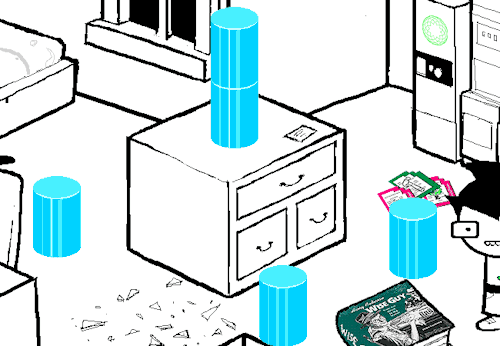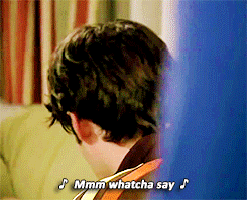 ROSE, RUDE!
But honestly… you can put the song under almost every interaction they've ever had and it fits so well.

…seriously?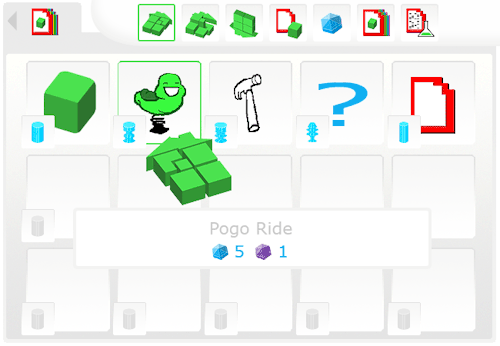 Is the one with the question mark the result of John's experiment?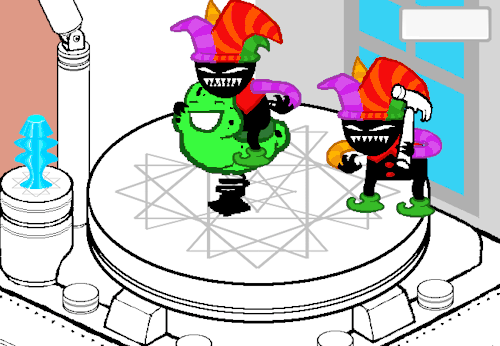 John, my child, stop experimenting.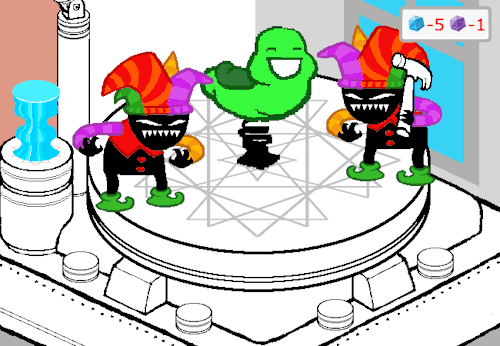 We got the hammer and the pogo ride back.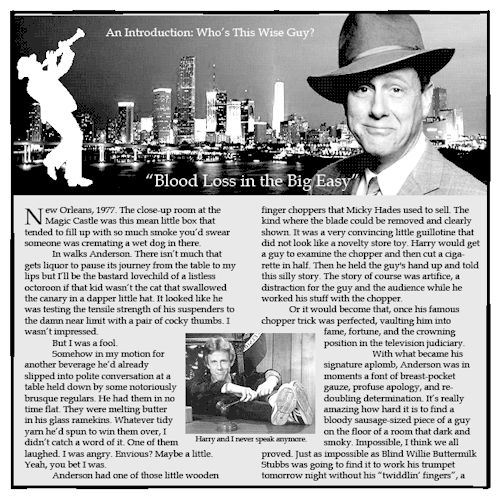 I will have to do a little bit of research on Wise Guy because I don't know what the book is all about.

John "I don't read, I only look at the pretty illustrations" Egbert at thirteen years of age.
And I think I will stop for today. I've just noticed that almost 50% of what I've written is in all caps.