Hello to anyone reading this! Name's Mary and I'm here to read a very popular webcomic called Homestuck. I know next to nothing about it other than the general plot and the fact that if I manage to get to at least Act 4 before the hiatus is finished I get 30€ (around 35 dollars) from my best friend. Yes, he is willing to pay me. Which can mean two very different things:
the webcomic fucking sucks but he somehow has become obsessed with it
it is really just as great as he says and the boy just wants me to read it
I chose to trust him and believe it's the latter.

I guess I should clarify how much I do know about Homestuck:
it's a webcomic (well, duh.)
it is very very long
there are flash animations, original music and minigames
it is on hiatus until 4/13
the beginning is apparently very slow
"IT GETS BETTER!!!!!!" (cit. my friend)
and also: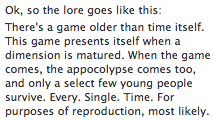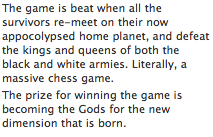 AND THAT'S ALL. Wait, that's quite a lot actually. 
ANYWAY! LET'S START!